BRONZEVILLE — Churchgoers and residents parking their cars in dedicated bike lanes along Bronzeville's South Drexel Boulevard has sparked a debate on how best to use the road — and changes could be coming.
With the 4600 and 4700 block of Drexel currently being repaved, Ald. Sophia King (4th) is weighing possible changes, including moving the bike lanes or letting people park in them at night.
The possibility of changes — and the scheduling of a last-second community meeting Wednesday night to discuss it — angered bicyclists, who took to Twitter to promote the meeting and denounce King.
The meeting, however, was far more civil than the tweet storm.
King offered three options for the 4600 and 4700 blocks of Drexel at the meeting at the Sutherland Ballroom:
Keeping the current layout, with the bike lanes closest to the median
Moving the bike lanes to the right of auto traffic and creating another parking lane adjacent to the median
Using the lanes closest to the median for bikes during the day and for parking at night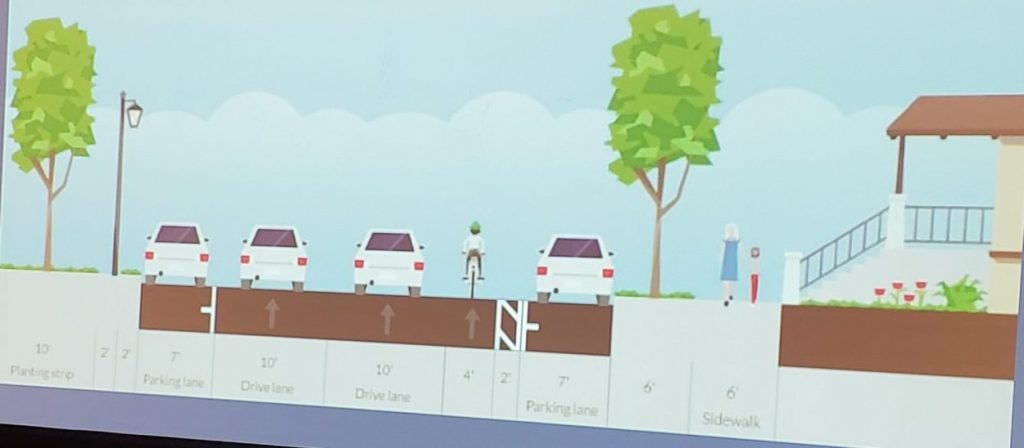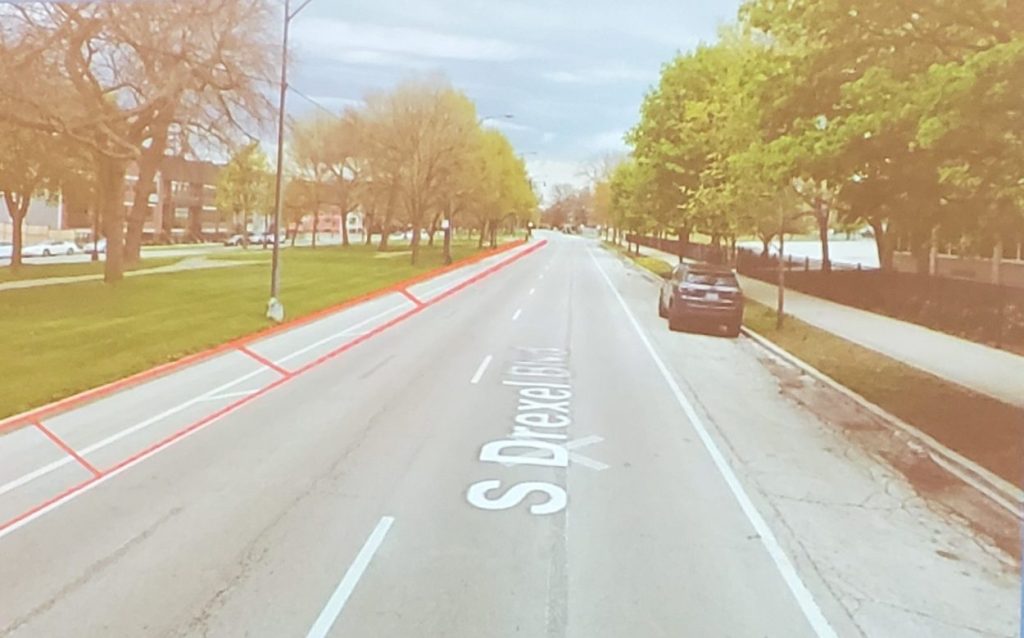 King did not give a clear timeline for making any changes, but said it "could be a quick turnaround" as repaving in the area could be completed next week.
Residents made the case for Drexel Boulevard as one of the South Side's only safe bikeways, and were overwhelmingly in support of keeping the current layout. In total, about 20 people Wednesday night gave their input.
Drexel's bike lanes were moved to run alongside the median from 39th Street to 51st Street in late 2018 using federal funding. They were previously set between two lanes of car traffic and a parking lane.
Right now, there is no painted bike lane along the stretch of road as repaving is completed.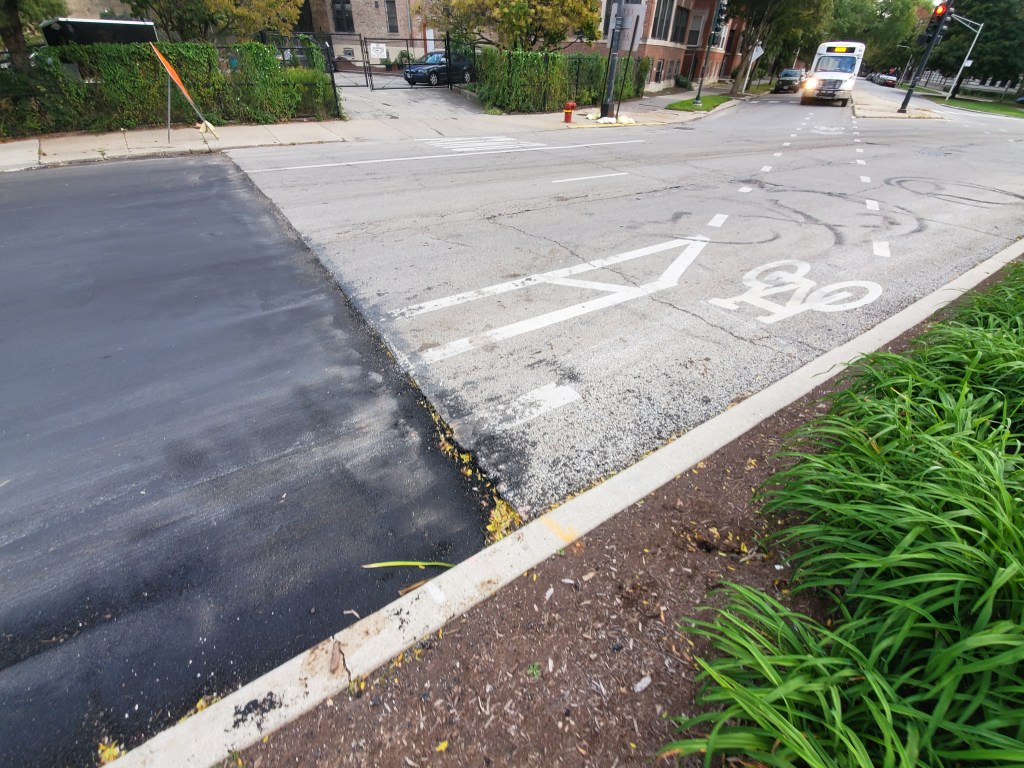 There are numerous churches along the Drexel Boulevard corridor, including Grant Memorial A.M.E. Church and the Hyde Park Seventh-day Adventist Church.
King named the two churches as sources of concern about parking in the neighborhood. She said attendees have used the boulevard since long before there were bike lanes, so their interests need to be respected, too.
"Those are the things that kind of irritate me — that on a Sunday for an hour and a half, two hours tops," cyclists are unwilling to reroute their trips, King said. "As a community, we have to coexist."
Steven Quispe, who lives on the 5000 block of Drexel, said he's complained to 311 about churchgoers illegally using the bike lanes to park during services. The practice forces him to weave in and out of traffic while running weekend errands.
"I understand [churchgoers] have been there all this time," Quispe said. "They're not above the law."
When churchgoers park along the boulevard, the street becomes very congested, said Tony Wint, who lives on the 4700 block of Drexel.
The status quo "doesn't really work" for Wint and his wife, who regularly struggle to find space throughout the week.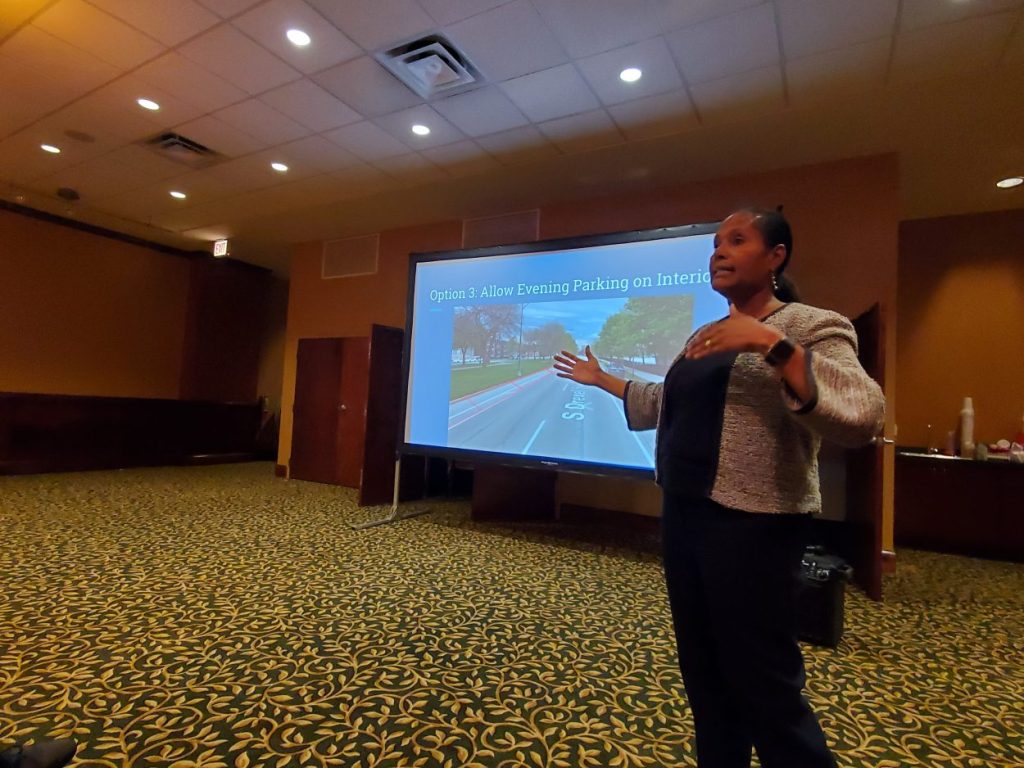 Though it might be tough for Wint to find a parking spot, he also enjoys riding his bike and wouldn't want to see "the beauty of the boulevard" affected by around-the-clock parking.
He said the proposal to alternate between bike lanes and parking space was a good step toward a fair compromise, and he trusts "everybody's opinion will inform [King's] decision."
"Everyone has a personal need, whether it's biking or parking or walking," Wint said. "I think that we'll find a way to make it all work out."
Cynthia Chappell also lives on the 4700 block of Drexel. She said she doesn't bike, but sees plenty of her neighbors who do.
Parking struggles are just a fact of life in cities like Chicago, Chappell said. She is "wholeheartedly" in favor of the current layout, which she said meets the aesthetic needs of nearby homeowners and the safety needs of cyclists.
"I park in my garage, but I can tell you when I have my family come to visit, parking can sometimes be difficult," Chappell said. "That's just one of the facts of living on a boulevard in a city."
Chappell and other residents suggested projects like the St. James Methodist Church redevelopment, 4611 S. Ellis Ave., could provide off-site parking to meet nearby residents' needs.
King said she has explored the use of private lots for public parking with local property owners. They are generally uninterested due to liability concerns.
In response to community concerns, St. James developers added 20 spaces to their parking lot plans, bringing the total to 61. These would be reserved for residents and the building's co-working space, however.
Near the end of the meeting, King asked residents who lived closest to the affected blocks to come forward for a conversation.
Quispe, Wint and Chappell were among the ten or so neighbors who clarified their positions to King at the end of the meeting.
"I hope everybody else understands that you deal with whatever the repercussions are the most," King said to the nearby residents. "I really wanted to hear from you."
King did not publicize the meeting on Twitter until Tuesday afternoon. The flyer did not list a date and was not posted to her website, unlike numerous other meetings and events in recent weeks.
At a Sept. 17 meeting, which focused heavily on the St. James plan's perceived lack of parking, King said concerns in the neighborhood went beyond that project. She told attendees information on a future parking meeting would be forthcoming.
Leading up to Wednesday's meeting, cyclist Twitter came out in full force. Riders encouraged attendance and voiced their displeasure with the announcement's timing.
Most online criticism was sharp but respectful, yet a few users made unsavory remarks.
After being called everything from "Alderooni" to a "dumb a–" alderman on Twitter, King made clear from the meeting's outset that such rhetoric would not be tolerated.
Oboi Reed, founder of mobility justice organization Equiticity, prefaced his support of safe biking on Drexel with an apology on behalf of the cycling community.
"That was disrespectful, uncalled for and shouldn't happen," Reed said. "I want to advocate that we advocate with you and other aldermen in a way that's respectful."