PILSEN — In Pilsen, Ananías Ocampo is abuelo to many of his neighbors.
For the past four years, the 75-year-old paletero has been a staple in the spring and summer months at 18th and Paulina, offering smiles, conversation and scoops of ice cream. And like a beloved family member, residents stop by to bring him coffee or tacos while he spends his days selling paletas and frozen treats near the 18th Street Pink Line stop.
"Ya comiste's abuelito?" — "Have you eaten, grandpa?" — one woman asks as she leans in to give him a hug.
He smiles and points to a bag of tacos and a coffee a neighbor dropped off just 30 minutes earlier. She gives him another hug before rushing off to work.
Minutes later, a small child rushes in to give Ocampo a hug and giggles as her mother waves to him from across the street.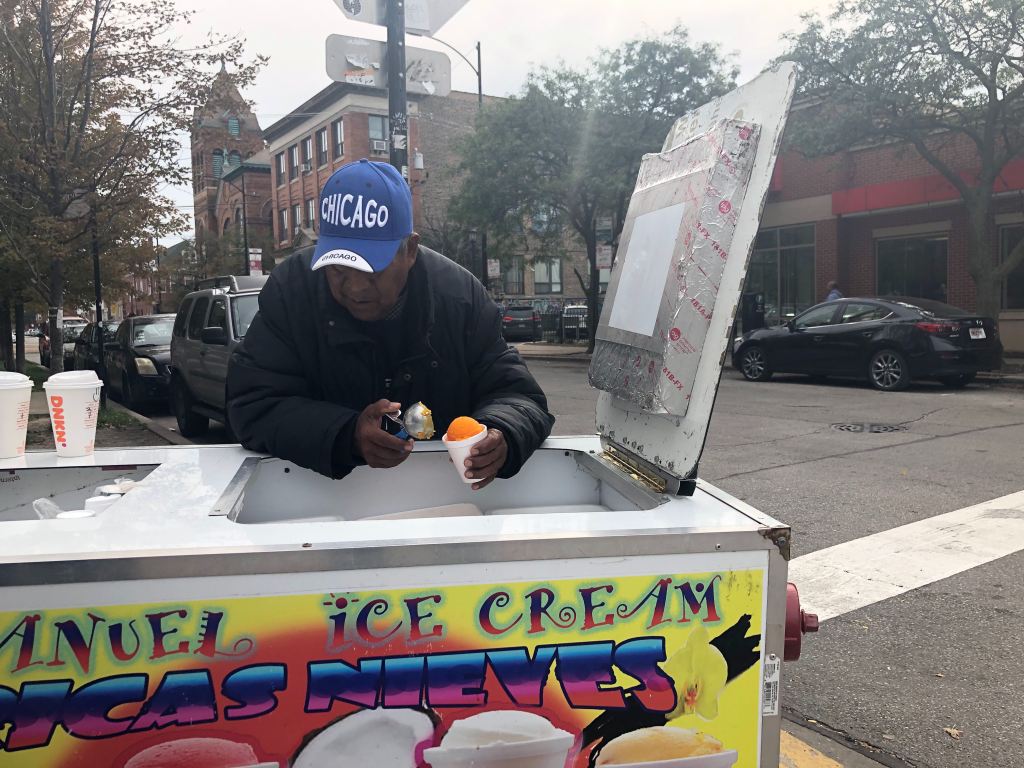 Over the last few months, the Pilsen community has been rallying behind the ailing paletero, launching a GoFundMe campaign and hosting a fundraiser to bring some relief to Ocampo, who faces mounting medical expenses and is in need of permanent housing.
In August, Hoy reported on Ocampo's deteriorating health and the difficulties immigrants face as they grow older with fewer job prospects. Ocampo immigrated from Guerrero, Mexico to Pilsen after his wife died 30 years ago, according to the report. 
In Chicago, Ocampo has worked in factories, as a dishwasher in restaurants and other odd jobs through temp agencies. Eventually, he started selling ice cream and paletas for Cafe Emmanuel, 1915 W. 19th St., in the spring and summer, and sold queso fresco door to door in the winter, he said.
But he is growing increasingly worried about his future and ability to work, as his ailing health has made it difficult to make enough money to survive. In recent years, Ocampo has had surgery to treat cataracts and was diagnosed with diabetes. In need of knee surgery, he now uses a walker or cane to move around. 
Despite his health, Ocampo still gets out of bed each day, working through his increasing knee pain so he can pay his bills. 
Some days he makes up to $30 and other days he doesn't sell anything, Ocampo said. But he remains optimistic.  
'He could be my father'
Activist Hilda Burgos, who is working alongside the owners of Cafe Emmanuel, Pilsen Alliance and Ald. Byron Sigcho-Lopez (25th) to help Ocampo, said she wants to make sure the ailing paletero can retire soon, especially as his ability to walk diminishes. 
Last month, Sigcho-Lopez worked with local groups to host a fundraiser for Ocampo at Harrison Park which raised nearly $5,000. Sigcho-Lopez said he was impressed with the neighborhood's grassroots push to help one of their own. 
"It speaks volumes of the kind of community of people who have come to offer a helping hand to [Ocampo]," Sigcho-Lopez said. "It's an understanding of the immigrant community, and who our immigrant community really is." 
It's a community that displays its values daily in the way neighbors care for each other, said the alderman, who immigrated to the U.S. from Ecuador.
"During this time of constant attacks against the immigrant community by [the Trump administration,] we see the other side — the solidarity from our community," Sigcho-Lopez said.
When Burgos first met Ocampo earlier this summer, she thought: "He could be my father."
In the last few weeks, Ocampo was moved out of a room in a basement he rented for nearly $300 to a temporary apartment with Burgos and Pilsen Alliance's help. Burgos said the conditions were unfit for anyone, let alone someone with ailing health.
"We needed to get him out of there. He deserves a dignified [space]," said Burgos.
Ocampo has had to move multiple times in recent years as rents in the gentrifying neighborhood rise.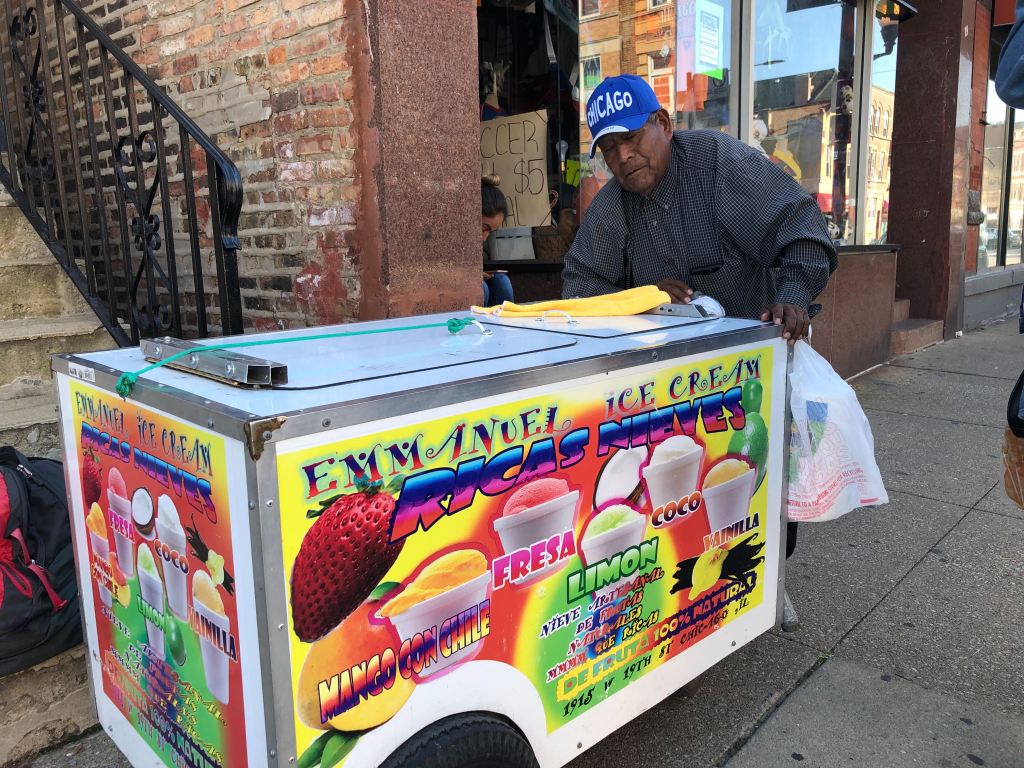 Pilsen Alliance Director Moises Moreno said Ocampo's story highlights a prevalent issue among seniors in the immigrant community.
"This is a reality for a lot of people … and this highlights the need for affordable housing," Moreno said. 
Burgos and Moreno said they are working to ensure Ocampo finds permanent, stable housing as soon as possible. 
In the meantime, Burgos remains committed to making sure he is looked after. 
"We aren't going anywhere. We won't abandon him. We are going to continue to support him," Burgos said in Spanish. 
Ocampo said the help he's received from his neighbors in his time of need has been "a blessing."
"Many people have been helping. …I'm very grateful," he said with a smile. "This is my family." 
You can donate to Ananías Ocampo here.
Do stories like this matter to you? Subscribe to Block Club Chicago. Every dime we make funds reporting from Chicago's neighborhoods.