Editor's note: This story contains graphic descriptions of domestic abuse. If you or someone you know needs help, please click here or call 773-278-4566
CHICAGO — Amy Pudlo thought coming forward about the abuse she faced at the hands of her ex-boyfriend would help protect other women.
But her ex got a slap on the wrist and she, along with another one of the man's victims, feels betrayed by the criminal justice system she turned to for help.
In November 2018, Pudlo said her then-boyfriend James Mather destroyed part of her apartment before choking her in a rage. Terrified, she went to the authorities after meeting another one of his victims and wanting the pattern of abuse to stop.
But Pudlo and "Gina," another victim of Mather's who asked to remain anonymous, say it won't stop until someone is dead — and even police, who say they caught Mather with an arsenal of weapons this summer, are furious about the lack of accountability.
'I'm Not Asking For A Lot'
In July, Mather, 33, was charged with domestic battery and criminal damage to property for the 2018 attack on Pudlo. He was also charged with domestic battery from a May 27 attack on Gina.
The women said they met with the Cook County State's Attorney's Office and asked for one thing: that Mather plead guilty to domestic battery.
Both women said the domestic battery charge was important to them because it is one of a few crimes that cannot be expunged from a person's record.
"I'm not asking for him to go to jail. I'm not asking for a lot," Gina said.
But they were misled by the State's Attorney's Office and blindsided in court by a weak plea bargain, even receiving a knowing smile from Mather himself, the two said.
"They lied to me," Gina said. "They took me into a safe room and Amy into a separate safe room. The [assistant state's attorney] said, 'He's pleading guilty to your charges.' I said, 'OK, domestic battery?' She said, 'Yes.'"
In a separate interview, 32-year-old Pudlo said she also questioned the assistant state's attorney about the domestic charge.
"I specifically asked if he was pleading guilty to domestic battery," Pudlo said. "I asked specifically, and this is why I'm upset, 'Domestic battery or battery?' and she said domestic battery. … This domestic charge needs to be on his record, not for me but for the safety of people everywhere."
Instead, the State's Attorney's Office combined the women's cases and allowed Mather to plead guilty to a reduced charge of battery in Pudlo's case. In exchange, the office dropped the criminal damage to property and the other domestic battery charge that involved Gina.
"They lied to me," Gina said. "I walked out of there knowing that the state never cared about my case as an individual, they just want a tally on their spreadsheet. They got a guilty plea. They got a tally."
Pudlo said neither woman got the opportunity to speak in court and are horrified by how they were treated.
"If he does everything he's supposed to do for the next 12 months, it will be like nothing ever happened," Pudlo said.
Gina added Mather is smart enough to jump through the minimal hoops put in front of him by the state.
A spokesperson for the State's Attorney's Office issued a statement to Block Club that said they offered the deal because they didn't have the proof to try Mather on the domestic battery charge.
"After a review of the evidence in both cases, we concluded that we could not meet our burden of proof," the statement said. "The prosecutor discussed with both victims our plans based on that review. The defendant pled guilty to a misdemeanor battery charge and was sentenced to one year of supervision with domestic violence counseling, an alcohol and drug evaluation, a mental health evaluation and both victims were issued Orders of Protection."
When asked what changed between when the office charged Mather in July and his Sept. 10 plea deal, the spokesperson did not respond.
Mather, who lives in Bucktown, and his attorney did not return calls requesting comment for this story.
'Chicago Has To Make Up Its Mind'
While out on bond for the attacks on Gina and Pudlo, Mather was arrested Aug. 9, police said. This time, he was charged with felony possession of a firearm without a valid Firearm Owner ID as well as five misdemeanor counts of unlawful use of a weapon, misdemeanor possession of exploding bullets, misdemeanor possession of anabolic steroids and a city violation of possessing a firearm silencer. 
In that case, Cook County Judge Arthur Willis set Mather's bond at $5,000, allowing him to walk free by posting a 10 percent deposit bond of $500.
RELATED: Police Are Cracking Down On Gun Owners With Revoked FOID Cards, But Penalties Remain Lax, CPD Says
The decision was publicly criticized by Chicago Police spokesman Anthony Guglielmi in an Aug. 15 tweet, which said, "Is this the Chicago you want? For $500, you could walk out of jail after being arrested for possession of this arsenal."
With seemingly no punishment for his crimes, Pudlo and Mather's other victims say they're confident he'll continue to escalate his abuse.
In a phone call with Block Club Chicago, Guglielmi said "Chicago has to make up its mind [on] what type of city it wants. If those are the types of penalties our system is going to give for gun crimes, then we are probably going to expect higher levels of gun violence."
'You Start To Think It's Normal'
Pudlo, 32, met Mather in January 2018. She said they began dating soon after and Mather was "charming and complimentary" in the beginning — but soon things changed. About a month into the relationship, verbal abuse began, she said.
"If I went out for brunch with girlfriends, he'd be fine with it at first but then I'd get texts that said things like 'have fun with all the guys you're with, enjoying sucking all the cock,'" Pudlo said.
Mather would later blame his behavior on being drunk and the fact that he had PTSD from serving in combat overseas, she said.
"People like this slowly push the boundary further and further," Pudlo recently said. "It's a calculated pattern that you don't realize is happening. You start to think it's normal because you're slowly conditioned."
Gina's story largely mirrors Pudlo's, who also said Mather slowly became more controlling and would blame his behavior on PTSD, sometimes sprinkling in horrific war stories. Mather claimed to be a Green Beret, but U.S. Army spokeswoman Liz Chamberlain could not find any evidence of Green Beret service.
"He's told other women that he was in the Delta Force and a Navy Seal," Pudlo said. "I found some information and confirmed that he was in the National Guard reserves. He was not active duty."
David Nunn, a public affairs specialist with the Arizona National Guard, said in an email that "James C. Mather was a member of the Arizona National Guard from 2010 until 2013 … . Mather did not deploy while serving with the Arizona National Guard."  
Gina met Mather at the dog beach near Montrose Beach in August 2018 while she was visiting her parents and began dating him in November 2018. He was still dating Pudlo, but she didn't know it and though she lived in another state, Mather would fly to visit her. When he couldn't visit, he would send threatening and controlling texts, Gina said.
"He would not like it if I was going out with my friends. He'd call me the worst things imaginable and then blame it on his past and say, 'Sorry, I need to work on things,'" Gina said, adding that she cut him slack because at the time she believed he had PTSD and had experienced a lot of trauma.
At one point, he told Gina he was being deployed for eight weeks and urged her to send nude photos, only to use the photos against her later, she said.
"He would use that and threaten me any time I tried to leave," Gina said. "He would say he would 'ruin my career' and expose me, and threaten to tell my family."
Pudlo added that when Mather got mad at her, he would load his handgun in front of her. 
"It was an act of intimidation," she said.
'He Was In An Insane Rage'
The alleged physical assault on Pudlo took place in November 2018 when she took Mather to a Chicago Blackhawks game for his birthday.
"I got him seats on the glass for his birthday. … I went to get drinks for the two of us," Pudlo said. "Two guys in line with me were making small talk."
Pudlo said the men asked if she wanted to join them in their skybox and she thanked them for the offer but declined, explaining she was at the game with her boyfriend.
"I turned around and [Mather] was literally standing there staring with this weird look on his face. I asked him what's wrong and he said he was going to the bathroom. I went back to my seat and never found him again" Pudlo said.
Pudlo texted and called to see what was up.
"He sent me all these profanity-laced text messages. He had a key to my place by this time and texted me saying he was heading to my place to 'dump it,'" Pudlo said.
Pudlo took an Uber home and Mather was already at her place.
"My place was fine when I got there … but then he started destroying everything. He punched a hole in my wall. He punched my mirror; that's where all the blood came from," Pudlo said, displaying a photo of Mather with blood on his hands. 
"He shoved me in the bathroom and I fell backwards into my bathtub. I had all these bruises and I wish I took pictures of myself. He shoved me into the tub … he got on top of me and started choking me. I was saying 'please stop.' He was in an insane rage," said Pudlo, who is 5 feet tall and 100 pounds. Mather is listed in police documents as being 6-foot-1 and 200 pounds.
"He was pulling my hair so much that when I showered the next morning, I had all these clumps," Pudlo said. "He then took his bloody hand and smeared his blood on my face."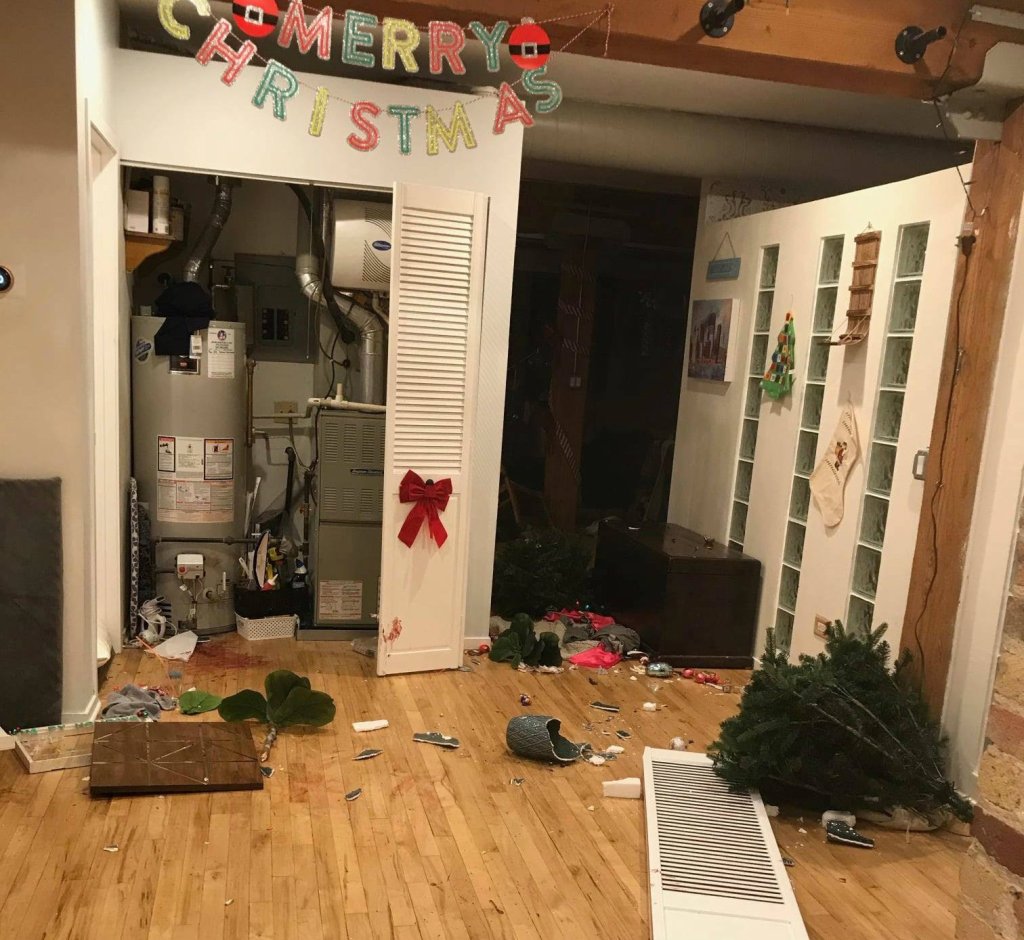 Pudlo said she struggled with what to do in the aftermath, never having experienced anything like it before. She ultimately tracked down other exes of Mather — seven of them who reported similar abuse, she said. Gina was one of them.
When she realized how many lives were impacted, she filed a police report and got an order of protection against her ex.
Gina, who had no idea Mather had another girlfriend, said he had cuts on his hands after the attack in Pudlo's apartment. He told her he had been jumped by three men, she said.
But about seven months later in May, she said she experienced the violence firsthand, two days before she was to leave for a backpacking trip in Europe with her brother.
On that night, Gina went out with friends after not hearing from Mather.
"He ghosted me for three days. I didn't hear from him but texted him, saying I hope everything is OK. I told him that I was going out with some friends and might stay at his place and would walk his dog," Gina said.
After midnight, the texts accusing her of cheating began.
"Around 12:30 a.m. he sent me a stalking text, saying he knows where I am," Gina said. "I told my friends that I had to go back to the apartment to calm him down and figure out what's going on."
Once back at Mather's apartment, she found it empty and proceeded to take a shower and go to bed. Soon after, he showed up in a rage, she said. He threatened to expose her nude photos and she was terrified of his anger, she said.
"I stayed and tried to calm him down but he got worse and worse," she said. "That's when he proceeded to chase me and grab me. I had bruises all over my arms. He threw me into a wooden pillar and my whole tailbone turned black. My back had lacerations. I was absolutely terrified. Then he went over to his desk and grabbed one of his guns and loaded his gun in front of me."
The presence of a gun in a domestic violence incident increases the risk of homicide by 500 percent, according to the National Coalition Against Domestic Violence. Every 16 hours, an American woman is fatally shot by her partner, The Trace reports.
"I was terrified. That was the first time I ever thought this could potentially end badly. I'm thinking about my family and then just stopped and put my hands up and said, 'What are you doing?' I was really scared," Gina said.
She was shaking and begging him to stop when he ultimately put the gun down and she was able to leave.
Once she did leave, she said Mather started texting her, saying things like, "I know where your family lives."
Gina walked to Lake Michigan and called a domestic abuse hotline and police. She said she had to wear pants and long sleeves to hide her bruises from her family but didn't want them to be in danger or to have to deal with the situation, and so she went on her trip without saying anything.
After returning home in July, Gina was contacted by Pudlo, who she didn't know yet, and learned she wasn't the only woman Mather terrorized. 
"I got a message from Amy saying that if I was in a safe place and could call her, there were some things I needed to know. I picked up the phone immediately and even she was scared," Gina said. "She had me FaceTime her to make sure I was not with him … . She said there were seven more of us."
That information caused Gina to take action.
"After finding out about all this, I contacted the police again and said I have to file a [report], not only for me but to protect the next person," Gina said.
'It Happened And It's True And I Have Pictures'
Gina said after the surprise plea deal, Mather "smiled at me" while exiting the courtroom.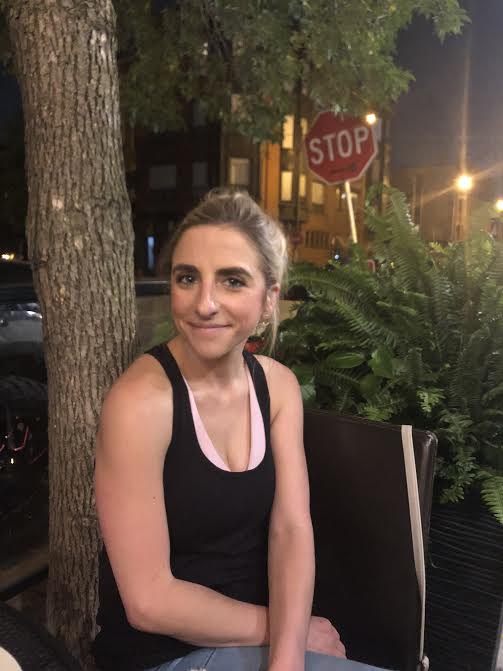 Pudlo and Gina said they researched tirelessly and even consulted a former prosecutor before working with the State's Attorney's Office. Still, they feel like they were manipulated by an office meant to protect them, and Mather's future victims.
"I never would have agreed to this," Gina said of the plea deal.
Gina said she gets that the system is overburdened, and empathized with the attorney she worked with, saying they had a slew of cases. Still, the women want some form of acknowledgement that what they went through was real — and they want to rest easy knowing that Mather is getting help and not terrorizing other women.
"It happened and it's true and I have pictures," Pudlo said. "At least I know I did what I could."
Gina and Pudlo are planning a trip to Aspen next year with a larger group of Mather's victims, they said. They chose the state because he once promised them each a home in Colorado. 
Mather is free on bond for the gun charges and is scheduled to be back in court for that case Oct. 25.
RELATED:

Do stories like this matter to you? Subscribe to Block Club Chicago. Every dime we make funds reporting from Chicago's neighborhoods.