GARFIELD PARK — Whole Foods is donating 5 percent of sales revenue to a local nonprofit that offers free cooking classes to kids in Garfield Park and Pilsen as part of its quarterly Community Giving Day on Oct. 17.
Donations will come from 28 Whole Foods stores across the state and will help to support Kitchen Possible, a nonprofit that uses cooking as a creative medium for teaching kids how to follow a recipe for success in the kitchen, in the classroom and out in the world.
"Our goal is to get as many people shopping on October 17 as possible, to really make sure that we maximize this opportunity," said Katie Lowman who founded Kitchen Possible three years ago.
For Lowman, cooking isn't just about making a meal. It's about making things happen, she said, piecing together the ingredients and transforming them into something entirely new.
"Every single time a new child enters our class, we see them go through this transformation," Lowman said.
Students go from feeling like they aren't capable of putting together a complex recipe to creating a delectable dish, Lowman said.
"We see them literally light up and their confidence completely explodes. … This partnership means that we can bring that to so many more kids," she said.
Kitchen Possible offers its classes at Breakthrough Urban Ministries in Garfield Park, 402 N. St. Louis Ave., where students learn to chop, spice and sauté their dinners to perfection.
The kids in the program learn to cook full meals with fresh ingredients they may not have previously been exposed to, and Lowman said the feeling of gratification from cooking their own meals makes even the pickiest eaters happy to try new foods.
"It doesn't matter how bold the flavors are or how fresh the vegetables are or how mature the profile of that dish is. When they make it they're so inclined to love it," Lowman said.
The meals cooked in the program are far from simple, ranging from Thai red curry to Tteok-bokki, stir-fried Korean rice cakes served with caramelized kimchi.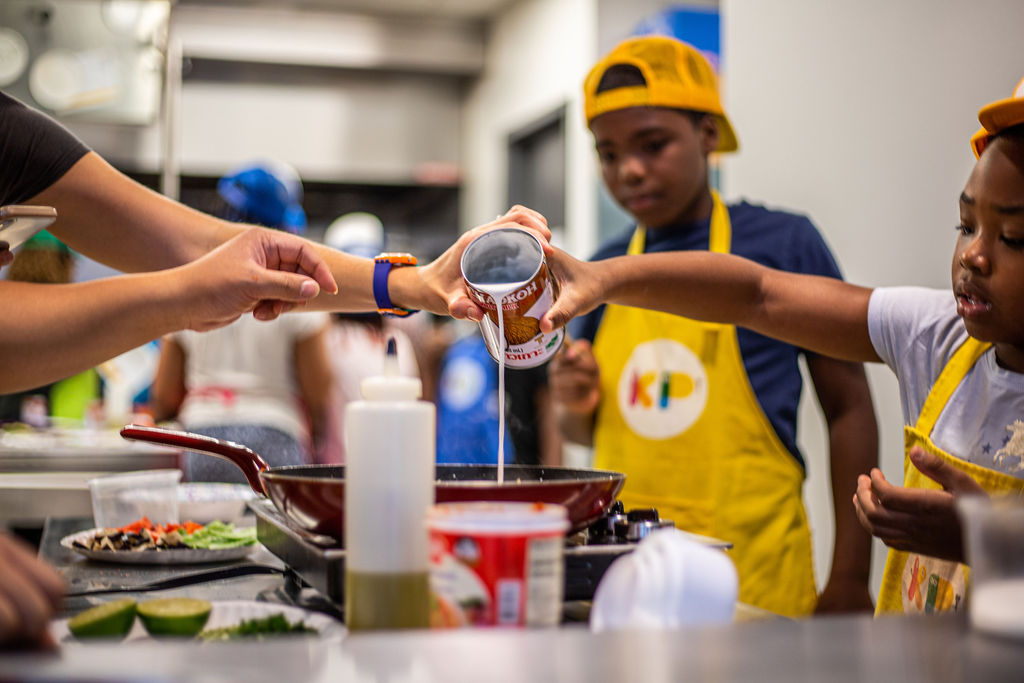 In Pilsen, Kitchen Possible has been part of Gads Hill Center's programming for the past three years.
Executive Director Maricela García views Kitchen Possible as a "great value" to the community-based organization with multitiered benefits for the children taking part in the program.
The kids learn math and science skills in a fun way that is hands-on, engaging and practical, García said.
"The measuring, weighing and mixing of ingredients builds interest in the sciences," García said.
García said working with fresh ingredients rather than processed food also teaches children nutritional value and encourages healthier food choices for them and their families.
And beyond the science, cooking and nutritional lessons learned, the children are learning to work in teams and support one another, too, she said.
"Everyone brings something in order to collectively create a meal. The children are learning to communicate … negotiate roles and responsibilities and celebrate what they can do together … . That's something we value at Gads Hill Center," García said.
Seeing the joy and enthusiasm in the children's faces as they whip up "wonderful dishes" is a pleasure to watch, García said.
"I think it's such a good way of building self-esteem, fostering a sense of pride and a sense of community," García added.
Kitchen Possible will begin offering classes at the Gary Comer Youth Center in Greater Grand Crossing in January 2020.
Pascal Sabino is a Report for America corps member covering Austin, North Lawndale and Garfield Park for Block Club Chicago.