WICKER PARK — A giant rooster peers out at passersby from the side of Falafel & Grill restaurant in Wicker Park, one of the neighborhood's many striking murals.
It was painted by Chicago artist Juan de la Mora, but his signature was removed last May after a visit from city workers who thought it was an illegal tag.
Mora's friend and fellow artist J.C. Rivera happened to walk by just after it was removed and took a photo to let his friend know. But three months later, something much worse happened: Rivera's brand new mural was painted over by city workers.
The Lakeview Chamber of Commerce had commissioned Rivera's "Bear Champ" mural near the Paulina Brown Line station, but workers painted over the entire thing with the city's signature graffiti-removal color, brown.
"It's like you can look at the color and you can even know what the color smells like," Mora said of the city's color choice. "Like pinto bean juice water in the fridge for three weeks. It's the most disgusting color. It's so ugly."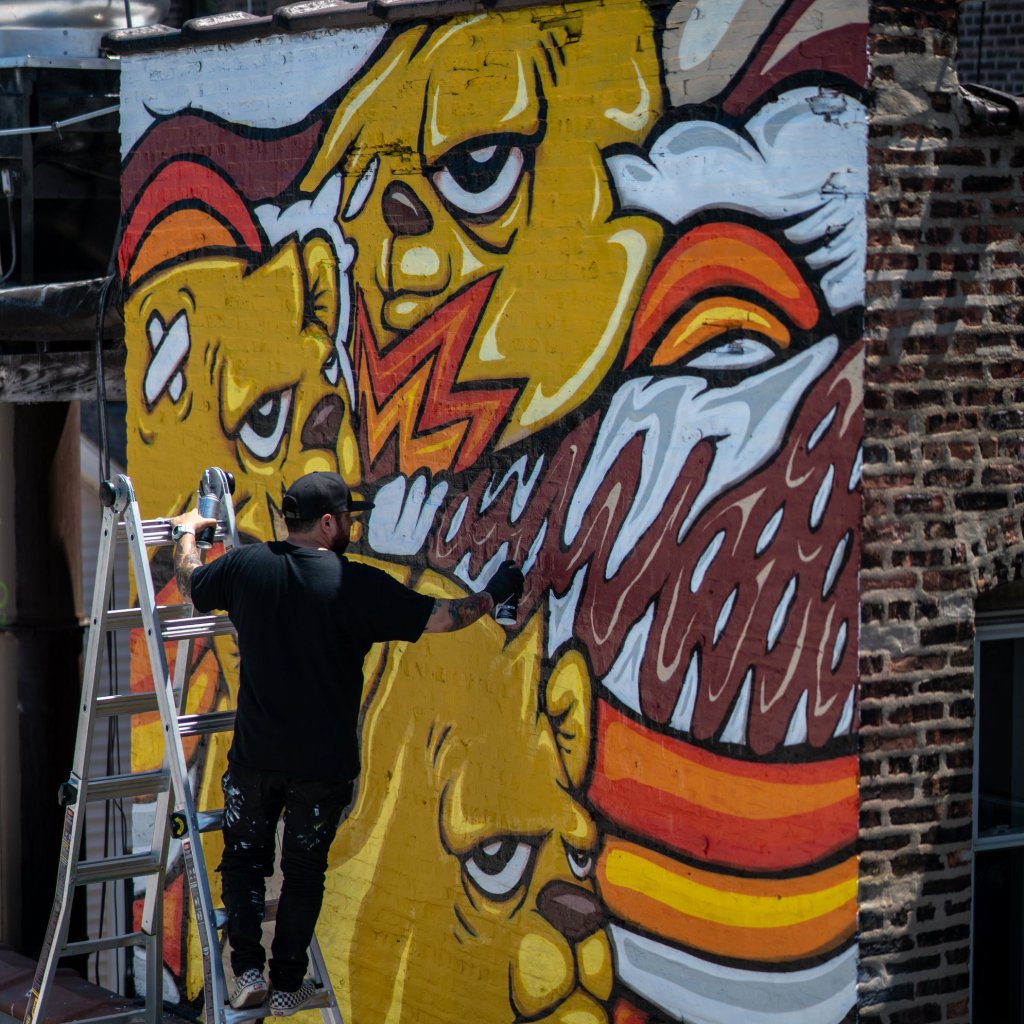 Mora and Rivera are just two local artists who have seen their art destroyed by Department of Streets and Sanitation graffiti blasters over the years, and who are hoping a mural registry that launched in the spring will protect their work moving forward.
So far, the registry is growing — but slowly. During October's Chicago Artists Month, supporters of public art want to make it easier for people from all neighborhoods to preserve their community's colorful murals.
As of early October, more than 200 murals have been registered, and they are clustered in areas known for their artistic heritage like Wicker Park, Little Village, Logan Square and Pilsen.
Those neighborhoods also had among the city's highest numbers of graffiti removal requests last year, according to an analysis of data on the city's data portal, showing that the program is working to stop the destruction of the most at-risk art.
But artists say the city needs to do even more to understand and support public art — especially in South and West side neighborhoods. Since the registry depends on artists or organizations registering their own work, a lack of buy-in could make the registry ineffective or incomplete.
"We are, in part, relying on the public to help us populate this mural registry," said Lydia Ross, director of public art at the Department of Cultural Affairs and Special Events, which runs the registry.
The Loop: Home of the most murals? Probably not.
Since the registry launched in April, 248 murals have been registered. The Loop has the most at 37, followed by the community areas of  West Town, South Lawndale and the Lower West Side, Uptown and Logan Square. These areas include Wicker Park, Little Village and Pilsen.
The vast majority of the murals are registered by three nonprofit art groups: Chicago Public Art Group, Wabash Arts Corridor and Yollocalli Arts Reach. Almost one in five was registered by the city itself and 10 murals were registered by the game company Cards Against Humanity at its office in Lincoln Park.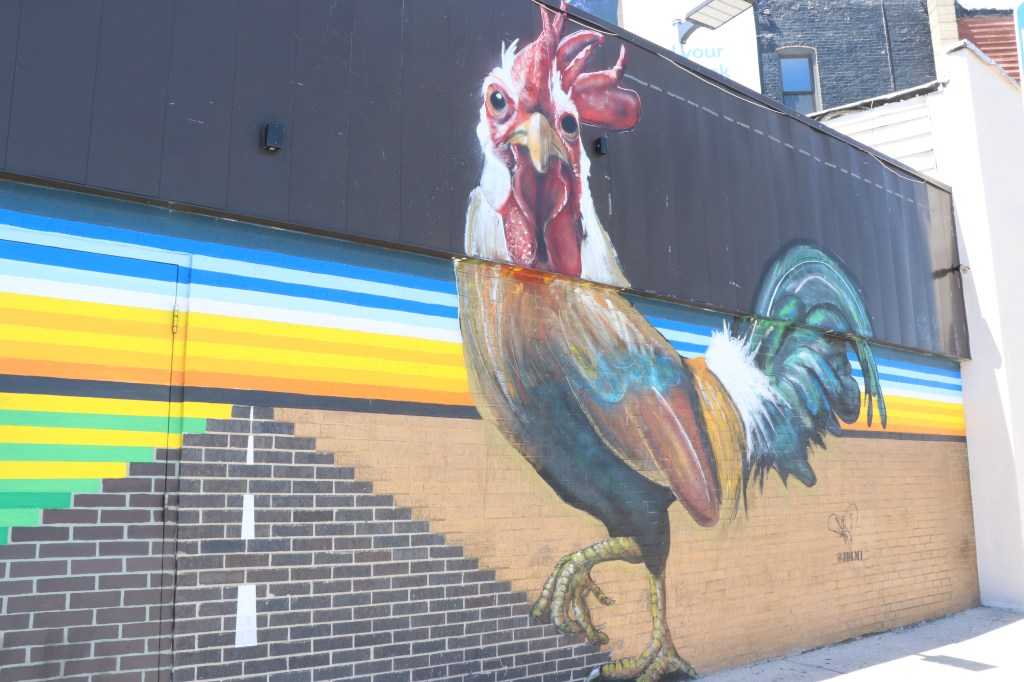 "I certainly don't think Downtown has the most murals in the city," said Ross, noting the registry data "will change based on where we [get] the data from." Ross added that the Department of Cultural Affairs and Special Events worked closely with organizations to provide a baseline inventory of murals before launching the mural registry. "So it's really a mix [of organizational and individual applicants]. And I think that this proportion will change the longer the registry exists."
The mural registry dataset is updated every month and expected to serve as a reference for city workers so they avoid harming registered murals, and also as a guide for tourists and residents interested in public art. The publicly-accessible database contains details of each mural including artists, locations and descriptions. To be registered, murals must be in good condition and cannot be considered vandalism or commercial advertising. Artists, building owners, organizations or others can register murals by filling out a free application. 
"We want to celebrate the work that exists already and we also hope that the more people explore the mural registry and see the incredible diversity of artists and styles and locations of murals and street art, that artists and property owners and chambers of commerce are inspired to fund and support more and more murals," Ross said. "So it's so much more than just a communication tool with Streets and Sanitation. It's really a celebration of our city and it's a great educational tool that I hope students and teachers will also think about using." 
'Sanctioned artwork versus vandalism'
When it comes to a subjective thing like art, some artists worry that certain types of work won't be protected.
Decades before he was an acclaimed street artist, Rahmaan Statik was a high schooler painting with his friend in a Pilsen junkyard owned by the friend's uncle. Their art, which was visible from the Western Avenue CTA station near 21st Street, was painted over by city workers even though they had approval to paint in the privately-owned lot. The workers actually trespassed in order to remove the art, he said.
Statik, now 38, has produced over 400 murals. He got his nickname, Statik, as a teenager because of his big afro, he said. But he likes to go by Rahmaan Statik, which sounds like a "legitimate artist" versus "Statik is just like a graffiti writer," he said. 
The painting in the junkyard was Statik's first but not only one removed by the city in his over 20-year painting career. But he has his own way of dealing with it.
"I'm a firm believer in power through being a prolific artist, just making a lot of good work," he said. "For every one wall you get rid of mine, I get three or four more going up. This s— doesn't stop me." 
A key aspect of improving the city's policy toward graffiti and public art is clarifying what differentiates artistic graffiti from vandalism or gang graffiti that could exacerbate turf wars and violence, critics say.
"Gang graffiti is used to mark territory," said Luis Tubens, who has led mural tours in Pilsen for more than a decade. "That's the one that's gonna cause trouble. That's the one that really makes the neighborhood scary."
The Department of Streets and Sanitation does not keep track of whether graffiti is gang-related and about 7 percent of graffiti removal requests last year were logged as hate, profanity or on a church or school, data show.
That raises the question, what was objectionable about the rest of the removed graffiti? 
For the Department of Cultural Affairs and Special Events, permission to paint on a building is key. 
"The concern for us is really protecting any exterior artwork that has received approval to be on a building," Ross said. "So it isn't about semantics, it isn't really about categorizing mural versus graffiti art. It's sanctioned artwork versus vandalism." 
Ignored art on South, West sides?
An analysis of the city's graffiti removal dataset shows the graffiti blaster team completed over 100,000 removal requests last year, mainly from West Town, Logan Square, South Lawndale and the Lower West Side. Almost half of the requests came on a 7-mile stretch of North Milwaukee Avenue between Wicker Park and Irving Park. The prevalence of graffiti removal requests in these neighborhoods could mean that street art there is at heightened risk of removal, so it's fitting that murals in these areas are being registered. 
Places like Wicker Park, which has more pedestrian traffic especially at night, tend to see more tagging and vandalism, artists and experts say. With more businesses and properties who perceive graffiti as a bigger issue "detracting views from stores," graffiti is reported more frequently in these neighborhoods. 
Kyla Embrey, a manager at Antique Taco, 1360 N. Milwaukee Ave., said she has called the city graffiti team multiple times. Graffiti appears pretty regularly in the neighborhood, Embrey said, usually in the alley behind stores. 
In May, she called the city to remove graffiti on the wall behind their building, just under the el train tracks. The city came quickly, within 24 hours, and removed the graffiti, she said.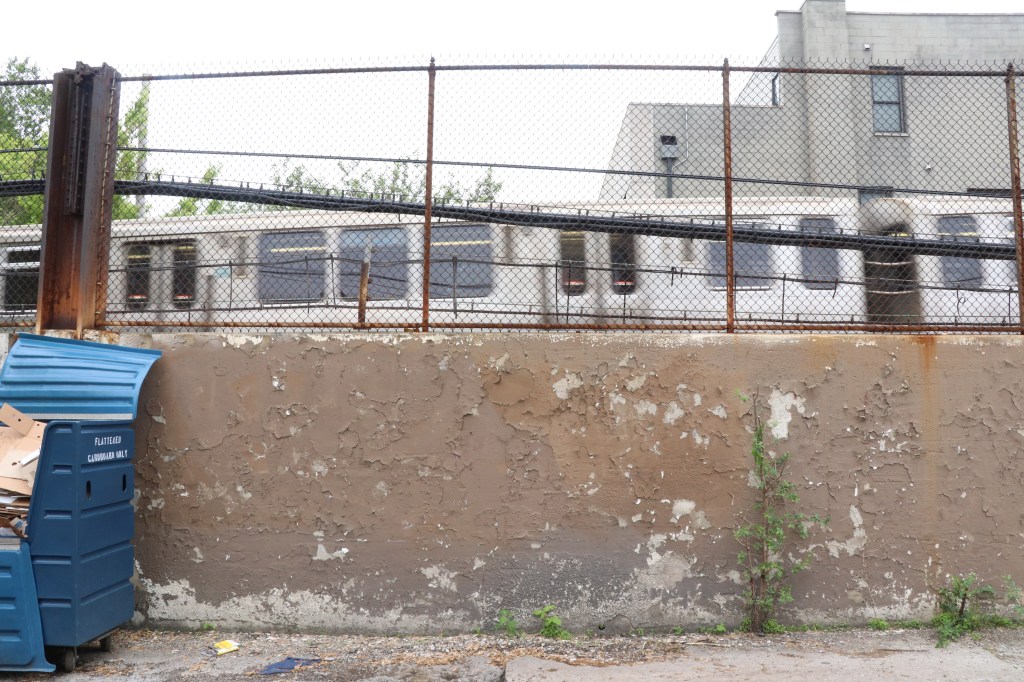 "It's really prominent from the street. It's not something that we want to take focus away from our restaurant," Embrey said. "I'd rather people focus on the art that's been commissioned rather than tagging that was done illegally." 
The restaurant does support public art: there is a mural of Frida Kahlo outside the restaurant. "It's definitely an ad for our restaurant, for the neighborhood as well," Embrey said.
However, because of the "Antique Taco" sign beside the mural, it might not be eligible for registration in the city's dataset. 
"If the imagery depicts the name of a specific place of business, includes logos or brand names, it is considered a sign and subject to sign permitting rules and regulations and therefore not classified as a mural by the city," Ross said in an email.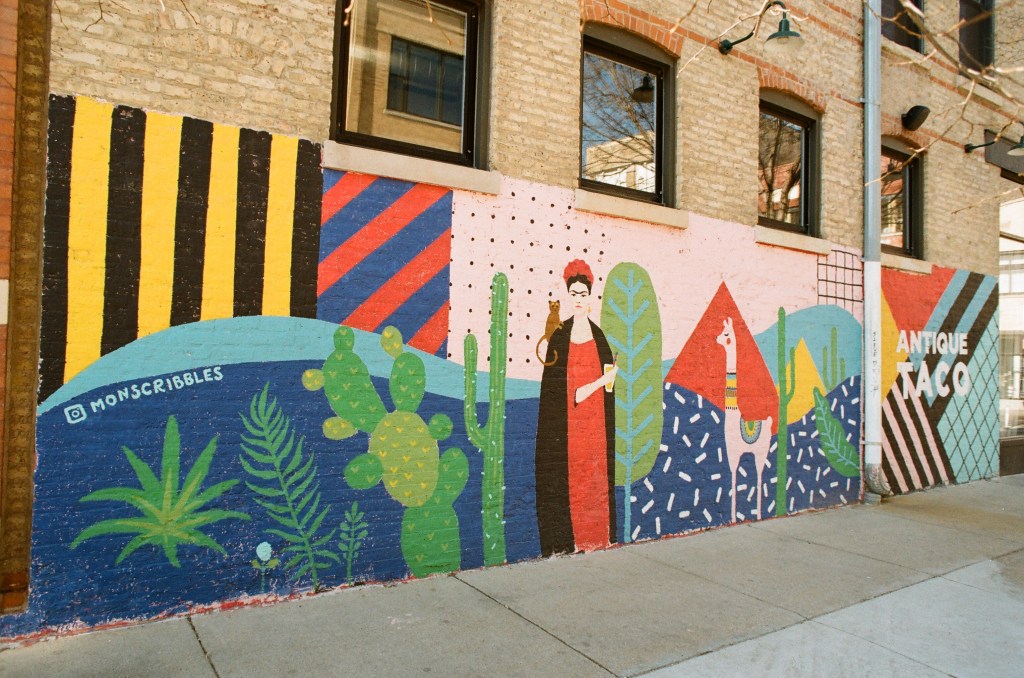 Meanwhile, beautiful murals on the South Side are often overlooked, Statik said.
"It doesn't get documented," Statik said. "No one notices it cause lots of people [who] just move to Chicago are scared to go over there. Therefore, a lot of work there, on the South Side or the West Side, people don't know about it." 
The mural registry could bring more visibility to artwork in these neighborhoods, benefiting the local economy and truly showcasing the extensiveness of public art in Chicago. But for that to happen, people have to participate in the mural registry — and the city should do more outreach to let folks know how to register, artists say.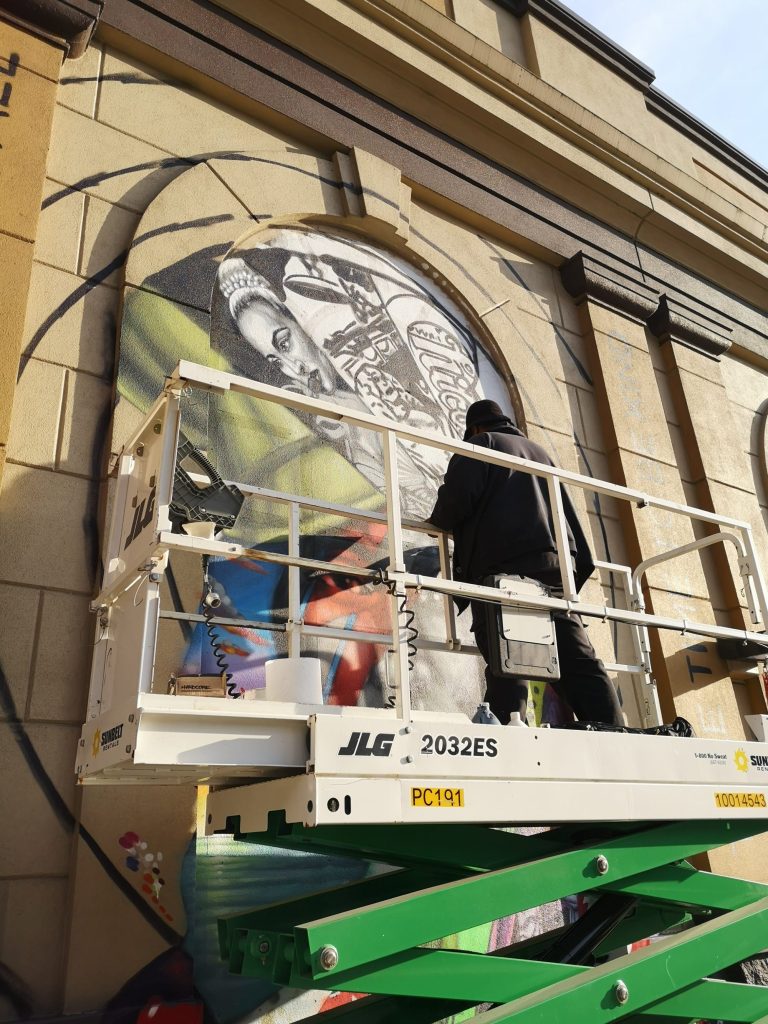 "There are lots of emerging artists, neighborhood groups and individual artists and organizers making an impact in communities that have far less visibility than the downtown area," said Neysa Page-Lieberman, chief curator for Wabash Arts Corridor at Columbia College Chicago, a group that has produced over 50 murals in the South Loop. "Hopefully the mural registry affords these artists and programs the benefit of a more visible platform and increased notoriety for the work they're doing." 
John Pitman Weber, 76, co-founder of Chicago Public Art Group, said the city needs to do more to fund and promote local artists — not just internationally famous ones that will attract tourists.
"I believe the mural registry is a fraud intended only to protect the city from lawsuits stemming from its reckless removal/destruction of murals from private property without any form of permission," Weber wrote in an email.
'Public art is for everyone'
It was a bright Monday last September, when Hebru Brantley was painting a new mural in Wicker Park. People came out of their homes to watch and talk with him. Some of them were even holding prints of his work. Kids ran in the street, pointing at the characters Flyboy and Lil Mama that Brantley was painting, or just sitting down on the street watching him work. The corner of North Milwaukee Avenue and Beach Avenue became crowded with onlookers. 
The original Flyboy mural on the same wall was painted by Brantley, a prominent Chicago native artist, almost a decade ago. It was one of his earliest Chicago murals until it got painted over by city crews last spring due to repeat vandalism on it, city officials said in a statement.
Thanks to funding from the Wicker Park Bucktown Special Service Area (SSA) #33, Brantley returned to repaint it.
"It really reinforces that public art is for everyone. It's part of the community. It's part of that fabric," Jordan Miller of the Wicker Park Chamber of Commerce. "Sometimes we get used to it but when it's gone, it's gone. You can feel that loss." 
Because of the erroneous removals, Miller said SSA #33 launched its own mural registry last May. They've compiled a list of murals in the neighborhood, and all murals in Wicker Park and Bucktown that have been sponsored or funded by SSA #33 have been sent to the city's registry.
"Anything that makes sure that doesn't happen again is a step in the right direction," Miller said. 
Still, there's not much the city can do about vandalism to the pieces.
"This has added a layer of checks and balances, and a better system to communicate amongst staff who can then work directly with artists and/or property owners to address the issues at hand," Ross said. 
Diana Solís, artist and co-owner of Pilsen Outpost, said the mural registry is a good first step in protecting art, but believes the city's understanding of art should broaden.
"Murals have a duty to educate the people about what is going on in our world today and what has happened in the past," Solís said. "[The city should] look at a much deeper issue: how do we protect these national treasures?"
To sign up a mural in your neighborhood for the registry, click here.
Do stories like this matter to you? Subscribe to Block Club Chicago. Every dime we make funds reporting from Chicago's neighborhoods.