JEFFERSON PARK — When a neighbor's landscaper put fresh sod down next door, he told Margaret Plouff her grass looked pretty bad and she should consider installing new sod, too.
"We can't have it looking nice here and not looking nice there," the landscaper said.
Plouff replied, "Just wait until next year. I've got plans."
When the landscaper came back this year, it just so happened to be on the day Plouff and her partner, Reed Adler, were digging up their front yard. The landscaper was planting new sod again (the first planting didn't survive). 
He asked what they were doing and Plouff replied, "You remember last year? It's gonna go wild."
Indeed it has. Plouff and Adler created an urban prairie in their front yard on a tight budget, bringing in native plants, taking in donated plants and even letting the birds bring in seeds.
And they're not the only ones in Chicago doing it, or even in their Jefferson Park. A walk around their neighborhood revealed plenty of homes turning away from neatly-trimmed grass lawns and letting native plants in.
Adler and Plouff have been living in Jefferson Park for 14 years. They bought their house — a new construction — in 2005. It was the only house on their block that wasn't a half century old two-flat or bungalow. The yard was a blank slate. 
The pair likes gardening (but are not experts by any means) and acquired a wild assortment of plants in their backyard. 
They grow tomatoes and lettuce out of Plouff's year-round tower gardens. There's an abundance of chocolate mint and lemon balm lining the sidewalk. Adler picked up some river onions a decade ago while he was kayaking that now add pointy green texture in the far corner among a variety of other plants the couple cannot definitively identify.
But it was some of the other yards in their neighborhood that inspired Plouff and Adler to start working on their front lawn. 
Within a short walk around the block, you can find multiple houses with educational signage in their front yard habitats.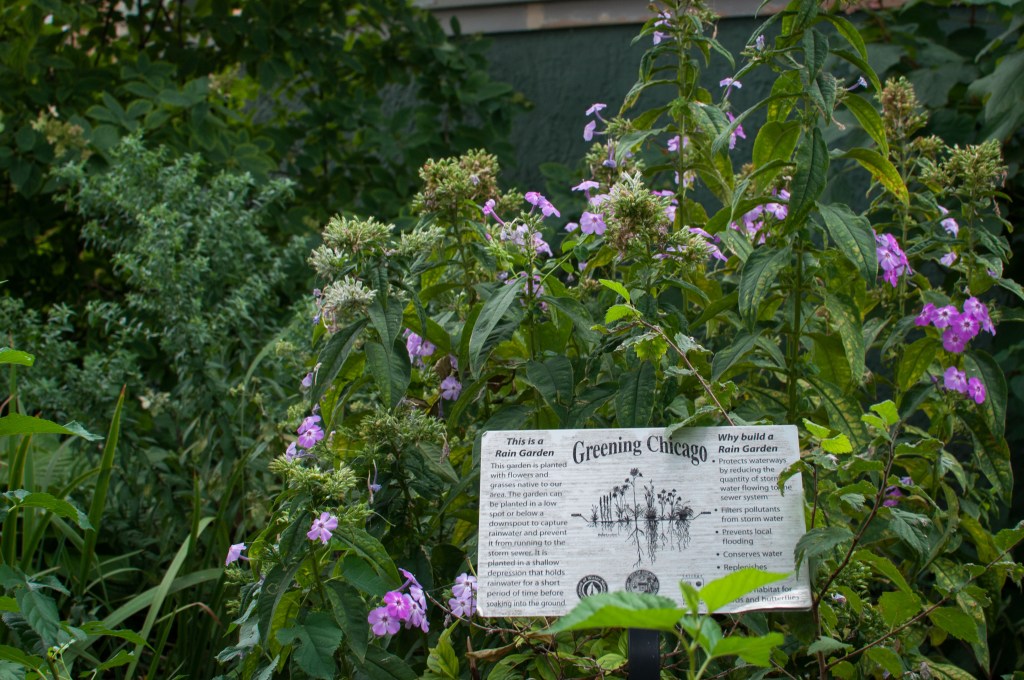 One house right around the corner has a "Greening Chicago" plaque with the city seal staked into their garden. The plaque explains what a rain garden is and the benefits of planting one. It was one of the yards that originally inspired Adler and Plouff.
"We had a lot of water coming off the roof that was kind of puddling, and we wanted to [make a rain garden]," Plouff said. 
Another home in the neighborhood has a Wild Ones sign, a Humane Backyard sign, and a Backyard Wildlife Habitat sign that all explain the reasoning behind keeping a "wild" looking yard.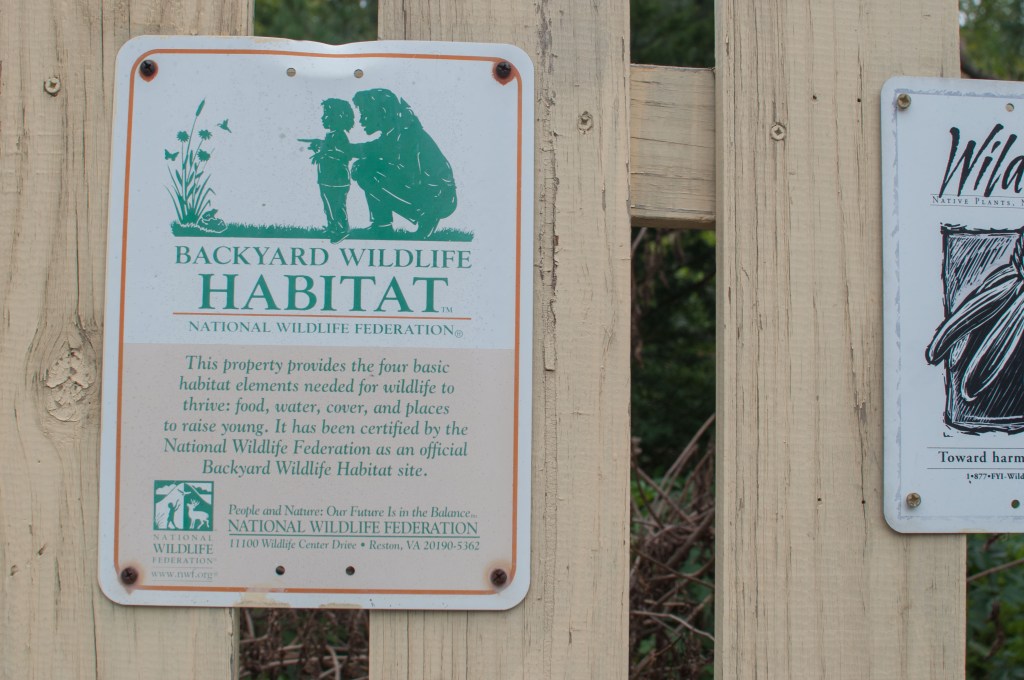 After admiring these yards on their regular walks around the neighborhood, Plouff and Adler were sold. They would rip out the grass in their front yard and plant a prairie. Or a rain garden. Or really, just whatever they could do on a really low budget. Plouff half-figured the birds might just deposit some prairie plants for them if she just cleared a space.
"The hollyhock came from the birds. Thank you birds. And some other stuff has come up that we did not plant," Plouff said.
But beyond some fertilized bird poop, the pair looked to their friends, neighbors and Freecycle for plants needing a home. Freecycle is a network for neighbors to get (and give) away things they no longer need instead of throwing it out.
"We went for a garden walk and people gave us seeds. The garden walk lady gave me a pile of seeds so I just threw a bunch out there. She said its good for the swallow tail butterflies? And it's pretty and it smells good," Plouff said.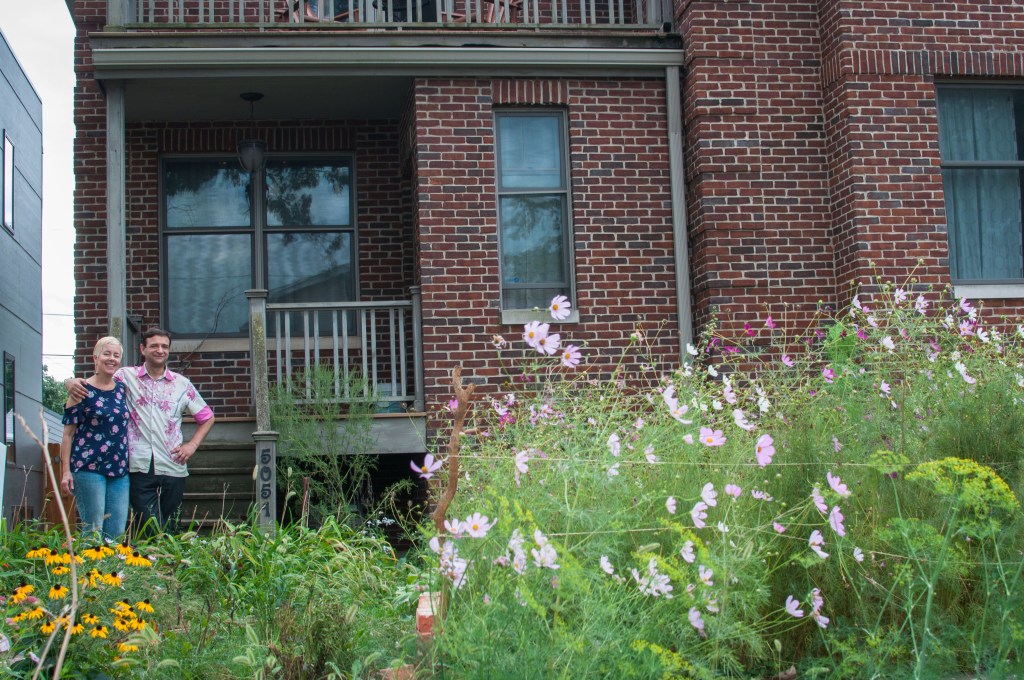 A woman who listed her cosmos on Freecycle complained the flowers were coming up everywhere and it was too much. She told Plouff and Adler to take as many as they wanted, she hated them.
"So she's out there with a steak knife taking them out for us," Plouff said.
Another listing on Freecycle gave Plouff and Adler a bunch of day lilies. Plouff said people are happy to give plants away if she and Adler are willing to come dig them up.
One neighbor keeps a really pristine garden with tons of flowers, and she likes to keep it very orderly. Whenever it gets overgrown, she gives some of it away. "She'd point and we'd split and dig. She gave us a lot," Plouff said.
"My goal was to try to do it on a low-to-no-budget and see what we can do," Plouff said. "Because when I lived in Glenview, people spent an exorbitant amount of money on their gardens." 
Besides connecting with neighbors through sharing plants, simply moving the gardening party to the front yard has helped Plouff and Adler build new connections with their neighbors.
"My three little buddies down the street, they're like 6, 7 and 8, they come over and they love the garden. They go in and ask what everything is," Plouff said. "We have two neighbors in the apartment a couple over, and they love looking down on this."
As far as whether more neighbors will get rid of their grass in favor of rain gardens, native planting or re-wilding, the neighbors in that apartment a couple over, Oscar and Margarita, are definitely taking notice.
"Our landlord likes it pretty simple," Oscar said when asked if he would consider doing something similar. "Though [our landlord] does keep tomatoes in the back, he might be open to doing something like that in the backyard."
And the landscaper who comes to maintain their other neighbor's sod every week? After seeing the garden start to grow Plouff said he told her, "I kind of like that. That's kind of nice."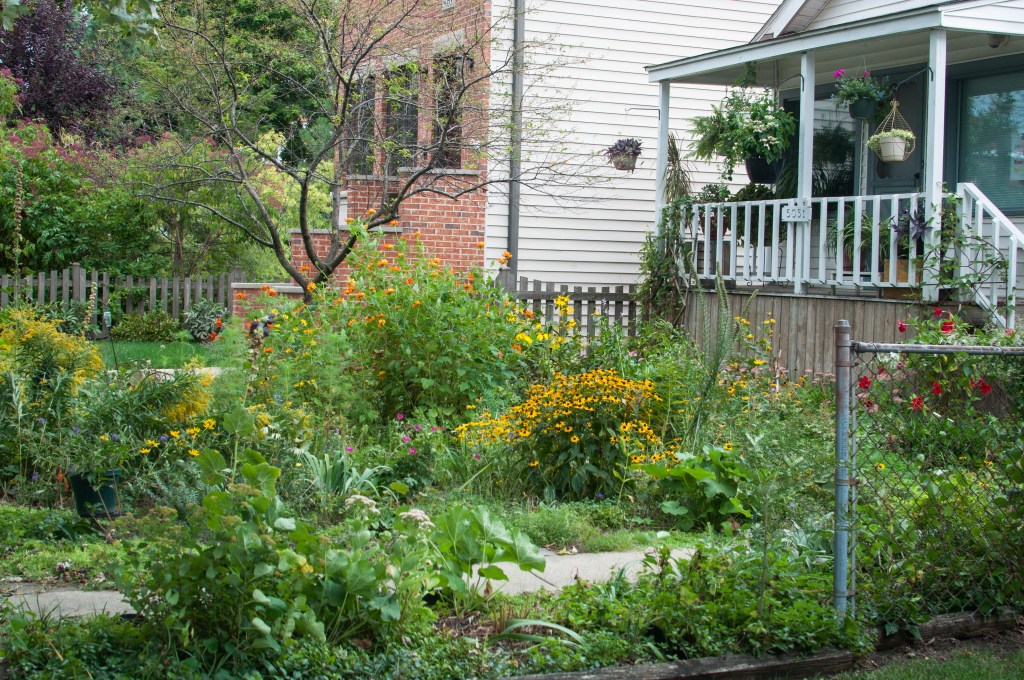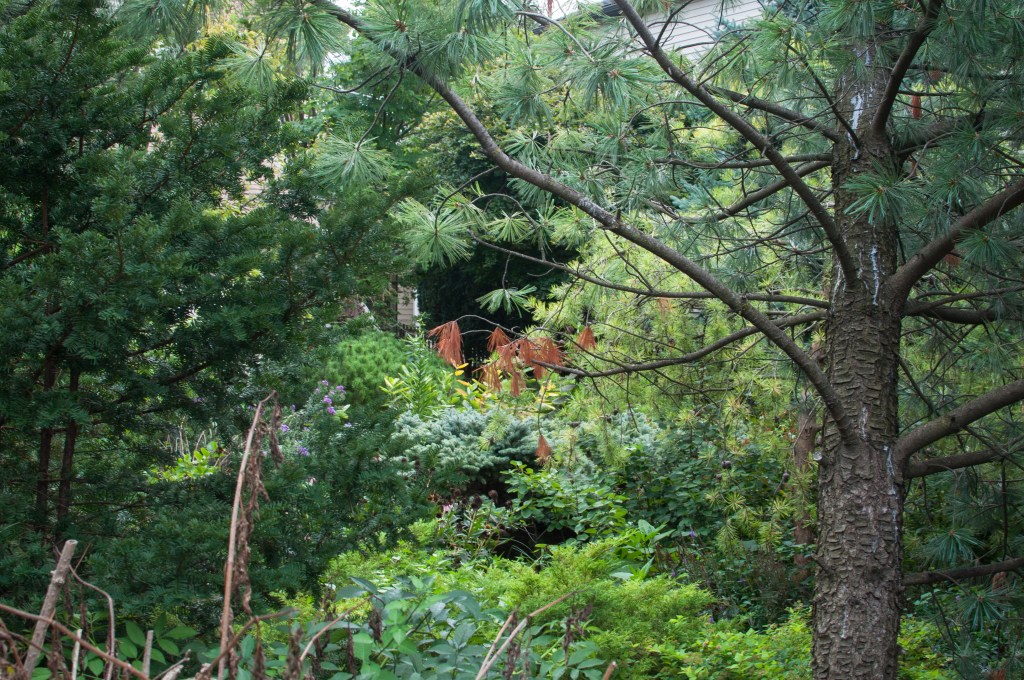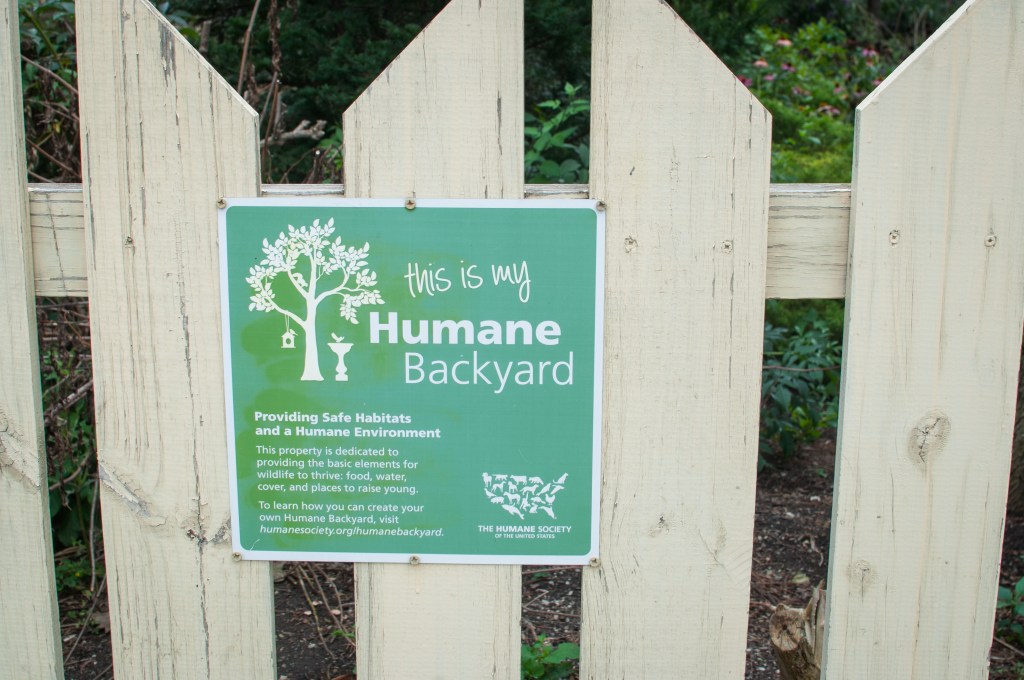 Do stories like this matter to you? Subscribe to Block Club Chicago. Every dime we make funds reporting from Chicago's neighborhoods.