ENGLEWOOD — Two months ago, Jermaine Kelly spoke before a group of people in Englewood, trying to make sense out of the murder of his childhood friend Calvin Seay, a fellow anti-violence volunteer.
Wearing "Who's next???" t-shirts, Kelly and two dozen members of the anti-violence group Mothers Against Senseless Killings (MASK) held a moment of silence for the dead and another moment for the living before imploring the Chicago Police Department to ramp up their efforts to find the people responsible.
On Tuesday, Kelly became a victim.
The 25-year-old, who is studying to be an electrician, was shot Tuesday morning as he and two classmates were getting ready to go to trade school.
He survived and could soon get out of the hospital.
But his shooting has again rocked the group MASK, which, after guarding a section of Englewood by hosting barbecues, playing games with neighborhood kids and being a constant presence at the corner of 75th and Stewart since 2015, had seen a drop in nearby violence until earlier this year.
Calvin Seay was gunned down about a block away from MASK's home corner. The 23-year-old was leaving his home in the 7300 block of South Stewart on his way to work at the Chicago Park District when someone shot him in the middle of the day.
Now, the friend of Seay's who spoke at his vigil was the victim of the latest attack.
MASK's founder Tamar Manasseh described Kelly as a "big ole teddy bear" who is beloved by the community.
"He doesn't do anything. He doesn't bother anybody. It doesn't make sense," said Manasseh.
The shooting happened several weeks before the opening of MASK's Peace Academy, a school and community center created to provide career opportunities for residents.
It happened as Kelly was standing outside of his car around 6:15 a.m. Tuesday on the 7400 block of South Vincennes, checking the pressure of one of his tires.
As he waited to give rides to two classmates in his Revolution Workshop trade school, he heard shots and realized he'd been hit.
"I ran up to my friend as he was running up to me and said, 'I've been hit, I've been hit," Kelly told Block Club from John H. Stroger Hospital, where he was treated.
He was shot once in the hand and once in the thigh. The bullet in his thigh remains lodged.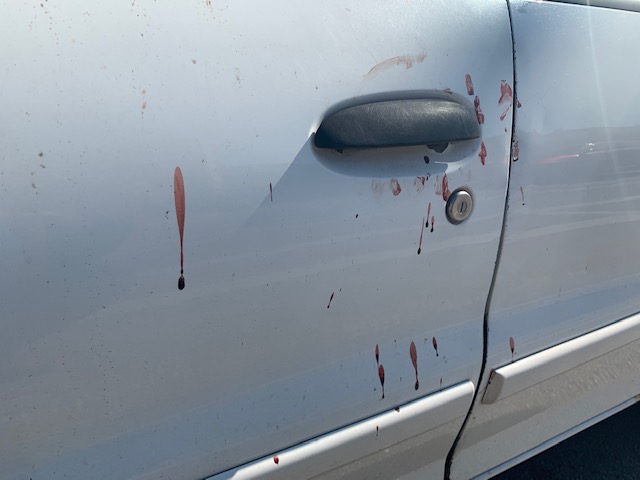 A classmate drove him to St. Bernard Hospital. He was then transferred to Stroger.
"I guess I was at the wrong place at the wrong time," said Kelly, who has volunteered with MASK for five years.
So far, police have no leads as they investigate.
Kelly said after speaking with a Chicago Police detective about the incident he's hopeful that the person responsible will soon be found.
"Usually when you talk to police you can tell the vibe isn't really genuine, but this one seemed genuine. Made things less stressful," said Kelly.
Kelly said he believes the slaying of his friend Seay and his own shooting are connected.
Manasseh is hoping the community and the police department will come together to keep the students of the impending Peace Academy safe.
"We can't lecture these boys about turning their lives around and not make sure they're safe," said Manasseh. "They're doing what they're supposed to do. We have to keep them alive to do that."
Kelly said his shooting won't stop him from accomplishing his goals or seeing the Peace Academy completed.
"Can't be afraid of violence. Violence is everywhere. It's an epidemic," said Kelly. "If violence wants you, it's going to come to your door."
Do stories like this matter to you? Subscribe to Block Club Chicago. Every dime we make funds reporting from Chicago's neighborhoods.