LOGAN SQUARE — In Palmer Square, everyone knows Pete.
Clad in a neon vest and a service cap, Pete Parada greets every person who passes through the intersection of Palmer and Kedzie with a warm "hello" and a huge smile.
Whether he's waving people across the street or in conversation with one of the many neighbors he's gotten to know, Parada never stops smiling.
"Some people say, 'Why you smile?' I say, 'Life is good,'" Parada said.
The 61-year-old, known simply as Pete, has become a neighborhood fixture in his four years as a crossing guard next to Palmer Square Park.
Neighbors say Parada's smile — and positive attitude — is infectious.
"From the second he starts his job, he's got a smile on his face," longtime neighbor Khloe Karova said.
"That's the thing that's really powerful — to have people like that who are just going to smile at you when you cross the street. [He's] a role model for our kids."
Jennie Fronczak, another neighbor, said Parada "goes out of his way to be warm and welcoming."
"He knows all of his people. He throws his whole heart into it. He's amazing," Fronczak said.
Parada was a mailman in Lakeview for 35 years before he became a crossing guard. He spent most of his United States Postal Service career working out of the Imperial Towers condo building at 4250 N. Marine Dr.
Over the years, Parada got to know many of the people living in the building.
"You could say a first name and last name and I could say what apartment they lived in. I just know it. It [was] my job," Parada said, flashing his signature smile.
Parada applies those same skills to his job as a Logan Square crossing guard. He makes an effort to get to know everyone he meets, but he also respects the people who want to get where they're going without interruption.
"What you put out is what you're going to get," he said. "There are some people — they don't say hi, they don't smile. That's OK. I still say my hi."
Before Parada became the Palmer Square crossing guard, he was the crossing guard at Wellington and Kedzie avenues in Avondale, right near where he lives with his wife, a teacher at nearby Goethe Elementary School.
Parada, who grew up in the Lakeview/Lincoln Park area, said he "loved" the Avondale corner, but someone wound up coming back to reclaim their spot.
Palmer Square is now home, he said.
"This corner has been the best for me because everyone's friendly, everyone says hello."
'Our kids really need him'
One afternoon, at the end of his afternoon shift, right around 3:30 p.m., Parada gets a call on his radio to remind him his shift his over.
Parada ignores it, like he usually does. A few kids who normally cross the street around that time haven't come around yet, and he wants to make sure they get home safe.
"You learn the corner to the point where you know who your late kids are, who your early kids are," Parada said.
"I don't mind staying a little longer to make sure they get where they're going. I don't want them to come here alone and not have anybody watching them."
Parada acknowledges that's not feasible for every crossing guard. Some have two jobs and staying late could put a second job in jeopardy.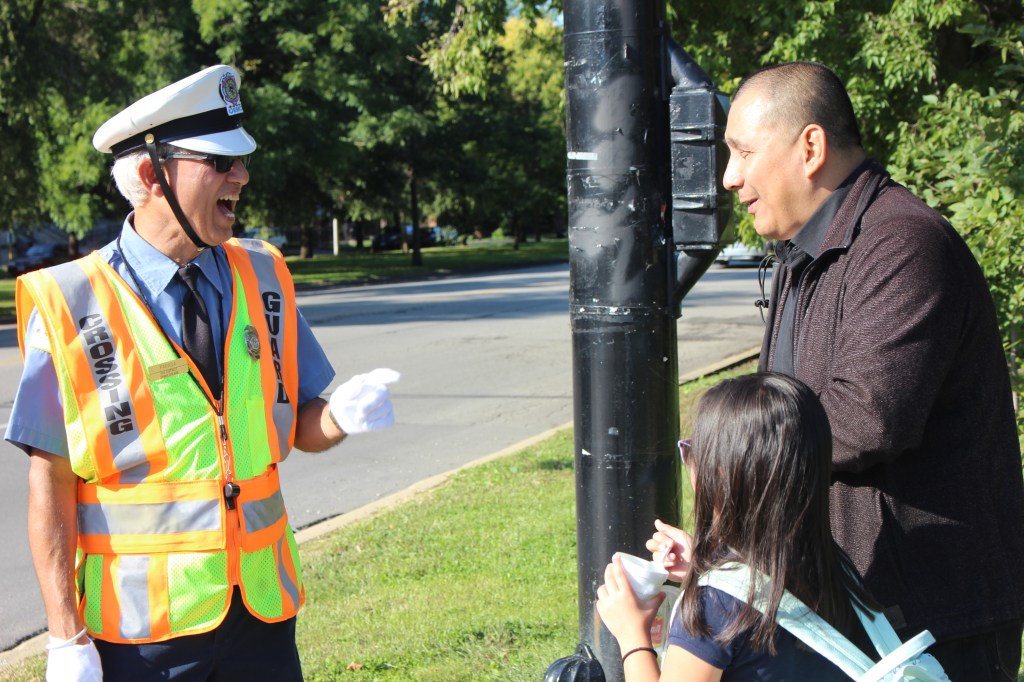 Parada collected a pension from his USPS job, so the crossing guard job is "play money," he said. The job also allows for a "five-hour lunch break" to do things like play tennis, a sport he's been playing since he was a kid.
Plus, it's a way for Parada to put his excellent customer service skills to use.
Parada said his four years in Palmer Square have largely been without incident. He's only witnessed one car accident, and he said it wasn't that bad.
Parada said he does regularly witness road rage, though, and sometimes he intervenes.
"I say, 'Go your way. Go home. Stop that.' Nothing good is gonna come out of it. You're gonna get in an accident," he said.
Neighbors say Parada's job goes beyond safety.
"For many people in the neighborhood, he's one of the first smiling faces they see in the morning. … This is what our neighborhood is about. It's about people saying hello to you, greeting you in the morning, telling you to have a nice day. There are so many positive things," Karova said.
Fronczak said Parada "contributes to social cohesion."
"One of the simple things we can do is ensure mental health and wellness, connecting with other people we see on an everyday basis. It's easily overlooked, but it's a really critical piece to maintain the fabric of our community," she said.
Over the last couple of weeks, Karova, Fronczak and other neighbors have been reaching out to the city and the local alderman to make sure Parada stays in Palmer Square. They had heard the city was planning to cut the crossing guard position at Kedzie and Palmer, which would mean Parada would get moved to another post.
But city spokeswoman Melissa Stratton said those rumors are unfounded. Stratton said the city has no plans to cut Parada's position at this time, though they did recently conduct an evaluation of the location.
It came as a relief to neighbors.
"Our kids really need him," Karova said.
Do stories like this matter to you? Subscribe to Block Club Chicago. Every dime we make funds reporting from Chicago's neighborhoods.