LITTLE VILLAGE — Last month, Little Village neighbors received a letter touting an "environmentally friendly" and "responsible new development" coming to the neighborhood.
That development?
Northbrook-based Hilco's 1-million-square-foot distribution warehouse at 3501 S. Pulaski Road — a project environmental groups in the neighborhood have been fighting for more than a year.
The letter from Hilco (read the whole thing below) was an update on construction at the site. But neighbors say it was an attempt to "greenwash" another toxic addition to the community.
Edith Tovar, an organizer with the Little Village Environmental Justice Organization, said the company was trying to mislead residents in the letter by painting a rosy picture of the project without acknowledging the fleet of diesel trucks and diesel pollution the new warehouse would bring to the neighborhood. 
"They are bringing diesel trucks, they are bringing traffic… that will be polluting our neighborhood," Tovar said.
The warehouse, dubbed Exchange 55, will replace the former Crawford Coal plant, a facility long-blamed for health problems in the predominantly Latino Little Village neighborhood.
"Protecting the health and safety of the Little Village community and local workers is very important and our top priority," the letter from Hilco reads. "That's why we have watering trucks, water cannons, misting systems, fence liners, and other efforts on-site to help control dust generated by demolition or construction activities on-site."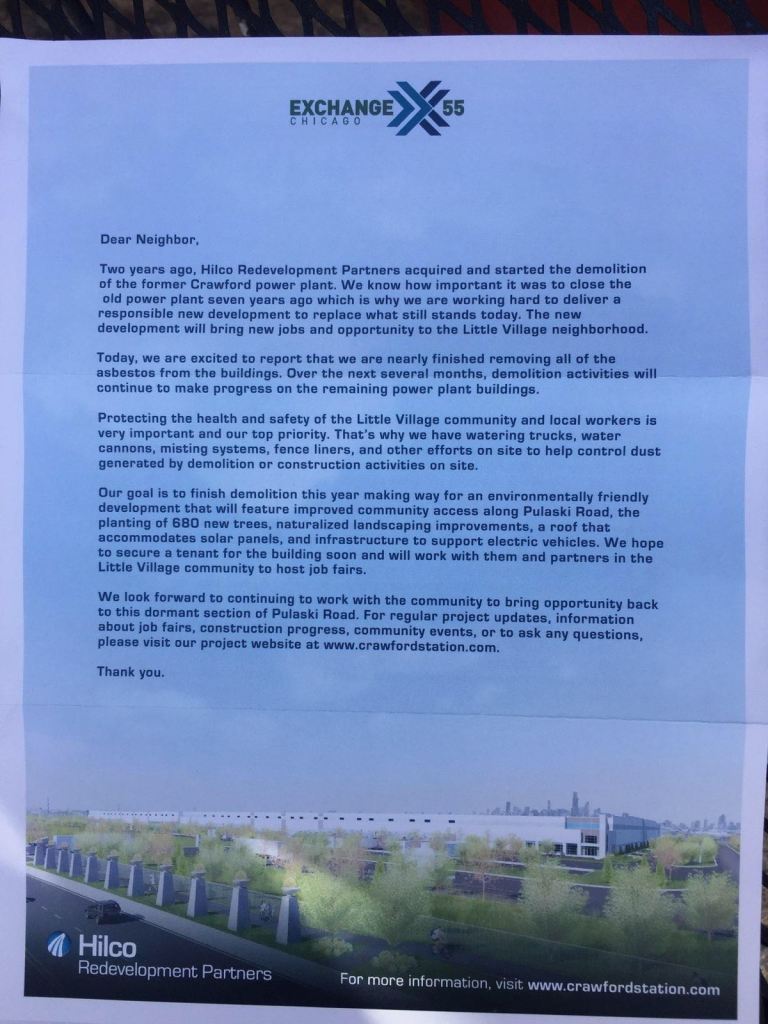 Hilco said it was nearly finished with asbestos removal and working to complete demolition of the remaining structures at the site. 
The finished product would be an "environmentally friendly development" that will include 680 new trees planted on-site, naturalized landscaping improvements, a roof to accommodate solar panels, and infrastructure to support electric vehicles, the company said.  
Tovar said it was "laughable to think that 680 new trees" would make an impact on air quality while when the tenant would also be bringing "200 plus diesel trucks" to the streets of Little Village.
Kim Wasserman, executive director of the Little Village Environmental Organization, agreed. She said the letter was a prime example of "getting away with the minimum" by adding landscaping, trees, solar panels and calling it "environmentally friendly."
"People in the neighborhood have huge concerns that aren't being addressed," Wasserman said. "We are dying for our right to breathe."
The letter also failed to provide information for residents as to how best protect themselves during days of demolition, Wasserman said.
Previously, with the city's Department of Public Health told neighbors to stay inside while work is completed on the site.
"The company has had a lack of communication with homeowners and residents who live literally feet away," Wasserman added.  "There is mention of fence liners, water mechanisms … but once again there is no information on permits, or who the construction company is. We have no idea on the timeline."
Wasserman renewed calls for air monitoring to be permanently installed on-site to gather information on pollutants from the site.
Related: City Tells Worried Little Village Residents To 'Limit Outdoor Activities' As Crews Demolish Old Coal Plant
In August, after residents raised concerns about air quality at the old plant, the Chicago Department of Public Health promised to conduct weekly inspections of the site. Hilco did not answer Block Club's questions about plans for air monitoring Monday.
The Chicago Department of Public Health said that while the developer and its contractors aren't required to install air monitors, "they are responsible for assuring that safeguards are utilized to minimize the emission of airborne dust."  The city said they plan to continue regular inspections during the redevelopment of the property and respond to any complaints.
In a statement responding to the latest round of criticism, Hilco Redevelopment Partners said they were investing "more than $100 million to clean up the former Crawford power plant." As part of the plan to redevelop the site, the company plans "sustainable features," bringing new jobs, "improved infrastructure and significant community and economic benefits to Little Village.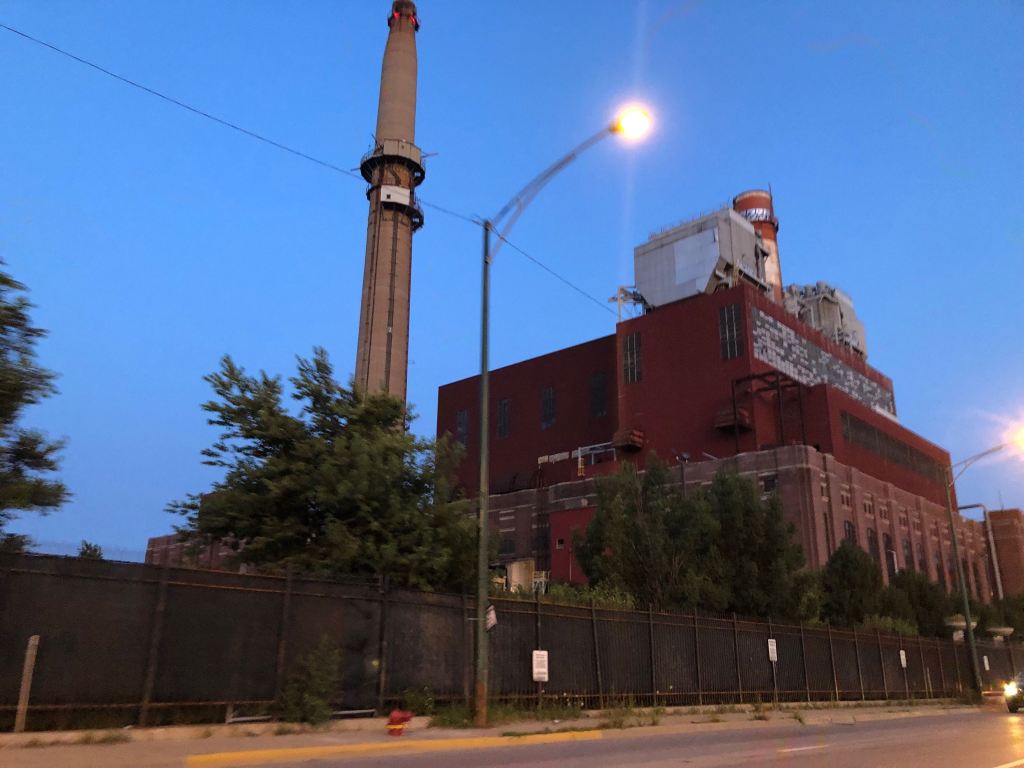 "We're proud of this project and are excited by the opportunities it presents for both the community and City of Chicago," the company said in an email. 
During a Sept. 24 conference just north of the former Crawford Coal Plant on 31st and Pulaski, UIC Professor of Epidemiology and Biostatistics Victoria Persky said air monitors should be a no-brainer for Hilco if they really have the health of residents in mind.
Real-time monitoring could provide insight into what participles are being released during the demolition process, Persky said.
It's also important that community members know the specific dates of demolition, the potential hazards and potential dangers, Persky said.
Archer Heights resident Michelle Valdez, who lives a mile south of the development, slammed the lack of information around the process.
"Hilco has so much information on their website yet has provided no detailed reports, no permits…There's no transparency," Valdez said. "It's appalling."
"We all know the effects of coal power and those effects didn't leave when the coal plant shut down," Valdez said. "Those carcinogens are still there…and it does not just affect Little Village, it also affects Archer Heights, Mckinley Park, Garfield Ridge and Cicero.
Valdez called on city and state officials to step up and ensure the safety of residents in the surrounding neighborhoods. 
Members from environmental groups including the Sierra Club and Natural Resources Defense Council also denounced the project late last month.
Caroline Wooten, an organizer with the Sierra Club, said the group shared "serious concerns" about the Crawford demolition.
"We are replacing one polluter with another," Wooten said.
The Crawford Power Plant was shut down in 2012 after community-led efforts raised concerns about the impact coal pollution was having on the health of Little Village residents. 
The distribution center is expected to be completed in 2020.
RELATED COVERAGE: 
Illinois EPA To Detail Clean-Up Efforts Of Old Little Village Coal Plant Site Tuesday
Controversial Little Village Distribution Center Gets $19.7 Million Tax Break Approval From City Council
Massive Little Village Warehouse On Old Crawford Coal Plant Site Approved By City Council
Semi-Trucks Are Taking Over Little Village, Neighbors Say — And Giant Warehouse Plan Will Make It Worse
After Post-Arrest Absence, Ald. Muñoz Returns To City Hall To Argue For Tax Break For Little Village Project
Massive Little Village Warehouse On Old Crawford Coal Plant Site Approved By City Council
Huge Distribution Hub Likely Replacing Crawford Coal Plant — Meaning More Dirty Air For Little Village, Critics Say
Little Village Neighbors Demand City Stop Crawford Redevelopment Plan
Developer Behind Controversial Little Village Warehouse Buys Fisk Generating Station In Pilsen, Alderman Says
Old Fisk Generating Station Site In Pilsen Would Become Giant Data Center Under Developer's Plan
Do stories like this matter to you? Subscribe to Block Club Chicago. Every dime we make funds reporting from Chicago's neighborhoods.