CHICAGO — Parents know the drill: get grilled about the sex of your child during pregnancy, and expect an onslaught of pink or blue everything at the shower depending on the answer.
Though gender stereotypes are decidedly less relevant in 2019, the kids clothing world remains hyper-gendered — and local fashion designer and mom Melissa Serpico Kamhout is out to change that.
Serpico Kamhout never set our to design kids clothes, but after her fraternal twins — a boy and a girl — started developing their own style and personality, the idea began to take hold.
"My son loves bright colors and my daughter was starting to think that it wasn't right for him to wear them," Serpico Kamhout said. "They were really kind of reading into gender stereotypes from a young age."
When the family went shopping, it was difficult to find clothes they both liked that wasn't gender specific. That's when she realized there was a need for gender-neutral children's wear that was also environmentally friendly.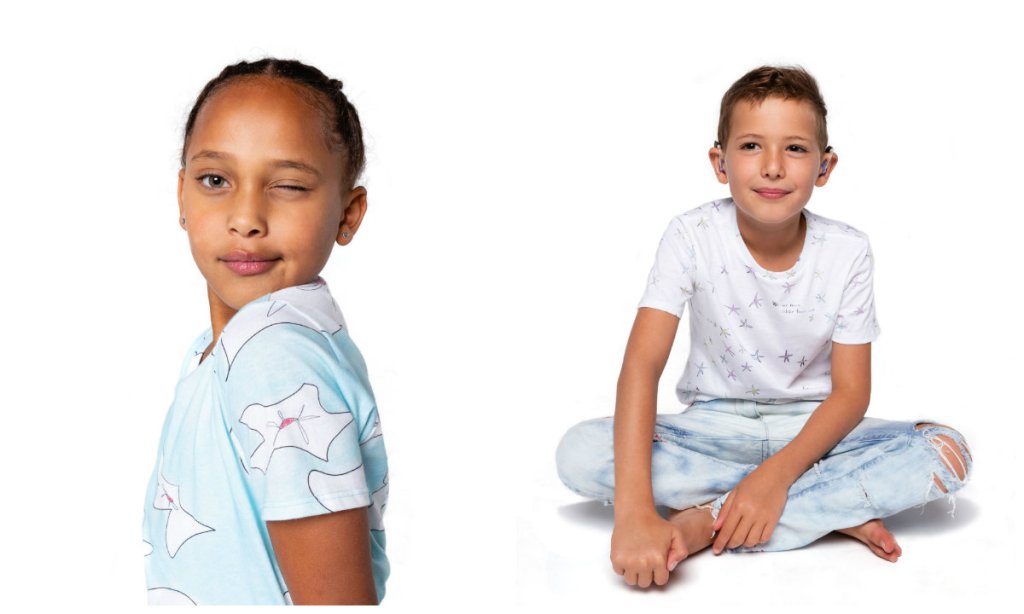 So, Serpico Kamhout co-founded ALIKE Kids with business partner Kaitlin Meyer, and the brand officially launched online Sept. 28 after two years of development.
ALIKE's unisex pieces aim to shatter gender stereotypes in the fashion industry at a young age while also showcasing the impact of fashion waste on the environment. All ALIKE clothes are made with organic cotton and are digitally printed with non-toxic water-based ink in the U.S. 
"We were lucky enough to find a fabric mill in in Los Angeles that actually knits the fabric there, because there are not very many fabric mills left here," Serpico Kamhout said. "Even the tags are made in LA [through] heat transfer."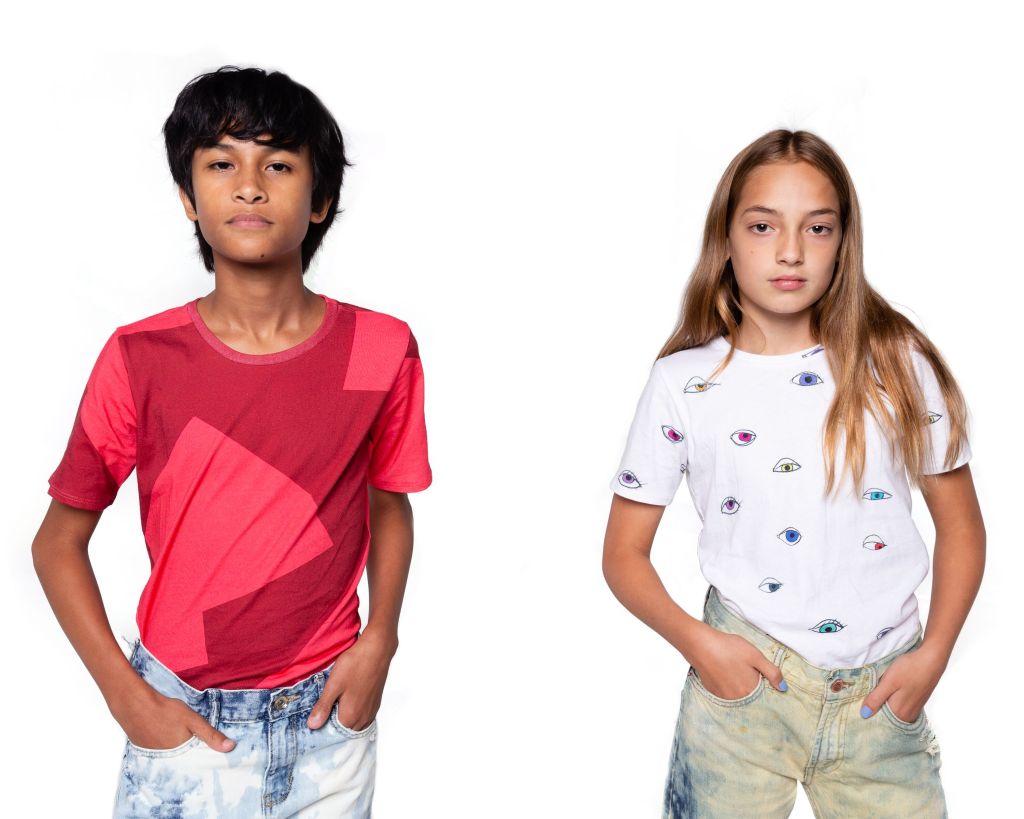 Serpico Kamhout, who lives in Wicker Park, said each print is designed in-house to minimize fabric waste during the cutting process, ensuring that no two shirts are identical but look "alike." The comfy cotton fit is ideal for both boys and girls with six sizes ranging from 4 to 14.  
The first collection, which includes five t-shirts and upcycled denim pants, is inspired by Andy Warhol, 1970's glam rock and Pablo Picasso paintings. The clothing features bright, bold colors and patterns with Serpico Kamhout's hand-drawn designs. 
She said the handwritten aspect let her be creative while adding the brand tagline — "We are more alike than not" — that can also double as a positive message to children.
The company also has a philanthropic angle. For every product sold, they will donate to a nonprofit called Blessings in a Backpack, which sends a backpack full of food to children on the weekends that might otherwise go hungry, Meyer said. 
While the t-shirts are currently sold at a steep $52 due to production costs and the company's small profit margin, the founders said they hope to lower the price as demand grows and make the clothes accessible to every economic bracket.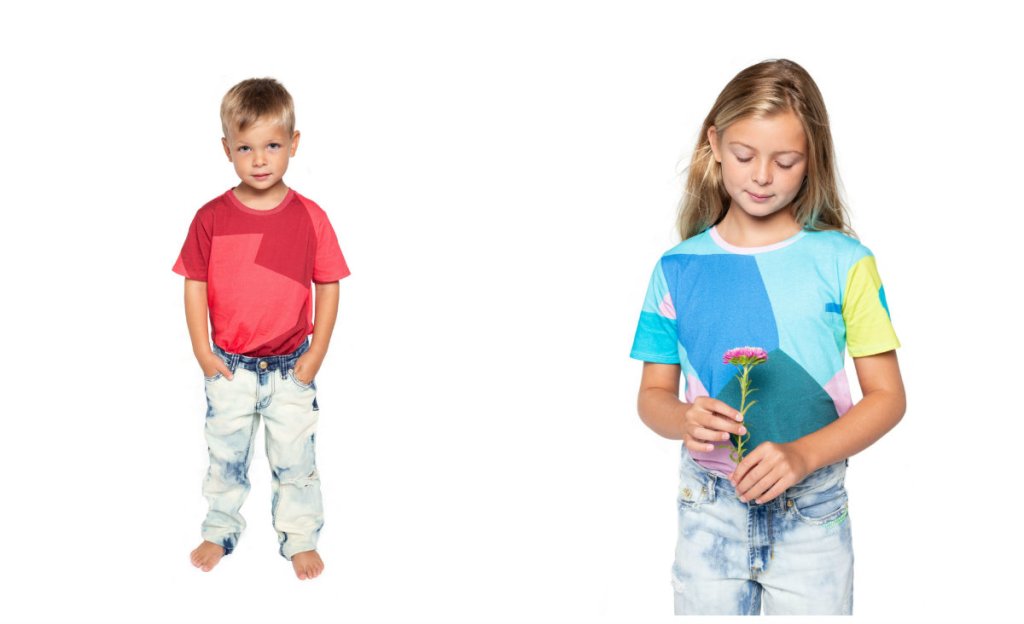 Both said ALIKE is just starting to find its place in the fashion industry and they have ideas up their sleeves to expand. They plan to extend their line to joggers, long-sleeves shirts, pea coats and sweaters — and possibly clothing for adults.
They hope to be inclusive of all children and family structures and for those looking to be more sustainable, while educating people on where their clothes come from. 
"What's really important is that people look at production differently, and maybe think about changing their buying habits," Serpico Kamhout said. 
Meyer, a Lincoln Park resident who works in finance, said it was challenging and expensive to do things like minimize packaging waste — but it was worth it.
"[We are] making a change, sustainability in fashion," Meyer said. "And for children, it's great to have the ability to grow up not subscribing to a specific gender."
She said the retail landscape is changing and as online shopping explodes, it's more important to have a distinct brand that has a moral standing and less important to have a physical store.
Meyer said as the demand for organic products grows, so does the knowledge about toxic chemicals in clothing and its impact on the environment. 
"I think people's mindsets have changed and it's easier to have these brands of ideas and bring these colors into things," she said. "People really care about organic cotton so it fits a need in the market right now."
ALIKE's packaging is also environmentally sustainable, right down to the bags the t-shirts come in — they are compostable and the tissue paper is acid-free. They also use No Issue, a sustainable packaging company that plants a tree each time an order is placed through its Eco-Packaging Alliance program. 
The company still uses some plastic in production but hopes to cut out all plastic within a year.
The founders hope ALIKE can inspire parents to think outside the gender box when it comes to kids clothing.
"They should be free to choose what they want — and it should be without any backlash," Serpico Kamhout said. 
Do stories like this matter to you? Subscribe to Block Club Chicago. Every dime we make funds reporting from Chicago's neighborhoods.