WEST GARFIELD PARK — Fresh produce can be hard to find and even harder to afford in West Garfield Park, where many residents live more than a mile away from a grocery store.
But on Saturday, residents had their pick of groceries from the city's high-end supermarkets including Whole Foods, Trader Joes and Mariano's — all for free.
The giveaway on the 4000 block of Madison Avenue offered 12,000 pounds of fresh fruit, veggies, bakery items, meats and other groceries that were handed out by the Garfield Park Chamber of Commerce. The grocery donations were facilitated by the HoJo Family Assistance Program, a Lawndale-based organization that coordinates food drives and other programs in neighborhoods facing disinvestment and food scarcity across the city.
Timothy Hooper, who co-founded HoJo with cousin Booker Johnson and brother Terrance Hooper, said he wants the giveaway to help promote healthy eating and encourage a culture of wellness in the area.
"The end game is self-sustainability. … Our goal is to get the low-income areas to get a little bit more in tune with healthier foods, organic foods as opposed to the conventional, corner store and quick stop market foods," Hooper said. "Once we get the awareness for healthier foods up, we want to get into the actual agriculture. Getting the youth to produce their own fruits and vegetables."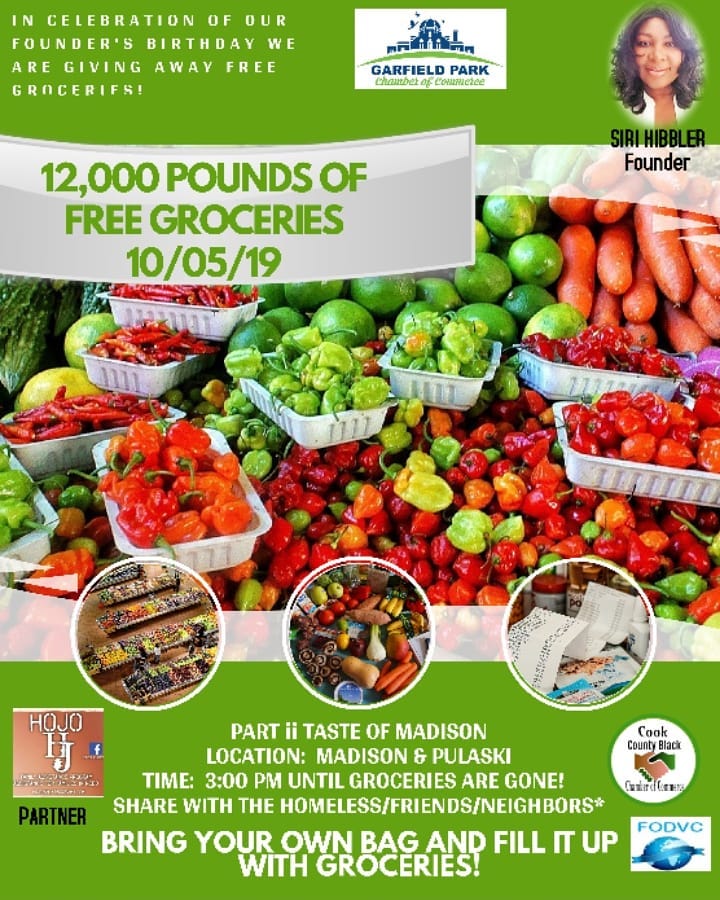 HoJo was born out of the good deeds of Hooper's uncle, former Chicago Bulls power forward Mickey Johnson, who frequently passed food out in the neighborhood. Eventually the giveaways evolved into a nonprofit in 2014 that coordinates donations from a network of community organizations, churches and grocery stores like Mariano's, Whole Foods, Trader Joe's, Jewel Osco and Fresh Thyme Farmers Market, which provided some of the food at Saturday's giveaway.
"It started out pretty small," Hooper said. "We used to just pack up the minivan with donated goods."
The giveaway coincided with the birthday of Garfield Park Chamber of Commerce founder Siri Hibbler, who said there was no way she'd rather celebrate than by nourishing her neighbors, young people and the homeless. The chamber also reached out to all the neighborhood schools to encourage students and their families to come pick up the free groceries.
"You'd be surprised how many people don't have food in their pantries," Hibbler said. "We've got over 16,000 homeless kids in CPS …  so we're hoping to be able to feed those families as well."
The partners behind the food giveaway agree that the revitalization of Garfield Park and the greater West Side hinges on the development of a culture that prioritizes health and wellness. While HoJo aims to provide a comprehensive set of services from workforce development to after school programs, Hooper said food access was at the core of their mission.
Likewise, the lack of affordable grocery options in the area is a major issue that the Garfield Park Chamber of Commerce hopes to address by attracting new businesses and supermarkets to the area. Hibbler said the grocery giveaways are a helpful way to alleviate some of the need for healthier foods while a more permanent solution is in the works.
"We certainly need this, especially until we can get us a grocery store, which is what we're trying to put in our development. Getting close to [landing a] store chain over here in East Garfield Park and West Garfield Park. …We can't build a healthy community until we get some fresh food over here."
Pascal Sabino is a Report for America corps member covering Austin, North Lawndale and Garfield Park for Block Club Chicago.