CHICAGO — Chicago has 50 aldermen — and, sadly, none of them are goth.
But a new feature from the Chicago Genius Herald, a satirical media site, features a map where Chicagoans can go through every ward to see their alderman as a goth: Brian Hopkins (2nd) would apparently cake on dark eye makeup, Walter Burnett Jr. (27th) would sport multiple eyebrow piercings and Carlos Ramirez-Rosa (35th) would dye his hair green.
The project is called, fittingly, "What If Your Alderman Were Goth?"
Hobert Thompson, cofounder of the website, said the feature launched Thursday after months of work. His cofounder, Mike Scipioni, coded the map and artist Ron Ferrara photoshopped images of the aldermen.
There's no purpose to the map, Thompson said, unless you've ever wondered what a goth Chicago alderman would look like.
"In case you're ever curious, now you know," said Thompson, who also works as a standup comedian.
Thompson's friends came up with the idea in July during a pitch meeting. They originally envisioned a slideshow of photos of goth aldermen but eventually settled on an interactive map, thinking it might help people who don't know which ward they live in.
The feature helps Chicagoans learn about their ward and, at the same time, shows them a "funny picture of [their] alderman," Thompson said.
The feature was a quick hit on social media, with alderman and Chicago political junkies sharing photos from the site.
Ald. Raymond Lopez (15th) was amused by the site, and suggested an aldermanic goth challenge in the future.
"It's hysterical and I know I could do better in real life," Lopez told Block Club.
Ald. Michele Smith (43rd) shared the edited photo of herself on Twitter, writing, "Going to @NeoChicago tonight — who's in?"
Neo was a goth and industrial club popular with, yes, goths before it closed.
"That's awesome," Thompson said, laughing, when he learned about the reaction. "That is really great to hear."
Thompson said he's excited to hear from even more alderman — and hopes at least one will reveal he or she was "secretly goth all along."
Thompson loves the details in the photos: Some aldermen have jewelry, red eyes, thick makeup or even stretched-out earlobes from wearing gauges. He and other Chicago Genius staffers would throw around ideas for how to goth-ify individual alderman after grabbing photos of the aldermen from their campaign or political sites.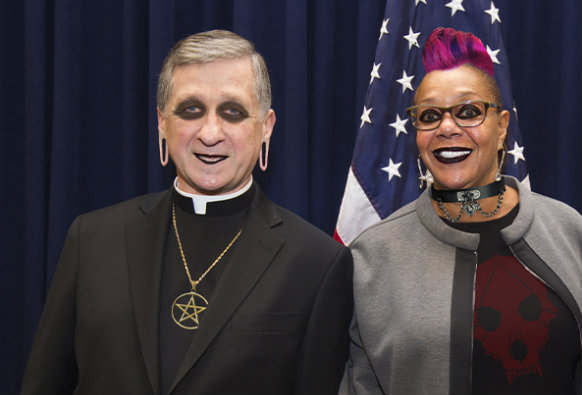 They even changed one alderman's photo, in which he's touting a campaign sign, so the sign says he's running for "goth alderman."
"It was kind of jokey," Thompson said. "We were flying by the seat of our pants a little bit."
The Chicago Genius Herald team will present their work 6-10 p.m. Friday at the Cornelia Arts Building, 1800 S. Cornelia Ave.
Thompson said the staff works out of that building — which they share with a furniture gallery — but they'll take over all of the space on Friday. Before-and-after photos of the aldermen will cover one wall while artists who work on the staff will show their individual artwork on another wall.
The staff will also pass out prints copies of their Chicago Genius Herald stories from over the summer. Print copies are available while supplies last.
The Chicago Genius Herald has been around since March, featuring humorous mock stories — including one claiming the Bean has been given a "brushed steel finish" — and photoshopped images related to Chicago. Its staff members all pitch in to pay for the project as a team.
Thompson and other staff members will be at the gallery to talk to visitors who are a fan of the Goth Alderman project and their other work.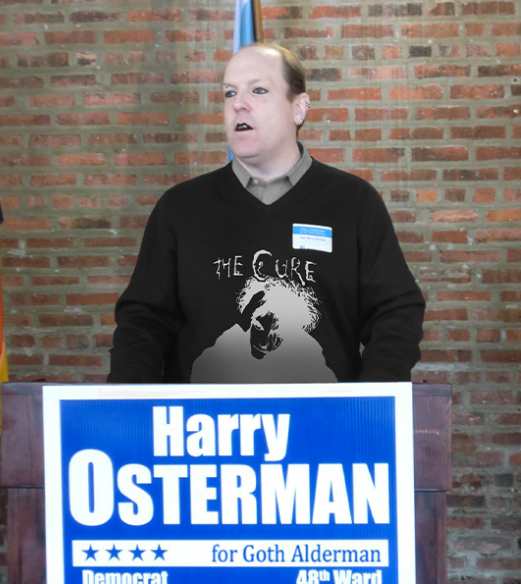 Mauricio Peña contributed to this report.
Do stories like this matter to you? Subscribe to Block Club Chicago. Every dime we make funds reporting from Chicago's neighborhoods.