EDGEWATER — Fifty years ago, the Chicago Conspiracy Trial captured the attention of the nation following the 1968 Democratic National Convention, where riots, police brutality and the clash of cultures played out on national TV.
Seven anti-war protesters, who would become known as the Chicago Seven, were accused of conspiracy, inciting riots and other charges for their participation in anti-Vietnam War protests. Ultimately, the trial would be considered a sham and an attempt at silencing protesters by the government.
One of the jurors who supported the Chicago Seven, Jean Fritz, chronicled the trial, taking copious notes and saving nearly every news clipping about the event.
Although Fritz is no longer alive, her story of being a sequestered juror in one of the biggest trials in the country's history lives on through her daughter Marjorie Fritz-Birch, 70, at the Edgewater Historical Society, 5358 N. Ashland Ave.
Fritz-Birch had never curated a museum exhibit before, but she said collecting and archiving her mother's experience during the trial has been an important decision and a cathartic experience.
"I was just so proud of her and I thought it was a story that needed to be told," she said.
Fritz, at the time of the trial, was an empty nester from Des Plaines with older children. Fritz-Birch was a 20-year-old college student when her mother was picked for the jury.
It would change the lives of the Fritz family forever.
As a juror, Fritz was completely sequestered for months. Fritz-Birch recalls only being allowed to speak to her mother on a phone line monitored by FBI agents or U.S. Marshals.
"For months our family lived in what felt like a police state," she said.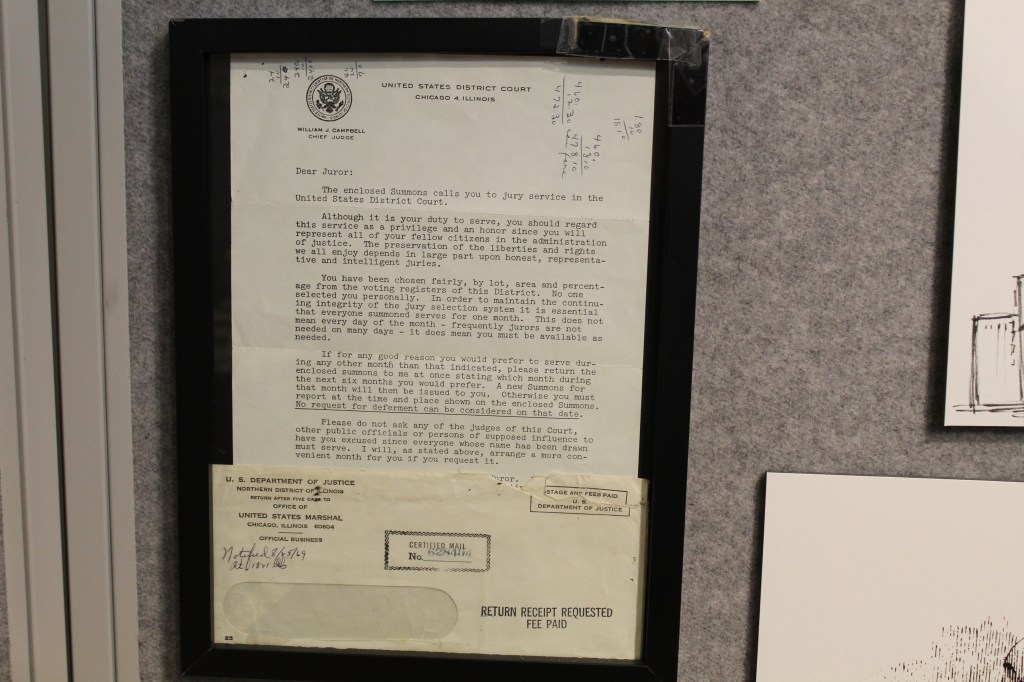 At the time, backing long-haired anti-war protesters who embraced counterculture and revolution was not a popular idea. Many of the jurors were quick to decide the Chicago Seven's guilt, according to notes taken by Fritz.
But Fritz-Birch said her mother was not your typical suburban woman. She was open-minded, and although she lacked formal education, she was very bright, Fritz-Birch said.
"During the trial she was reading James Baldwin, which was not an ordinary thing for a white woman to read in those times," she said.
It was Fritz's willingness to be open-minded that eventually led her to see the trial for what it was: an attempt by the government to railroad and silence anti-war protesters.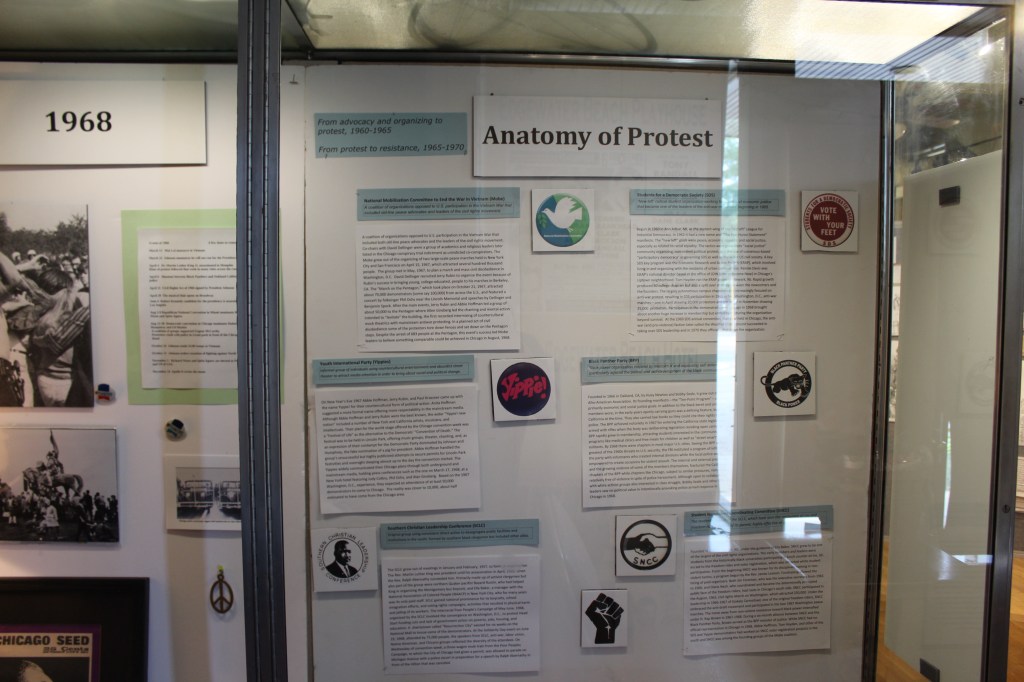 Fritz-Birch said the trial taught her mother to look past outward appearances.
"Never again will I ever judge people on the way they look or whether they have long hair," wrote Fritz in her trial diary.
Fritz-Birch thinks it is important to keep the memory of the trial alive for future generations, and she has already presented the exhibit to high school classes in the area. Curating the museum took more than three months.
Fritz-Birch had help from Edgewater Historical Society board members Marsha Holland and Kathy Gemperle, one of the founders of the museum. In the exhibit, visitors will find newspaper clippings, diary entries, counterculture magazines and video documentaries.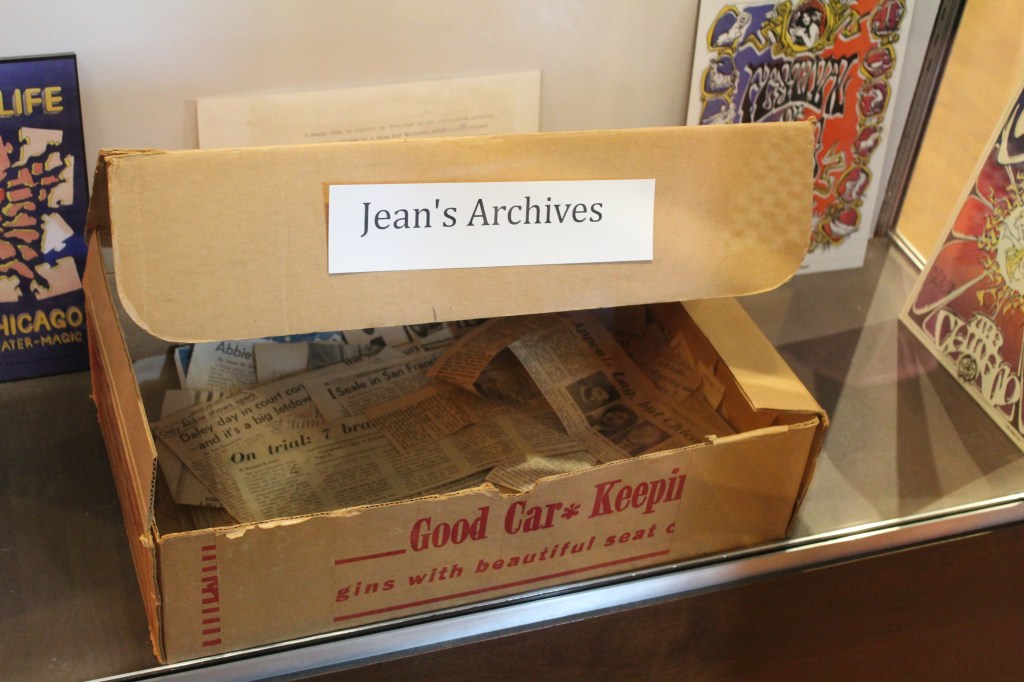 "My mother saved everything," Fritz-Birch said. "The hardest part was deciding what to use in the museum because there was just so much material that was saved."
Meanwhile, Fritz-Birch is a walking living history museum when it comes to the trial. She tells gripping stories about the trial and about her own experiences as a "radicalized college student."
The trial only served to further radicalize Fritz-Birch, and she tells the story of her mother's refusal to convict the Chicago Seven with pride in her eyes.
"Counterculture was a shock for [my mother] at the beginning as a moderate Republican," she said. "But she was willing to listen to what the defendants had to say."
After the trial, Fritz never voted Republican again.
Fritz-Birch also tells a story about the time she went to hear one of the Chicago Seven speak at the Northern Illinois University campus. After the presentation, Fritz-Birch asked a question and accidentally indicated her mother was one of the jurors.
"I knew I had made a big mistake," she said.
She was a nervous college student, and the phrasing of her question made it seem like she had been speaking about the trial with her mother, which was impossible and not true. However, the damage was done as reporters and government agents spread the news.
Fritz-Birch said U.S. Marshals told her, her slip-up could mean prison time for her mother.
"It was untrue but hearing such a thing at a young age was terrifying," she said.
Even after the conclusion of the trial, the Fritz family faced backlash from conservative suburban neighbors. Some refused to patronize the family's auto parts business.
Fritz-Birch said her mother got hate mail and even death threats. But there was also support, as history ended up being kinder to Fritz than the years immediately following the trial.
Fritz earned the admiration and respect of the Chicago Seven, and she stayed in touch with many of them long after the trial had concluded.
Fritz-Birch said the trial and the surrounding events is something Americans should look to while dealing with today's divisive rhetoric.
"In 50 years, we haven't learned much," she said. "We are right back to where we were before."
She said she sees parallels between the Black Lives Matter movement and the Black Panther Movement of the '60s and '70s.
"The division then was just as stringent and hateful as it is now," she said.
Now, Fritz-Birch wants as many people as possible to see the exhibit. She believes it tells the story of one person's ability to make a difference.
"My mother's insight and compassion, and the way she was able to change her views, is an incredible personal story as well as a political one," she said. "When you stick to what you believe in, one person can have the capacity for change."
Do stories like this matter to you? Subscribe to Block Club Chicago. Every dime we make funds reporting from Chicago's neighborhoods.