PORTAGE PARK — Business owners near the Six Corners in Portage Park have been waiting years to see a sprawling vacant lot in the namesake intersection come back to life.
They hoped something, anything would bring people back to the struggling area, where businesses have been closing up shop just months after opening.
But late last week, they learned the wait was far from over when Ald. Jim Gardiner (45th) said he wouldn't support the latest plans to bring senior housing and an Aldi grocery store to the intersection of Cicero Avenue, Milwaukee Avenue and Irving Park Road.
Now, they plan to make their voices heard.
James Suh, owner of Car Care Auto Spa at 3618 N. Cicero Ave., has decided to organize a protest for Friday at 5 p.m. right in front of the water-filled hole in the ground at 4747 W. Irving Park Road.
"I've been keeping my finger on the pulse of Six Corners. I live in the area and shop in the area. I just want to see this area developed into what it used to be back in the day," Suh said. "It's scary when you look at all the businesses shuttered in that area."
In his invite to neighbors, Suh admits he's never attended a protest in his life, but said "enough is enough."
RELATED: For Struggling Six Corners Businesses, Gardiner's Rejection Of The Point Development Hits Hard: 'That Corner Is Cursed'
Since last week, the freshman alderman hasn't given neighbors an update on what's next for the property, which also frustrates people like Suh.
"The frustration for me starts when former Ald. Margaret Larino jumped in back in April with underhanded tactics to stop the development then," Suh said, referring to former Ald. Laurino (39th) stalling the project with a procedural move on her last week in office. "And since then we've had no real communication from the new alderman whatsoever."
There are currently at least 23 empty storefronts within a one-block radius of the hole, not including the former Sears or the other shopping plaza across from where the Point At Six Corners is proposed.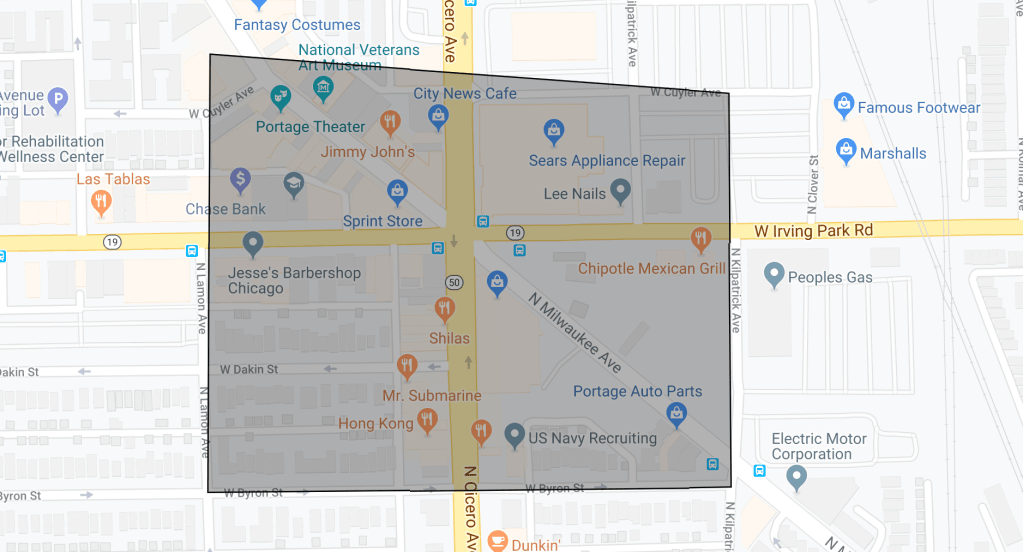 Suh doesn't believe he'll get results from complaining online or contacting the alderman directly, so he's calling on fellow business owners and residents to show up and let Gardiner know they're paying attention.
"We are going to be a peaceful protest, we're not going to block traffic and all that," Suh said. "I just wanted my point heard but we definitely will be a law abiding event. We just want our voices heard."
Suh said Gardiner should have had an alternative plan ready to go public before he made his Friday night announcement opposing the long-debated Point plan.
"Sure fine, have your new plan conform to the 2013 master plan already. People are referencing that plan like it's the bible or something," Suh said, referencing a 2013 survey that outlined the neighborhood's vision for the future. "So many things have changed since that plan was published, big box stores don't work in this economic climate."
Garidner did not respond to requests for comment. 
The full invitation can be found here:
OK neighbors,


The more I think about it, the more angry I get.


We can all type on NextDoor until our fingers fall off for all the good it will do.


We can call/email the Alderman, be paid token lip service, if that, and the status quo continues.


We can talk about how we should get Mayor Lightfoot involved, shake our collective heads and wonder what happens next.


Or we can MOBILIZE, make our voices be heard and MAKE IT HAPPEN. Someone suggested we SHUT DOWN Six Corners with a protest, and that's exactly what I have in mind. Oh, "someone" should call the local channel news and put a spotlight on this shady situation? I WILL.


WHY would ANY incoming Alderman kill a 130 MILLION DOLLAR deal negotiated over the course of years and years, with input from the community on several occasions, supported by well over the vast majority of the community even now, supported by vested legitimate organizations like Six Corners Association, Old Irving Park Neighborhood Association, and likely others I don't even know of?


I have never organized a protest. I have never ATTENDED a protest. Hell, I didn't even walk from the office and attend President Obama's victory party in Grant Park back in the day. But enough is enough. It's time even for people like me to get involved.


I don't know what my plans were for this Friday but if we get 200+ people to attend, I know exactly where I will be. This poll supposedly reaches 10,600 people, and if even 2% of you come, that will be 200 community members present who want their voices heard. I'd love it 10% of you attend and we have a THOUSAND people!!!


Alderman Gardiner cravenly sent his message out last Friday at 5:00 PM and has been dodging us all since then. I say, what better time for us to send HIM a message than THIS Friday 10/4 at 5:00 PM, right on site at The Point At Six Corners.


What say you all? Together WE ARE STRONGER than any one POLITICIAN.


200+ attendees and Pizza and Pop at the event will be ON ME!!!

RELATED STORIES:
For Struggling Six Corners Businesses, Gardiner's Rejection Of The Point Development Hits Hard: 'That Corner Is Cursed'
Ald. Gardiner Won't Back Plan For The Point At Six Corners, Calls On Developer To Find 'Compromise' With Master Plan
Latest Plans For The Point At Six Corners Revealed, But Alderman Still Undecided
The Point At Six Corners Keeps Aldi, Adds Affordable Housing As Neighbors Urge Action In Closed-Door Meetings With Ald. Gardiner
Plan For Aldi, Senior Housing At Six Corners Isn't Dead, Ald. Gardiner Tells Residents — But It's On Hold For Now
As Plans For Dreaded Hole At Six Corners Intersection Stall, Area Business Owners Plead: 'Just Put Something There'
Is The Point At Six Corners Dead? Neighbors Try Convincing New Alderman To Support Senior Center At Long-Vacant Intersection
Critics Of Current Plan For The Point at Six Corners Say Building Would Be Too Tall
Do stories like this matter to you? Subscribe to Block Club Chicago. Every dime we make funds reporting from Chicago's neighborhoods.