RAVENSWOOD — Responding to feedback from neighbors, Ald. Matt Martin (47th) is asking the city to deny a liquor license for a delivery service that aims to open a warehouse in Ravenswood.
People can order everyday items like soup, candy, toilet paper or booze from goPuff, a 24/7 delivery service that aims to compete with convenience stores for a flat $1.95 delivery fee. The Philadelphia-based company currently offers its services in over 100 cities, including Chicago, but Ravenswood neighbors worry the new warehouse would bring too much traffic to the area.
Under the goPuff model, delivery drivers pull up to the warehouse, usually in a centrally located area, grab the order items and deliver the items to the person who ordered them.
In Chicago, the company already has four warehouses set up at 1347 S. Ashland Ave., 2710 W. Touhy Ave., 1525 W. Homer St., and 2408 W. Jarvis Ave., according to the city's website. GoPuff has also recently applied for licenses with the city to open a fifth location at 1801 W. Warner Ave. 
Ravenswood neighbors John McBroom and Véronique Thouin live across the street from the proposed warehouse site at 1801 W. Warner Ave. They also sent a letter to the city's liquor commissioner on Sept. 23 asking the city to deny the packaged goods liquor license goPuff owners applied for.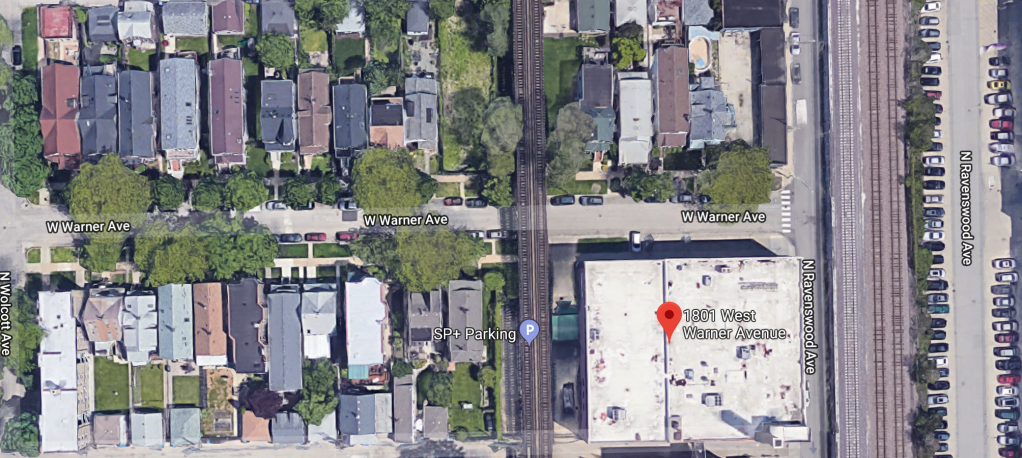 Young children play in the neighborhood and the increase in delivery traffic would "severely disrupt the neighborhood," the letter read.
In his letter to city Liquor Commissioner Shannon Trotter, Martin said he's opposing the business opening in the area because of the "significant increase in the flow of automobile traffic" the warehouse would bring the the surrounding residential streets.
"We believe that this business's business model conflicts with [the] values and goals for this neighborhood," Martin wrote.
Josh Mark said, director of zoning and infrastructure for Martin's office, said the alderman's concerns mirror the issues neighbors had with Cloud Kitchen, a startup that rents commercial kitchen space to delivery-only restaurants.
"We don't appreciate the fact that it's a business model that's predicated on increased car traffic. That doesn't fit with our transportation politics," Mark said. "It actively counteracts our plans for transportation in the neighborhood."
Martin's been an advocate of alternative forms of transportation and hosted a meeting earlier this week showcasing plans to make part of his ward more friendly for pedestrians and cyclists.
"We understand and are responding to the neighbor's concerns and when we found out about this we looked to see where we could express opposition. The liquor license is what stood out to us," Mark said.
Messages left with GoPuff's founders Yakir Gola and Rafael Ilishayev were not returned.
Below is Ald. Matt Martin's (47th) letter of opposition
Do stories like this matter to you? Subscribe to Block Club Chicago. Every dime we make funds reporting from Chicago's neighborhoods.