Editor's note: Police issued a statement late Wednesday stating that the kidnapping and sexual assault claims were unfounded. This story will be updated as more information becomes available.
WICKER PARK — Parents whose students attend a Wicker Park elementary school are on high alert after a 13-year-old girl said she was abducted Tuesday near Jose De Diego Community Academy and sexually assaulted and beaten near the Humboldt Park lagoon.
Late Wednesday afternoon, school staff were printing informational packets in the afternoon to update parents on the incident.
The packet included a Chicago Police Department alert and a letter from Principal Jacqueline Menoni.
In her letter, Menoni did not specify whether the 13-year-old was a Diego students. She did urge parents to encourage their children to observe the following safety protocols:
Travel in pairs when possible
If a student feels uncomfortable or threatened, they should find the nearest business or populated area and call for help
Use cell phones with "good judgement" and be "aware of … surroundings"
Report suspicious vehicles, people and behaviors immediately to the school
The school will have additional police presence moving forward, Menoni wrote in her letter.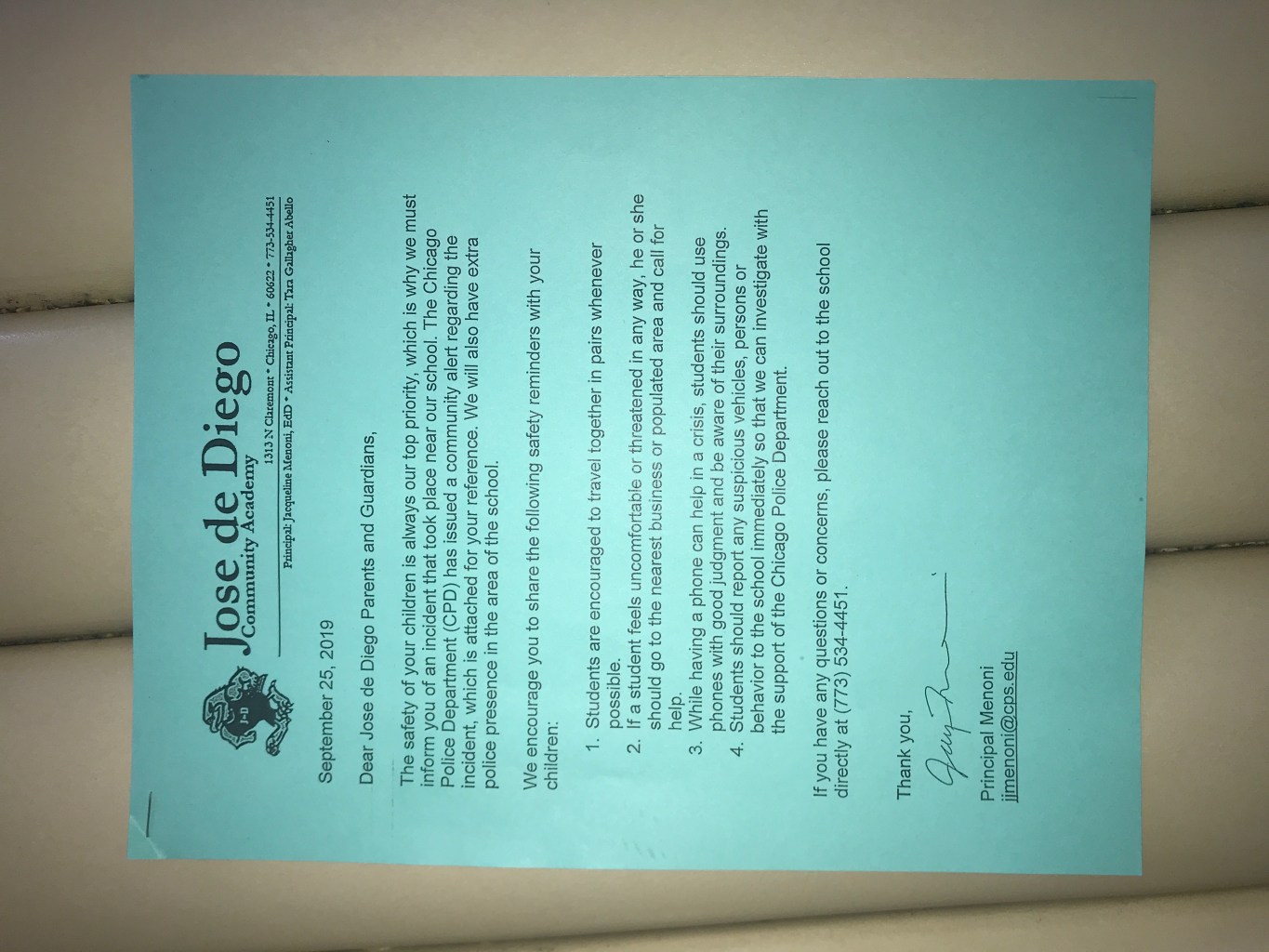 Chicago Public Schools officials have yet to respond to a request for comment.
Parents with questions or concerns can reach the school at 773-534-4451.
On Tuesday, minutes before the school's scheduled 3:45 p.m. closure time, the student was walking near the intersection of Hirsch Street and Claremont Avenue when a man grabbed her from behind and pulled her into a car, police said.
The man beat the girl inside the car and drove her to a spot near the Humboldt Park lagoon, where he sexually abused her.
The man drove off after the sexual assault, leaving the girl near the lagoon. She was found there shortly after the attack, police said.
The man wore a black hooded sweatshirt that was tied around his face, police said. He drove a purple or maroon four-door car. No further description was provided.
A police official told a Block Club reporter Tuesday detectives would be reviewing security camera footage from Diego.
Anyone with information about the attack was asked to call police at 312-744-8261.
Early Wednesday morning, Patricia Lopez woke up to countless calls and messages from friends and family members who wanted to make sure she and her children had heard the news.
Her daughter, 9, and her son, 11, attend Diego. Her older daughter, 13, attends the nearby Sabin Dual Language Magnet Academy, 2216 W. Hirsch St.
The family lives three blocks from the intersection of Hirsch and Claremont.
As she read news coverage of the attack, Lopez's son climbed into bed with her. She explained what had happened.
The 11-year-old told his mother not to worry; he would protect his sisters.
"He thinks he's a tough guy," Lopez said.
But her children aren't as tough as they think they are, the mother said.
The West Town native said she knows the city isn't always a safe place for kids. Until Wednesday, Lopez never allowed her children to walk home alone without her.
On Wednesday afternoon, Lopez stood outside Diego while her husband, Summers, was inside the school, asking for more information on the abduction.
Inside, a school official told Summers what a Block Club reporter was unable to confirm — that the 13-year-old was a Diego student.
In an interview with Block Club, both Lopez and Summers urged city officials to dispatch more police around the school going forward.
"They need to get onto the police and tell them to start watching these schools," Lopez said. "They have to protect the children."
Summers said he wanted to know why CPS had yet to notify parents of the attack.
RELATED: Girl, 13, Sexually Assaulted And Beaten After Being Kidnapped While Walking In Wicker Park, Police Say
"They should be telling parents," he said. "It makes me really angry."
This is a developing story. Check back for updates.
Do stories like this matter to you? Subscribe to Block Club Chicago. Every dime we make funds reporting from Chicago's neighborhoods.