LINCOLN SQUARE — A plan to expand a bike and pedestrian route between the Chicago River and the lakefront on Leland Avenue was presented to neighbors this week, with most expressing support for the project.
The Chicago Department of Transportation (CDOT) showed off plans for the Leland Greenway to about 80 attendees of a Tuesday meeting.
"We have a lot of transit stops in the 47th Ward and it has very dynamic commercial corridors," said Ald. Matt Martin, who was in attendance Wednesday. "And we need connectors for people who want to get out of their cars and bike and walk safely."
The greenway would create a continuous, low-stress bicycle connection between the North Shore Channel Trail and the Lakefront Trail by incorporating pedestrian median islands, raised crosswalks, contraflow bike lanes and bike-friendly speed humps on Leland Avenue.
Currently, there's a path that connects Lake Michigan to Clark Street along Leland Avenue. The new plan would extend this route beloved by cyclists west to the river.
David Smith, a bicycle and pedestrian programs planner with CDOT, said the overhaul would be paid for with mostly federal money, with just $120,000 coming from the 47th ward's budget.
Construction likely wouldn't begin until 2021, Smith said, giving neighbors a chance to weigh in.
Most of those who showed up to the DANK Haus, 4740 N. Western Ave., were supportive of something that is proven to reduce car and bicycle collisions and offer a safe route to cyclists. Residents themselves came up with the idea to extend the greenway, and started a petition in support of it in 2018, and participants Tuesday showed up with helmets in hand.
"Leland is already a very popular street for bicycling because it provides direct access to public transportation and gets you across barriers, there are traffic signals and stops at all the streets and it connects to commercial corridors, to places where cyclists want to go," Smith said.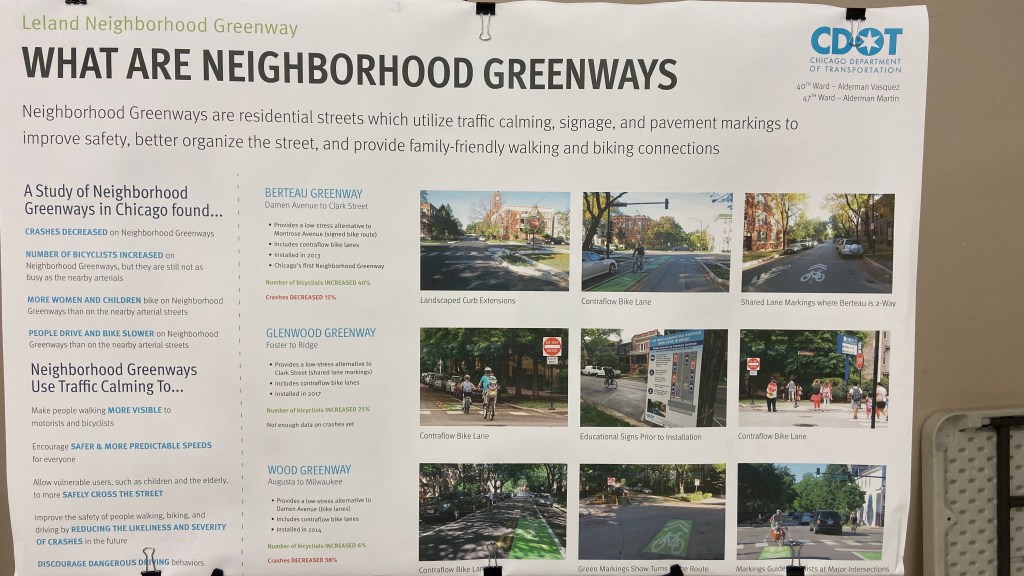 The greenway would allow people to avoid high-traffic streets like Lawrence Avenue, Smith said.
"I was surprised that Leland has such a low volume of cars, which I think is great," said Courtney Cobbs, a cyclist, after the presentation.
She worked in the 47th ward for three years and still pops into it to do her grocery shopping by bike. The Edgewater or Glenwood greenways help her commute more safely.
"My concern with this project is motorists parking in the bike lanes, though," she said. "Right now there's nothing preventing them from doing that. But it was nice to hear from CDOT that most of the motorists do drive below 20 mph on Leland. Because my experience with other greenways is the opposite of that."
Rudy Flores, executive director of the Lincoln Square Ravenswood Chamber of Commerce, echoed Ald. Martin's sentiment that the greenway would be good for small businesses.
"We're very excited about this plan because it connects Rockwell and the businesses there with the center of the neighborhood along Lincoln Avenue, Damen and then the lake," Flores said.
To weigh in on transportation plans in the 47th ward, learn about joining the transportation committee here.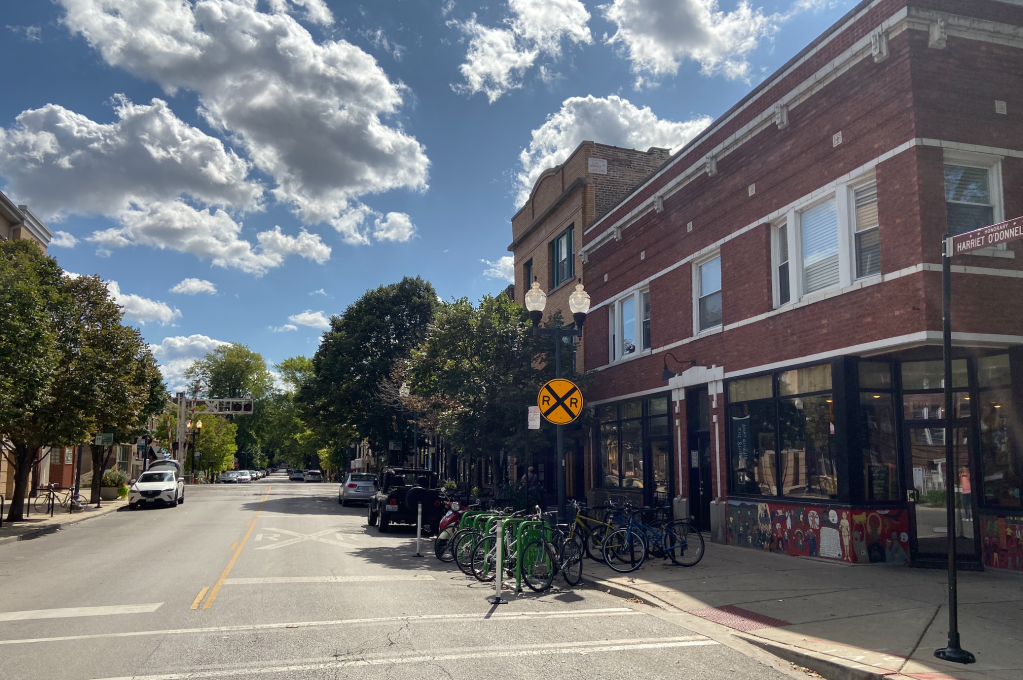 Do stories like this matter to you? Subscribe to Block Club Chicago. Every dime we make funds reporting from Chicago's neighborhoods.