AVONDALE — Alexis Andrade, 22, who friends describe as a fiercely loyal family man, was shot dead while trying to protect his fiancée from an armed carjacker Sunday night in Avondale.
The fatal shooting happened just after 11:45 p.m. in the 3000 block of North Kimball Avenue, according to police.
Andrade and his fiancée, 21, were sitting in Andrade's car when a man tapped on the window, pulled a gun and demanded his car, police said. Police told NBC Chicago the suspect had approached his fiancee on the passenger's side of the vehicle when Andrade confronted him.
Andrade's fiancée got out of the car as Andrade and the gunman fought. During the tussle, the gunman fired several shots, hitting Andrade in the arm, chest and forehead, police said.
The gunman ran off, got into a dark-colored sedan with tinted windows and sped off. Andrade was taken to Illinois Masonic Medical Center where he was pronounced dead. Andrade's fiancée was not injured.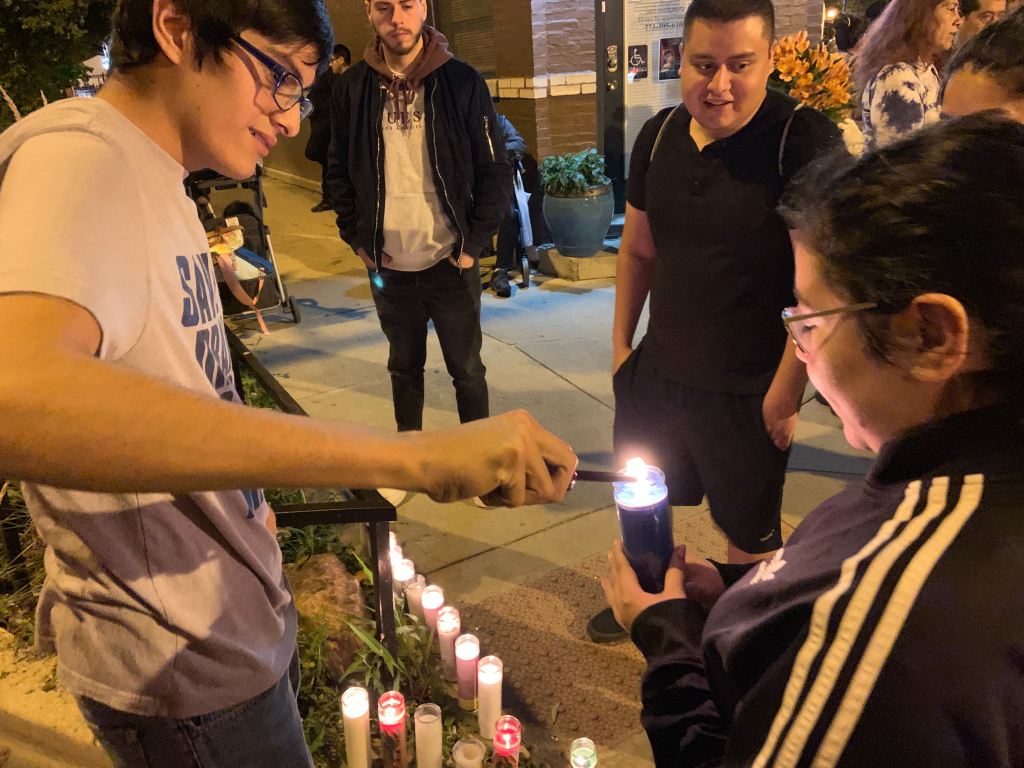 On Monday afternoon, two of Andrade's friends met at the corner where he was killed to pray for their friend over a white candle. More friends were expected to join them.
"He was a great friend. He always looked out for me," 22-year-old Andrew Alvarado said. "He would always stick up for me whenever I needed help, whether it was schoolwork or social problems I had in school."
"He'd always be there to make sure I never felt alone. … That's why I want to make sure I'm here to make sure he doesn't feel alone."
Alvarado met Andrade when they were freshmen at Von Steuben Metropolitan High School. The two went on to become close; they routinely played soccer together and hung out with a larger group of friends.
Andrade loved soccer, specifically the Mexico national team, according to Alvarado. Andrade's family is originally from Guerrero, Mexico, he said.
"He lived and breathed for Mexico. Every Sept. 15 (Mexican Independence Day) he'd come out with a flag to celebrate," Alvarado said.
Another friend of Andrade's, 23-year-old Pablo Camarena, said the duo would go to bars together and sing along with Mexican music.
"He was such a happy guy," Camarena said.
In the years since Von Steuben, Andrade was working full-time to support his family, according to Alvarado.
"He had to dedicate a lot of his life and time toward family and bills," Alvarado said, adding that his grandmother died last year. "The guy barely went out. He worked for a whole year for the car someone tried to steal."
Alvarado was living with his fiancée in Avondale up until his death. His mother, father and younger brother live in Humboldt Park, Alvarado said.
Attempts to reach Andrade's family were not successful Monday.
'I know Alexis would protect his girl to the death. … and that's what he did'
Both Camarena and Alvarado described Andrade as a friend, brother and son who would do anything to protect his loved ones.
"He'd never ever abandon the call of a friend," Alvarado said. "He's one of those people you could call at three in the morning and ask him for help, regardless of the situation, and he'd be there."
Said Camarena: "He was a family man. That was his main thing."
Alvarado said hardly any of Andrade's friends called him Alexis. They mostly called him by his last name, but sometimes they'd call him Santo, which means saint in Spanish, or Guero because of his light-colored skin.
Camarena was exchanging Snapchat messages with Andrade about 10 minutes before Andrade was shot and killed. Andrade had posted a video of himself, Camarena asked him about it and then Andrade said they'd see each other the next day.
Minutes later, Andrade was gunned down on a busy stretch of Kimball Avenue.
"You can't believe it," Camarena said. "You were just talking to him."
It's hard for Camarena and Alvarado to comprehend their friend's death. Alvarado said the reality hasn't sunk in yet. But the way he died — protecting his fiancee — was consistent with how he lived his life, they said.
"I know Alexis would protect his girl to the death. … and that's what he did," Camarena said.
Camarena said he hopes police catch Andrade's killer. Police said detectives are continuing to investigate. No one is in custody.
Andrade's family is raising money on GoFundMe to fly his body to Mexico so he can be buried next to his beloved grandmother. You can donate here.