CHICAGO — After a pair of gun battles, police caught a man suspected of shooting an officer Saturday morning and a woman near the Loop earlier this week.
Michael Blackman was shot at least four times by police and taken into custody Saturday afternoon near 64th and Bell. He was charged with four counts of attempted murder, a Chicago Police spokesman said Monday.
Blackman had been hiding in a vacant lot near 64th and Hoyne. When police approached, he began firing, starting a gun battle, said Deputy Chief of Detectives Brendan Deenihan.
With police in pursuit, Blackman then ran into a rail yard and reemerged near 64th and Bell, where a second gun fight began. Blackman fired at officers, who fired back, hitting him at least four times, Deenihan said.
"He has eight holes in him," Deenihan said. "They could be four through-and-throughs. That's up to the doctors to determine."
Blackman was taken to Advocate Christ Hospital in critical condition. That's the same hospital where the police officer Blackman allegedly shot hours earlier is recovering from three gunshot wounds.
Investigators had tried to arrest Blackman Saturday morning for Wednesday's shooting of a woman in the 200 block of North Milwaukee Avenue, but he shot one of the Fugitive Apprehension officers and ran, launching an intense manhunt in Englewood on Saturday.
Police helicopters, officers on the ground and federal agents searched for the 45-year-old, who may have been shot by officers in their initial confrontation at 8:40 a.m. in Englewood.
Officers combed through city and private camera feeds, searching for any sign of where Blackman ran, Deenihan said.
"These guys were going door to door, asking residents, 'Do you have video? Can we look at your video to show which direction of flight this guy went?' We found the direction of flight. We see the vacant lot. He runs into that vacant lot. And then officers start looking at the video harder. And they say, 'I don't think he came out of that vacant lot. Let's get a plan together and get over there.'"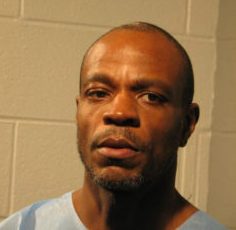 Police earlier in the day identified the suspect as Blackman, a man with an extensive criminal history, including being the prime suspect in Wednesday's shooting in the 200 block of North Milwaukee Ave.
Deenihan said Blackman has made no statements to investigators, other than saying his last name is Blackman. There's no known motive for his shooting of the woman.
"He appears he randomly targeted and shot this poor woman Downtown," Deenihan said.
The woman involved in that 11:40 a.m. ambush is expected to survive. So is the 40-year-old officer shot Saturday morning, despite losing nearly a third of his blood.
His expected recovery is thanks to the quick work of his partner and other members of the Chicago Police Fugitive Apprehension Unit, Chicago Police Supt. Eddie Johnson told reporters at Advocate Christ Medical Center in Oak Lawn, where the officer was recovering from emergency surgery.
Fellow officers put the wounded officer in a squad car and drove him to Christ Hospital. The officer put a tourniquet on his leg to slow the bleeding, and his partner applied pressure to a wound on the ride to the hospital, Johnson said.
"Look, we think he shot the young lady Wednesday. Today, he shot a police officer," the top cop said. "This is a person that shouldn't be walking the streets of Chicago. He's a dangerous individual. There's no hiding that."
Johnson said investigators identified Blackman as the suspect in Wednesday's shooting, in part from video surveillance, including a clear video shot from inside a nearby bike shop that Blackman had entered. Police said when he shot the woman, he was on bike.
Officers from the Fugitive Apprehension team got information Blackman was in Englewood Saturday morning, and they went out to arrest him, Johnson said.
After knocking on a door in the 1900 block of West 65th Street, Blackman fled out a back door, Johnson said.
That's when he ran into the now-wounded officer and his partner. A struggle ensued, and the officer was shot multiple times, Johnson and the officer's trauma surgeon said.
The officers returned fire, but it's unclear if any shots hit the fleeing Blackman, Johnson said.
The officer, a 16-year-veteran, was hit in the left groin and in the lower left leg. The bullet fractured his lower left leg and exited his body. The bullet to the groin pierced a major vein and remained in his body, Christ trauma surgeon Dr. Jane Kayle Lee said.
"He came in basically bleeding to death," she told reporters. "He had already lost a tremendous amount of blood."
Doctors were able to repair the vein and replace the blood with multiple transfusions, she said. He emerged from surgery and is expected to survive, she said.
"I do expect him to make a good recovery," Lee said.
Mayor Lori Lightfoot joined Johnson and other top department and Fraternal Order of Police officials at the hosptial. She praised the work of all officers, and asked for prayers for the wounded officer.
Police said the officer's shooter is the man who shot a woman in the back during a lunchtime shooting near the Loop Wednesday.
In that case, the shooter pulled up on bike to a 29-year-old woman as she walked with others in the 200 block of North Milwaukee. The gunman targeted her in the 11:50 a.m. Wednesday shooting and fled.
The woman was taken to Northwestern Hospital, and is expected to survive, police said. 
Here is Saturday's press conference from Christ Medical Center: