UPTOWN — About two months after Connie Cheung shared her story about getting a racist email from a potential employer that read "me love you long time," the Chinese American woman received nearly a dozen job interviews and is now employed.
Her job?
She works for the Chinese Mutual Aid Association, a nonprofit that helps immigrants adjust to life in America by providing free or low-cost English lessons, home health care, immigration assistance and other services.
RELATED: A Chinese-American Woman Applied For A Job In Chicago. An Employer Responded, 'Me Love You Long Time.'  
"Ironic, isn't it?" Cheung said, as she stood outside her new office at 1016 W. Argyle St.
Cheung was hired a month ago as as a human resources manager. Because she is a fluent Cantonese speaker, she often helps out around the office by translating on behalf of clients.
"I'm helping people who are basically like my mom," she said. "These are people who never asked for help. They're super sweet. I love it."
Dennis Mondero, the director of the Chinese Mutual Aid Association, reached out to Cheung after reading about her awful job hunt experience in Block Club Chicago.
"I am just so proud that I was able to snag Connie as a really valued staff member here," Mondero said. "She is so smart, so talented. Her ceiling is really high."
'An insensitive inside-joke'
Cheung's story unfolded in late June, when she applied for a job at Chicago Search Group, a Chicago-based employee recruitment company.
She was stunned by the email she received in response.
"Me love you long time," it read.
The phrase, used by an Asian sex worker in the 1987 movie "Full Metal Jacket" and later sampled by 2 Live Crew, shocked and disgusted Cheung.
As it turns out, the response wasn't meant for her. Its author, James McMahon, according to the email, had intended the email for his boss, Brian Haugh — but the note made its way to Cheung when it was accidentally forwarded to her.
While Cheung had never seen "Full Metal Jacket," she said she had heard the well-known slur against Asian women often thrown around the halls of her Florida high school, she said.
Frustrated, Cheung posted the email to Facebook publicly, and her friends criticized the company on its business page.
The following Monday, McMahon, who is vice president of the company, told Block Club the comment was meant for Haugh's eyes only.
The business partners and "best friends" have watched "Full Metal Jacket" together, he said.
McMahon said he wrote "me love you long time" in the email because he assumed by reading the applicant's last name that she was Asian. The woman who says the quote in the movie is Asian, too, he said.
"It was an insensitive inside joke only meant for my partner," McMahon said. "It was an insensitive comment; I realize that. It was a racist comment, I realize that … . I had no racist intentions. I'm not racist. I'm certainly not sexist."
Haugh, the president of Chicago Search Group and the intended recipient of the email, declined to answer questions about the company's hiring practices and defended McMahon's email at the time.
"The quote is from a famous movie, google would have told you that," he wrote to Block Club.
Mondero, the director of the Chinese Mutual Aid Association, immigrated to America from the Philippines.
After what happened to Cheung, Mondero recalled a memory from his early days in law school at Indiana University.
This was back in the 1990s, and Mondero sat outside the law school, enjoying the warm fall weather. A group of strangers drove past in a truck. One yelled, "Go home, f—— c—-."
"It's always disappointing, because you think we've evolved as a society," Mondero said. "It kind of underscores that a generation or two ago, we're talking about the KKK, open, overt discrimination. … Now, you're not gonna stand behind a mask. You're going to [hide your racism] in private emails."
'I'm happy I had the courage to say something'
Before Block Club published its story about the email, Cheung told a reporter she was nervous the story would put a black mark on her applications in Chicago.
Would recruiters cringe at the fact she had bad-mouthed a potential employer in the press?
Would they think she couldn't take a "joke"?
Within hours of the story publishing, however, those fears were mitigated.
In total, about 10 employers who had read Cheung's story reached out, offering the jobseeker interviews.
"I was so mind-blown," Cheung said.
But it was the offer from the Chinese Mutual Aid Association that sealed the deal.
Mondero called Cheung into his office for an interview for a human resources gig. He hired her on the spot.
"Hopefully for these two gentleman in the email thread, they will wake up and realize not to diminish any applicant based on the person's gender or background," Mondero said.
He was grateful he found Cheung through the Block Club story.
"You shined a light on her story, but by doing so, you allowed me to get to meet her and hopefully have her be a longtime member of our team," he said.
About a month has passed, and Cheung has fallen in love with her coworkers and her clients.
The job comes naturally for Cheung, who grew up doing her Cantonese American mother's bills and immigration paperwork.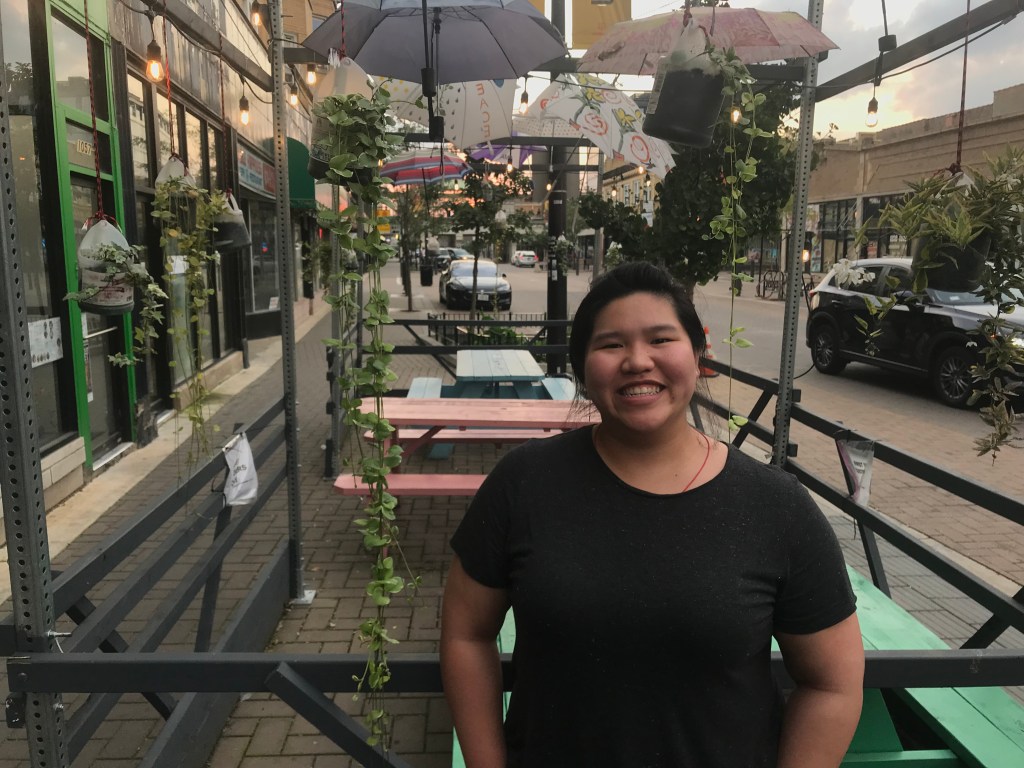 Asking for help isn't easy in Chinese culture, Cheung said; there is a famous Cantonese saying: "Don't air your dirty laundry."
After the fateful email was received, Cheung's mother pleaded with her daughter not to share her story publicly.
But Cheung told her mother that if Asian Americans do not speak out, the stereotype that Asians are the "model minority" in America will persist.
"There is an assumption that we're all doing well," she said. "When the story came out, other minorities reached out to me and said, 'Oh, you get that, too?' … Yes, I do."
She hoped her story would encourage other Asian Americans to call out racism if and when they encounter it.
"I'm happy I had the courage to say something," she said. "It is OK to speak out. It is OK to speak truths, to say this type of behavior is not OK."
Do stories like this matter to you? Subscribe to Block Club Chicago. Every dime we make funds reporting from Chicago's neighborhoods.