JEFFERSON PARK — After months of waiting, residents got a first look at updated plans for The Point at Six Corners Tuesday night.
The meeting was a familiar one for many in the room, who had been over the plan, which includes senior housing and an Aldi grocery store at at the corner of Milwaukee and Cicero avenues and Irving Park Road, many times before.
Peter Eisenberg, one of the developers speaking on behalf of Clark Street Real Estate — which has been trying to develop the vacant property since 2014 — seemed exasperated at times while presenting a new version of The Point, which now includes affordable housing on site.
The plans were presented in an effort to win the support of newly-elected Ald. Jim Gardiner (45th), who hit pause on the project his first month in office.
"We were in front of you last summer and we were fortunate enough to go in front of the Plan Commission earlier this year where we had unanimous approval," Eisenberg said.
Developers from Clark Street and Ryan Companies presented new renderings, which now show a 10-story complex with 10 on-site affordable housing units, 103 independent living units, 148 assisted living and memory care units and 215 off-street parking spaces.
Gardiner gave no indication of whether or not he backed the updated plan, but said he'll let residents know in two weeks if he'll give Clark Street the zoning change approval it needs.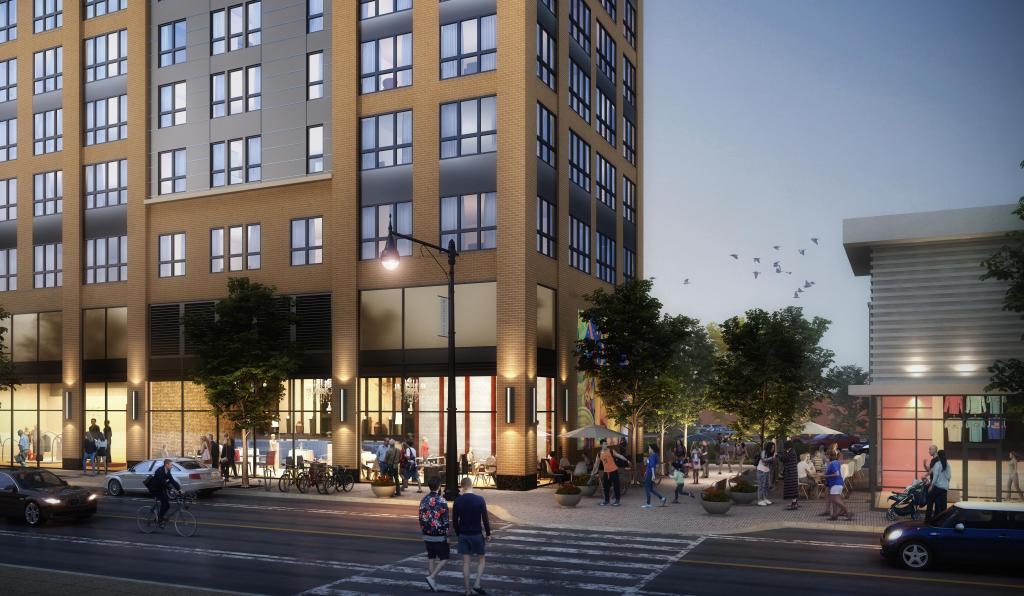 "Last year we were proposing nine affordable units on site at an undetermined location. But we heard from the community and the alderman that was not the desire," said Dan Walsh said, a developer speaking for Ryan Companies.
By adding square footage to the western side of the project, the building is able to maintain its 10-story height while accommodating the additional units, Walsh said.
The Point will still include a public plaza and mid-block connection that Walsh said were identified in the master plan for the shopping district.
The developers are not asking for any tax-increment financing (TIF) funds to complete the $130 million project.
"He said he wanted to be educated on this project so we have spent the last several months working with Ald. Gardiner, receiving his feedback and meeting again with the neighborhood groups," Eisenberg said. "And we responded with some very good comments to make modifications to the plan."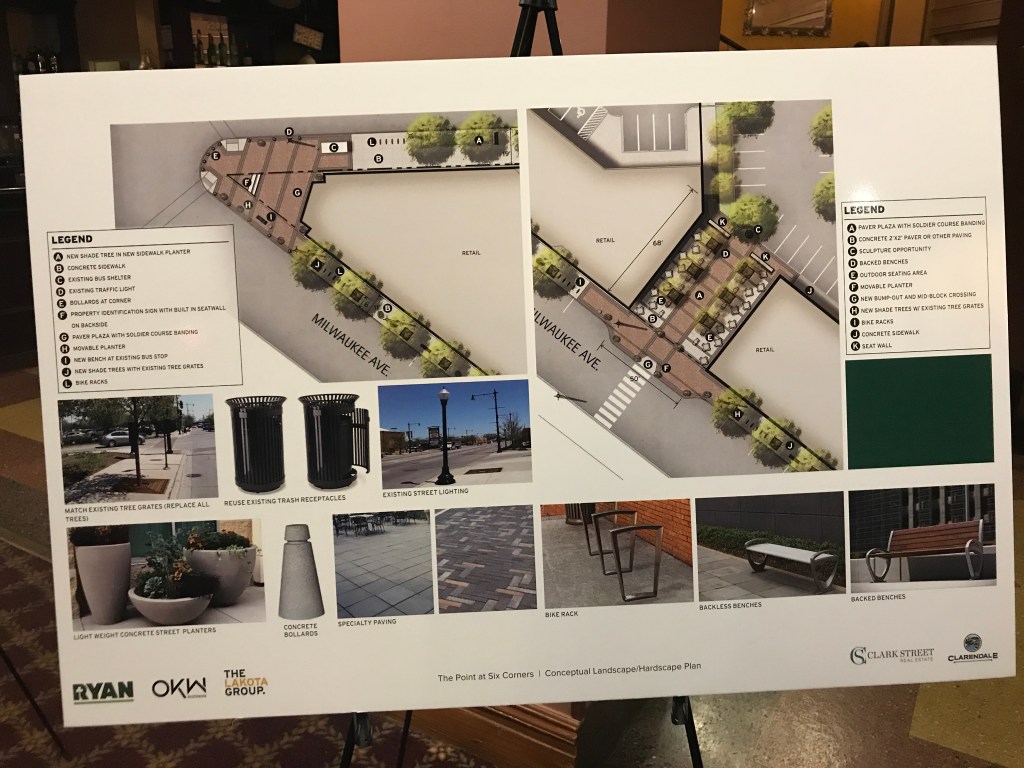 Nearly 50 people spoke over two and a half hours about the development, some urging fast approval to fill the hated vacant hole in a main shopping district and others complaining (or applauding) plans for the height or parking. Former Ald. John Arena — who was ousted by Gardiner — was also in the audience Tuesday night, as well as Alds. Ariel Reboyras (30th) and Nicholas Sposato (38th).
Joe Angelastri, owner of City Newsstand at 4018 N. Cicero Ave. and a supporter of Gardiner, circulated a letter he'd earlier sent to the city's planning commissioner to further stall the latest version of The Point project. Instead, he wants the city to use TIF funds to conduct a new land use study on the intersection, which includes former Sears building, the soon-to-be vacant People's Gas site and The Point development.
"We're building for the next century and if we need to wait a few months to get it right then we should wait because we'll have that building for a least the next century," Angelastri said.
Angelastri didn't ask for a land study back when Arena was in office because he thought a neighborhood master plan would be sufficient guidance for development at the intersection. That plan called for a four- or five-story building on the site, to match the height of the Sears building across Irving Park and the Klee Building on Cicero Avenue.
"But then that got blown out with the 10-story height. So the master plan is not working in the real world," he said.
In August, Block Club reported that Gardiner had been hosting closed door, invite-only meetings to collect feedback on the project. Tuesday's meeting was the first time the public had the chance to review the project's latest changes.
In a Monday Facebook post urging people to attend Gardiner's meeting, the Six Corners Association said they support the current plans for the Point because it will bring private investment, jobs and tax revenue to the shopping district.
The project is projected to create over 650 union construction jobs, over 200 retail and senior living jobs, generate $3.8 million into the shopping district's SSA, generate a total of $40.6 million in property taxes and $10.2 million in sales tax revenue over a 20 year period, according to developers.

At Tuesday's meeting, Gardiner said he lobbied successfully for the on-site affordable housing to be added to the current plan.
"Every time we meet we have an opportunity to learn something new," Gardiner said. "Whether you spoke for or against the project, it gives us all an opportunity to get better educated."
Clark Street paid more than $10 million in June 2014 for the 140,000-square-foot triangular property at the corner, as well as a one-acre parking lot in the 3900 block of North Milwaukee Avenue, according to public records.
The corner has been a large hole in the ground since the Bank of America branch that once stood there was torn down in 2016.
At a June 2018 meeting about the project, developers said the senior living facility would be a "cruise ship on land" and defended the high price as on par with other assisted living facilities in the area.
The senior housing plan was proposed after officials were unable to get big box stores on board for the site.
PREVIOUSLY
The Point At Six Corners Keeps Aldi, Adds Affordable Housing As Neighbors Urge Action In Closed-Door Meetings With Ald. Gardiner
Plan For Aldi, Senior Housing At Six Corners Isn't Dead, Ald. Gardiner Tells Residents — But It's On Hold For Now
As Plans For Dreaded Hole At Six Corners Intersection Stall, Area Business Owners Plead: 'Just Put Something There'

Is The Point At Six Corners Dead? Neighbors Try Convincing New Alderman To Support Senior Center At Long-Vacant Intersection

Critics Of Current Plan For The Point at Six Corners Say Building Would Be Too Tall
Do stories like this matter to you? Subscribe to Block Club Chicago. Every dime we make funds reporting from Chicago's neighborhoods.