DOWNTOWN — Mexican Chicagoans headed Downtown Monday night to celebrate Fiestas Patrias — Mexican Independence Day — by waving flags, honking horns and honoring their heritage in front of Trump Tower, a place that's become a symbol for the president's war on immigrants.
The revelers came from all corners of the city and said they took their celebration Downtown because they were largely prohibited from cruising in their own neighborhoods and because they wanted to take a stand against President Donald Trump.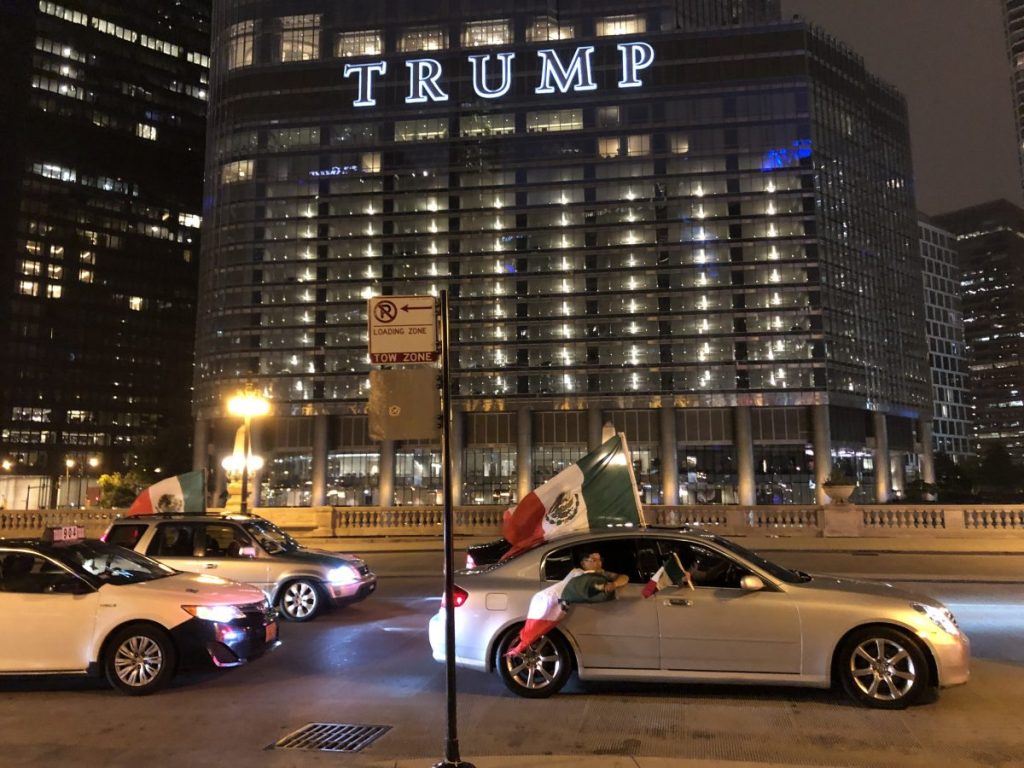 Cesar Venegas, from Hermosa, who stood on Wacker Drive carrying a Mexican flag across the river from Trump Tower Monday night, said he came Downtown because police restricted access to a main street in his neighborhood.
"The police had Fullerton Avenue blocked off so we came down here. It's like a huge party," Venegas said. He speculated that the crowd chose to focus on the area near Trump Tower as a statement against him.
"He's the one that doesn't want us here," Venegas said.
Carlos Benitez of Avondale echoed Venegas.
"It's fun and it is nice to make a stand against Trump," Benitez said.
Chicago Police spokesman Hector Alfaro said he was not aware of any restrictions on any city streets Monday night, but said there were some restrictions in Little Village Sunday because they needed to keep the area clear to clean up from the recent Mexican Independence Parade. 
Another Chicago Police officer at the scene Monday night who did not want to be named said cars have been beeping their horns while cruising through the area since Saturday.
David Macknin, who runs an insurance brokerage in the nearby Wrigley Building, watched the cars from the south side of Wacker Drive near the London House Chicago hotel.
"It's fun. My staff and I enjoy the noise and the energy," Macknin said.
Workers at the Trump International Hotel and Tower refused to comment on the activity outside the building.