GRAND CROSSING — Officials unveiled a new soccer field at the Comer Education Campus in Grand Crossing, a pitch the center hopes will give neighborhood residents a chance to explore the sport in a safe, healthy way.
Ald. Leslie Hairston (5th) and City Treasurer Melissa Conyers-Ervin were on hand to celebrate the official opening of the field on the campus at 7200 S. Ingleside Ave.
Built with help from the U.S. Soccer Foundation and the Medical Home Network, it will be accessible to more than 2,000 kids on the South Side.
The project is part of the foundation's "It's Everyone's Game" initiative, which aims to build 1,000 pitches across the country and reach a million participants by 2026.
For Medical Home Network Chairwoman and Comer Foundation President Stephanie Comer, Friday's unveiling was another step towards fulfilling her father's vision of bringing quality education to the South Side. Gary Comer, who started the center, was the founder of Lands' End.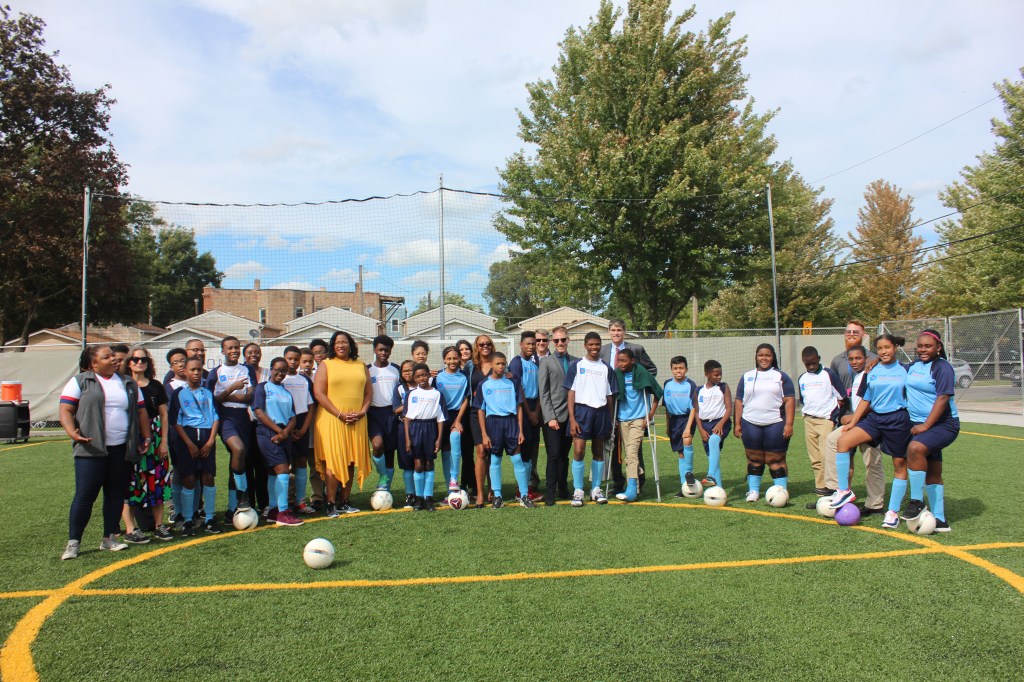 "My dad grew up in this neighborhood, and he wanted to give back. Before he died, he had so many plans, and my brother and I have worked really hard to make sure it comes to fruition," said Comer, who has been Medical Home Network chair since 2015.
Network President Cheryl Lulias enlisted the help of her friend, Pat Nash, the U.S. Soccer Foundation's Chicago Leadership Council co-chair, to build a mini-pitch on Comer's campus, investing $250,000 in the project. Baritus Construction collaborated with the foundation, breaking ground on the empty lot in the spring and finishing by the time the students returned to school for fall semester.
"Healthcare isn't just about medicine, it's about preventative measures," Comer said. "All of that plays into better health."
"It's more Comer magic," director of facility operations Dan Schuch said. "Taking available land and opportunity to create more programs for the youth."
Schuch, who grew up a mile from the campus, has witnessed the neighborhood change and the devastation from years of disinvestment. He credited the soccer federation and the Comer staff with nurturing the potential of the school's student body by providing them with a safe space to play.
"Getting the support of the [soccer foundation] to create this wonderful field is all about youth opportunity," Schuch said.