GARFIELD PARK — Some of the most dangerous streets in the city for deadly crashes are on the West Side. Now, Mayor Lori Lightfoot and West Side community members are hoping to change that with a $6 million infrastructure improvement plan designed to make West Side streets safer.
The citywide Vision Zero push aims to eliminate traffic fatalities in Chicago by 2026 by implementing road strategies and improving traffic infrastructure in areas facing the greatest dangers on the road.
The announcement took place at West Madison Street and South St. Louis Avenue where the city recently installed two pedestrian islands designed to slow down traffic and make crossing the street safer. Pedestrian infrastructure improvements like the refuge islands and sidewalk bump-outs are one of the 15 recommendations made in the plan.
The full plan for West Side streets has not yet been posted but will include recommendations for safety improvements around transit stations and a street transformation project to reconfigure the "Five Corners" intersection at Cermak Road, Ogden Avenue and Pulaski Road in Lawndale.
"We must change how we design and use streets, as any traffic-related death is unacceptable when we, as a city, have the tools and strategies to prevent the conditions that lead to these tragedies," Lightfoot said.
The launch of the West Side plan follows the Vision Zero Chicago Action Plan released in 2017 that identified 43 high-crash areas. The 2017 plan also identified high crash corridors, many of which are also major thoroughfares on the West Side, including: North Avenue and Chicago Avenue, Cicero Avenue in Austin, Lake Street in Garfield Park, and Pulaski Road in Lawndale.
On top of that, the analysis showed that Chicagoans facing the highest levels of economic hardships like poverty and unemployment made up nearly half of traffic fatalities from 2010-2014. It also found that nearly half of all fatal crash victims are black, with black people in Chicago twice as likely to die in a collision than white folks.
The launch of the West Side plan follows the Vision Zero Chicago Action Plan released in 2017 that identified 43 high-crash corridors, with five of the eight areas being on the West Side of the city.
Many of the high-crash corridors that were identified are on the West Side, including: North Avenue and Chicago Avenue, Cicero Avenue in Austin, Lake Street in Garfield Park, and Pulaski Road in Lawndale.
Many West Side residents do not feel safe walking and biking the neighborhood in part because of too-fast traffic and difficult to cross intersections, Ald. Jason Ervin (28th) said.
"I'm glad that we're working with the community stakeholders. We were able to craft a plan that really addresses the safety needs and the infrastructure needs for transportation of the residents here in the greater part of the Austin, North Lawndale and Garfield Park community," Ervin said.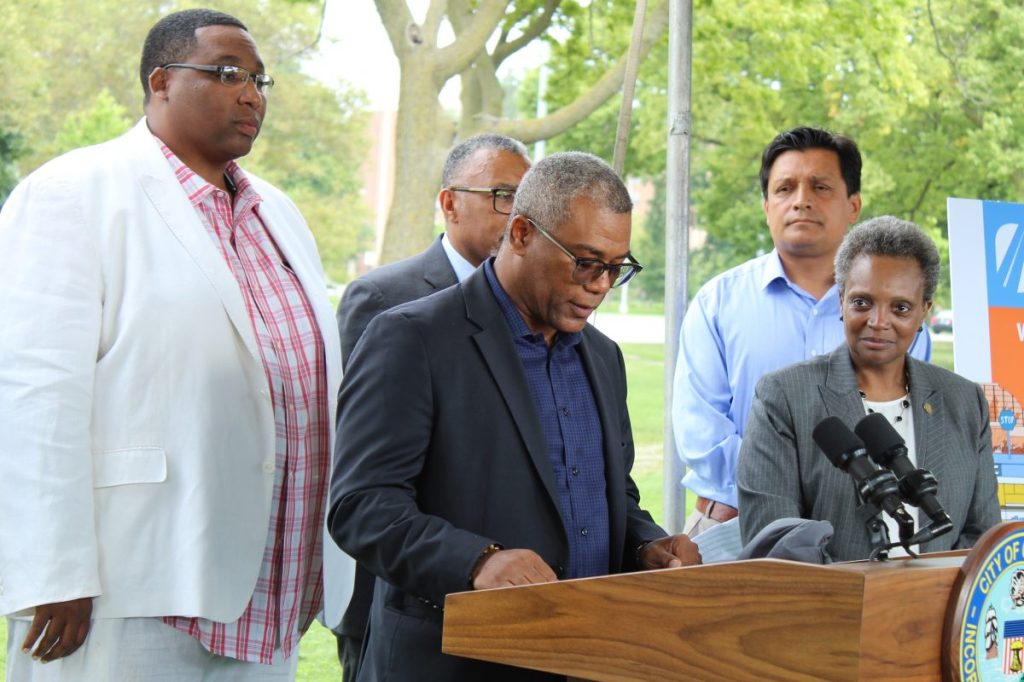 Ald. Walter Burnett Jr. (27th) said thousands of residents helped shape the city's plan to improve the area's transit infrastructure. That feedback was essential to finding easy, common-sense solutions, like adding crosswalks to help kids cross busy streets.
Active Transportation Alliance head Melody Geraci praised the plan for being driven by the residents most directly impacted. The current failure of the city's roadway design stems from prioritizing vehicular traffic over pedestrian and bike safety, Geraci said.
According to Geraci, the new plan will be built around the transit needs and priorities of the people living there.
"Something as simple as defining what safety means. For people in the transportation community, planners, engineers, others, it means one thing. But to the average resident, or the mom or dad who is walking their children to school, it can mean something very different," Geraci said.
Geraci also said the Alliance was calling on the mayor to install 100 miles of new bike lanes, with a special focus on neighborhoods like those out west where there are fewer public transit options.
The West Side Vision Zero plan was developed with input from the North Lawndale Community Coordinating Council, and Rochelle Jackson from the council's transportation committee said the neighborhood is "in dire need of infrastructure."
"North Lawndale members identified one of our corridors, Ogden Avenue, as a focus area for transformation to accommodate traffic as well as providing a more pedestrian and bike friendly environment," Jackson said.
Residents present at the launch said they were excited to see the additional investment into safety on the roads after decades of mounting traffic injuries and deaths.
Yvonne Shields, also a member of North Lawndale's local transportation committee, said the pedestrian refuge islands would be a great start to making the streets safer for kids, walkers, bikers, and even for drivers going too fast for their own good.
Resident Larry Carter said the areas around the parks are especially important for the safety improvements.
"It is pretty dangerous here, the way they drive fast through here," he said. "Kids gonna be kids, running through here to get to the park to play. Next thing you know, they're in the hospital."
Pascal Sabino is a Report for America corps member covering Austin, North Lawndale and Garfield Park for Block Club Chicago.
Do stories like this matter to you? Subscribe to Block Club Chicago. Every dime we make funds reporting from Chicago's neighborhoods.