DOWNTOWN — After getting criticized for not using a water main repair technology that could potentially save mature trees from having to be cut down, Chicago's Water Department is doing an about-face and launching a pair of pilot programs to test out the technology already being used in other cities, Block Club Chicago has learned.
City Water Commissioner Randy Conner, facing heat from aldermen for not using a technique called cured-in-place pipe for water main projects across the city, told Block Club Thursday that an outside consultant will be brought in to run the pilot programs, which are slated to launch next spring.
Cured-in-place pipe, known as CIPP, inserts a resin-coated liner through existing underground water mains. Under pressure, the liner seals the inside of the main, extending the life of underground pipes for 50 to 80 years. A brand-new water main is essentially created within the old main.
One key benefit of CIPP, officials in other cities say, is that trenches don't need to be dug for the entire length of the main, with all trees in the way cut down. Instead, holes are dug at distant intervals to pull through the liner, saving the trees in between.
The pilot program announcement comes as aldermen pushed an ordinance that would have forced Conner's department to launch such pilot programs. The ordinance championed by Alds. Brian Hopkins (2nd) and Andre Vasquez (40th) had gained support in the City Council, but the city's new plan, to be announced by Mayor Lori Lightfoot's office Friday, could head that ordinance off at the pass.
It also follows a Block Club report on how the Water Department failed to embrace the CIPP technology other cities have adopted.
Conner said his department wasn't being dragged into trying the pilot program, saying the city is always looking for new technologies.
"It's not something that's being forced," Conner said, adding his department had already been looking at the technology. "We're always try to find new technology, something new to put in the toolbox."
Indeed the city did conduct a CIPP pilot program on the city's Southeast Side in 2017. But the department abandoned the technology after that 300-foot test. Contractors who worked on the pilot contend the test project was tainted, doomed to fail and not a good example of how the cured-in-place pipe should be installed.
Testing just 300 feet, critics contended, was an expensive and half-hearted use of CIPP.
The new pilot program, Conner told Block Club, will insert CIPP into a mile of underground water mains, split up in two half-mile sections. One section will be in a residential area. One will be in a commercial area.
A separate pilot program will test CIPP or a separate technique on private sewage lines that run from Chicago homes to the city sewers. Standards for those projects differ from water main work, which is closely regulated to ensure drinking water quality doesn't suffer.
Conner said which ward or wards will get the pilot projects hasn't been decided. That decision will depend on finding the right aging section of water main to test, he said.
The cost of the pilot also hasn't been determined, he said.
Conner said shelving CIPP tests after the brief 2017 pilot wasn't a mistake, saying the technology has improved since then.
"Absolutely it wasn't a mistake, because at that time we used the data that we had," he said.
The new pilot program will be supervised by a third-party outside the city department. The consultant will also analyze the results and give recommendations at the conclusion about how to proceed in the future.
"It will be conducted by third party consultant," Conner said. "So it's not the Water Department making the decision."
Asked his reaction to a third-party getting to make the call, Conner said: "I'm the commissioner, so it's one of those things where it's the best thing for the city."
Conner said it's not uncommon to tap outside experts. "It's all about the experts in the field," he said.
Not using CIPP on recent projects has upset some aldermen and residents, who were forced to watch mature trees get cut down en masse in their neighborhoods as city water crews dug up blocks-long trenches to sink new water mains to replace aging pipes.
After Block Club reported on the earlier shelved pilot program — despite successful uses of CIPP in cities including Toronto, Rockford, Arlington Heights and Evanston — aldermen drafted an ordinance to force the water department's hands.
Ald. Hopkins has personally lobbied for CIPP to be used in his densely populated ward, saying he was "puzzled" by the Water Department's failure to embrace the technology.
RELATED: As Other Cities Replace Water Lines Without Tearing Up Streets And Trees, Chicago Refuses To Try It: 'The Old Chicago Way' At Work, Critics Say
The alderman cheered the mayor for the impending pilot program.
"I applaud the mayor's responsiveness in launching these pilots," Hopkins said in a statement released by the mayor's office. "The results from testing lining technologies for both water mains and private drains are designed to provide us with answers on alternatives to tree removal."
Lightfoot said the pilot program shows she's listening to Chicago residents.
"These pilot programs underscore my administration's commitment to listen to the concerns of residents and determine the feasibility of innovative methods that could replace our current practices," the mayor said.
While a successful pilot could be a win for trees, Conner warned it wouldn't prevent all cases of trees needed to be felled. The Water Department and the Mayor's Office noted "any underground construction can result in regulation-mandated tree removal. This is more likely with private drain work, as the drains usually run from a residence under the parkway and out to the sewer main."
Added Conner: "It's not a silver bullet."
Ald. Vasquez, another sponsor of the ordinance he dubbed the "Save The Trees" ordinance, has said when neighbors saw trees removed on their block without warning, they were "heartbroken."
"If we can find a solution to tree removal while also saving money, I think it's a win for everyone," said Vasquez. "These pilot programs will allow us to study and analyze our options in the hope of creating a plan that spares trees and hassle for my constituents."
Ald. Harry Osterman (48th), another supporter, has seen his constituents up in arms over the loss of mature trees in Edgewater.
"It is critical that the City of Chicago reviews alternate approaches to installations of water mains that will ensure water quality for our residents. There has been tremendous concern about protecting the old-growth trees in my ward," Osterman said.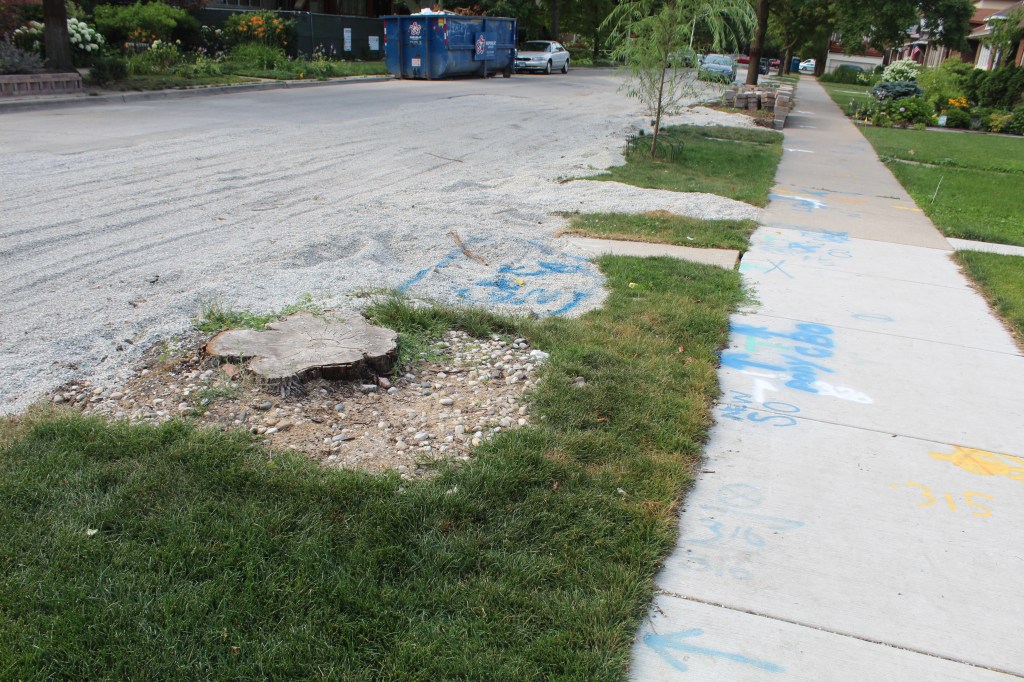 For months, the Water Department pointed to Illinois EPA regulations for why it couldn't use CIPP, saying environmental rules prevented such work on water mains that are too close to sewer mains.
But the IEPA was never even asked to grant a permit or waiver to the Water Department — and the department doesn't need their approval, anyway. Since 2014, Chicago has been a self-permitting city when it comes to water main projects, according to an agreement between the IEPA and the city. This means the IEPA allows larger cities to permit themselves to streamline much of the administrative process surrounding water projects.
On Thursday, Conner said he doesn't anticipate seeking a waiver from the IEPA, but the city will work closely with the state department to ensure all environmental rules are followed.
As for the mayor's hand in the pilot program decision, Conner said: "She's very encouraging about it."
Do stories like this matter to you? Subscribe to Block Club Chicago. Every dime we make funds reporting from Chicago's neighborhoods.