GARFIELD PARK — As a former state senator and one-time alderman of the 27th Ward, Rickey "Hollywood" Hendon is no stranger to hosting meet and greets. But instead of talking local politics with constituents, his latest function gave West Siders the chance to talk about his new line of business — the weed business.
Hendon hosted a networking luncheon meant to connect neighbors with major players in the hemp, CBD and recreational cannabis businesses at his new shop CBD Chicago, 2946 W. Madison in East Garfield Park, this week. The shop celebrated its grand opening last month.
At the get together, the ex-politician served up a homemade shrimp-and-lobster stew, crispy fried chicken and catfish. Each item on the menu was enhanced by an infusion of a special ingredient: CBD.
Hendon's shop sells CBD and hemp products that can be found at pretty much any of the city's head shops: tinctures, oil drops, flower and baked goods. He also plans to apply for licenses to grow and sell cannabis this fall, he said.
Beyond the brownies and bud, Hendon has developed a few specialized products that have become bestsellers.
"We have our tinctures, we have our massage oils, so we do have some things that are traditional. But at the same time, we're soul. We're black. We do seasonings," Hendon said.
His unconventional line of CBD-infused seasonings include the Biggz Hot Hemp spice mix. Hendon used these spice mixes to give the fried chicken at his luncheon an extra slap of flavor and demonstrate the versatility of CBD to his guests.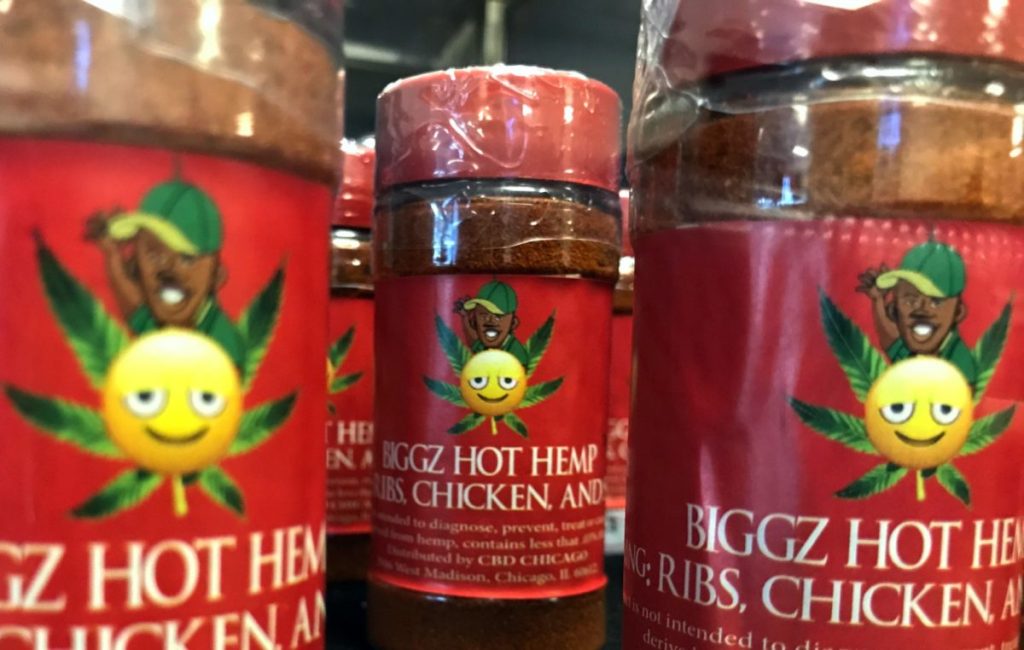 The shop also carries a curious selection of other CBD-infused products like shea butter, taco seasonings, sweet potato pie, and bath salts. The number one seller so far has been his Superhuman body butter that delivers topical pain relief, and Hendon said he is getting orders from Florida to Oregon for the product.
After just one month in the business, Hendon said he now wants to help other black and brown business owners looking to cash in on Illinois' budding cannabis industry, expected to explode in growth once recreational marijuana becomes fully legalized on Jan. 1, 2020. The easiest way for him to do that is to carry products from other local CBD entrepreneurs in his shop.
"We're giving shelf space to different vendors who otherwise wouldn't have it," Hendon said, picking up a bottle of Mama Verde infused bath salts produced by a local vendor. "I don't see them as competitors because there's enough for all of us."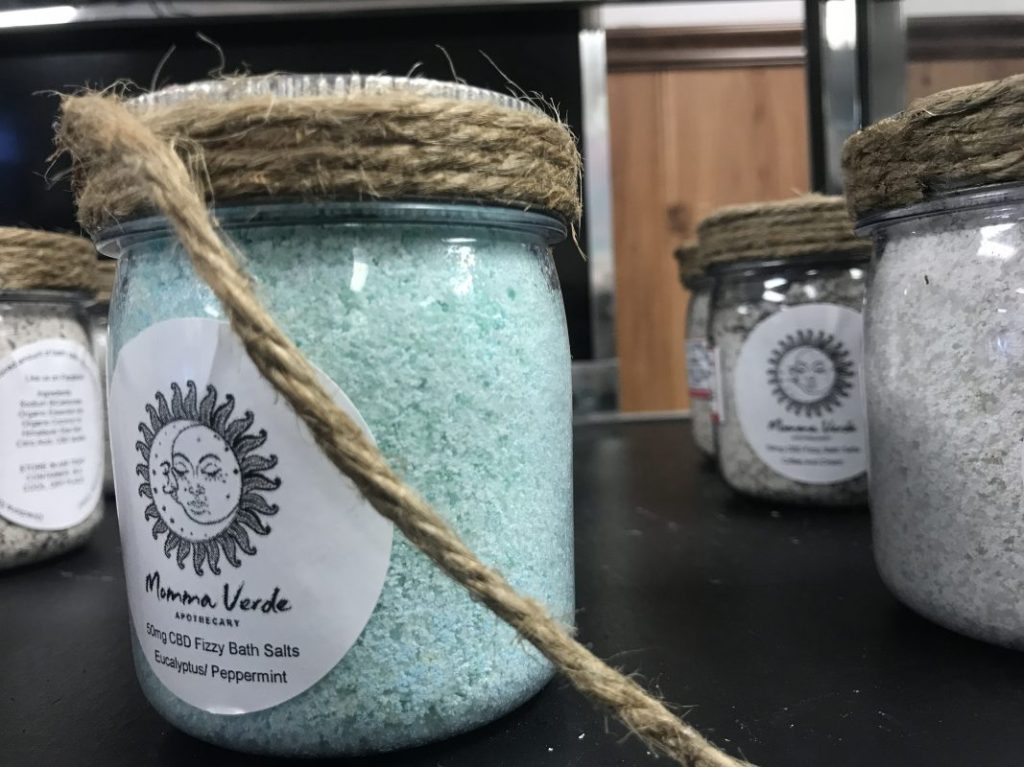 At the luncheon, Hendon aimed to connect West Siders with experts in the cannabis industry. Networking is critical for black folks out west because existing recreational cannabis business owners have years of experience navigating the complex web of regulations, applications and licenses for manufacturing and selling CBD and cannabis products in states like California and Oregon that legalized recreational marijuana as early as 2014.
But a key difference does set Illinois' laws apart, Hendon said. When they go into effect, the state will have the most progressive legalization laws in the country, starting with expungement for people convicted of certain drug charges. The laws will prioritize cannabis business ownership among black and brown communities that were most impacted by the War on Drugs, offering grants and a $30 million low-interest loan program to help minorities break into the market.
Hendon said he wants to help is former constituents realize that cannabis could be a pathway to prosperity for the black community, but it is in their own hands to take advantage of the opportunity.
"The West Side could be just as beautiful and economically feasible as the North Side," he said. "But it's up to West Siders to do that. We can't depend on another community to do what we need to do for ourselves."
One of the experts Hendon brought in was Portia Mittons, owner of the Coughie Pot dispensary in Oregon. Mittons said black entrepreneurs need to band together to carve a space for themselves in the market.
"There's an African proverb that says 'If you want to go fast go by yourself. But if you want to go far, go together,'" she said. "We have to be able to work together and understand that is going to require teamwork. It is not an option."
Mittons is also the creator of the Legit Trappin' Cannabis Symposium, a series that helps educate business owners and aspiring entrepreneurs about the hustle that goes into starting a cannabusiness. With the end of cannabis prohibition in sight, she is catering her workshops in Chicago to have a special focus on the unique social equity-focused opportunities in Illinois.
A good starting point for some locals to start cannabusinesses is by launching CBD products, Mittons said. The products require fewer legal maneuvers and pricy licenses to market and can be sold on a smaller scale, like Hendon's infused seasonings and baked goods.
"It is expensive to open a physical dispensary, or a grower or an extraction company. So by having things like this, where you can just make products that fit within your budget, that's a good way to get into the business. … the barriers are lower," she said.
Another expert at the luncheon was Holli Linn, a marijuana maven that specializes in helping entrepreneurs sail the choppy seas of grant writing and filing applications for social equity programs in the industry. Linn boasts a 100 percent approval rate for the 43 applications she has submitted, and intends to use her expertise to help Chicagoans to take advantage of the opportunities laid out by the new weed law.
"If we grow black business with these social equity laws and grants that they give us, what we're going to do is re-stimulate culture," she said. "And we're going to take some of this money back and put it back into the communities that actually deserve it."
Folks from the neighborhood who joined the luncheon were eager to learn more about how they could benefit from the rising green economy as business owners, CBD extractors, cooks and budtenders.
Napoleon English is a nearby resident who joined the luncheon to learn what types of culinary opportunities he might be able to pursue.
"I would like to get into the food part of it, where I could prepare meals," English said.
Another resident, Darnell Horton, came to the luncheon after hearing about the new shop on Hendon's weekly radio program, the Rickey Hendon Show. Horton said sampling the infused food at the luncheon showed him the real potential for the different ways that he could get involved in the CBD market as not only a consumer, but also a potential employee.
"CBD is something that's pure and natural so I want to try and see how it works for me," Horton said. After trying the shrimp and lobster, Horton added, "The taste of it — you wouldn't even know you're eating CBD products."
Hendon advises prospective business owners that they should keep their eyes on the long game, and to persevere even though it is a difficult business.
"We went out took a chance and opened right here. You know, it's a risky business. I'm not into profit or nothing. I'm still happy if I break even," Hendon said.
Pascal Sabino is a Report for America corps member covering Austin, North Lawndale and Garfield Park for Block Club Chicago.
Do stories like this matter to you? Subscribe to Block Club Chicago. Every dime we make funds reporting from Chicago's neighborhoods.