ROSCOE VILLAGE — The 20-year-run of Wishbone on Lincoln Avenue will come to an end September 29, but the owner is promising to be open again within a few months, likely at a new location.
The restaurant, known for its down-home Southern cooking, live music and local artwork, has been a Roscoe Village staple for two decades at 3300 N. Lincoln Avenue. Now at the end of a 20-year-lease, owner Guy Nickson said the building's owner is dividing the large restaurant space to house a salon as well as the restaurant. Since the renovations will take four months, he's looking for a new, smaller location.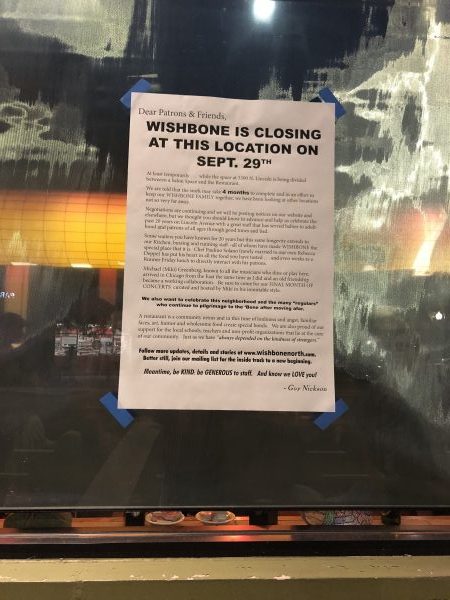 "There's a good chance we won't [be at current location] because I'm trying to find something that we can get into quicker and keep staff together. We are going to be dark for at least two months," Nickson said. He added that the building owner is dividing the space because Wishbone no longer needs such a big space.
Two signs in the window at Wishbone alerted customers that September 29 will be the last day and asking them to check the restaurant's website for news on where they end up.
Wishbone has two Chicago locations, the first owned by Nickson's brother Joel Nickson, who is also the chef, and his wife, Julie Nickson. The West Loop location was at 1001 W. Washington Street for 26 years before moving to its current spot at 161 N. Jefferson Street. For that move, the West Loop Wishbone was only closed for two weeks. It won't be impacted by the closure of the Lincoln Avenue location.
For Guy Nickson's Wishbone on Lincoln Avenue, whether he renews his lease to reopen after the renovation or if he finds a new location, North Side residents will likely have to wait a few months before being able to dine there.
Nickson said he hopes to find something soon and has a few options, although not necessarily in the same neighborhood.
"We have been looking in the same area, maybe a little further north and west. There are a few irons in the fire, we just haven't committed yet."
He added that he is trying his best to keep his 30 employees on staff during the down period.
"We are making arrangements for some to work at the other restaurant, some are taking their vacations. Some also have secondary jobs and can sustain. We've been in conversation with them for some time," Nickson said.
Nickson added that Wishbone is a "family," with some employees working there since the beginning twenty years ago and stressed that they will be back soon. His message was also on the sign in the restaurant's window, which advised patrons to "be kind, be generous to staff and know we love you."
Do stories like this matter to you? Subscribe to Block Club Chicago. Every dime we make funds reporting from Chicago's neighborhoods.