CHATHAM — "House Music: The Real Story" will kick off the third annual Chicago South Side Film Festival when it returns later this month.
The documentary, directed by filmmaker and Chosen Few DJs Founder Jesse Saunders, is among several Chicago-based films being featured this year. The festival will also host a special screening of "Cooked: Survival By Zip Code," which played at the Siskel Center earlier this summer.
This year's festival begins Sept. 27 and runs through Oct. 6. For a full schedule, click here.
Started in earnest by Michelle Kennedy in 2016, the Chicago South Side Film Festival has quietly expanded while holding fast to its mission to celebrate South Side filmmakers while diversifying its entertainment options. This year a new sponsor, the Chicago Film Office, joins the list.
While Chatham's Movie Studio Grill remains the festival's main hub, organizers have expanded programming to other venues; "Cooked" will be screened at the Illinois Institute of Technology (another festival sponsor), and the fest's inaugural script pitch competition will be held at Stage 18 in Pilsen.
"The goal was always to be bigger and better than last year and the year before," said producer Lex Curtis, who has been with the festival since its second year.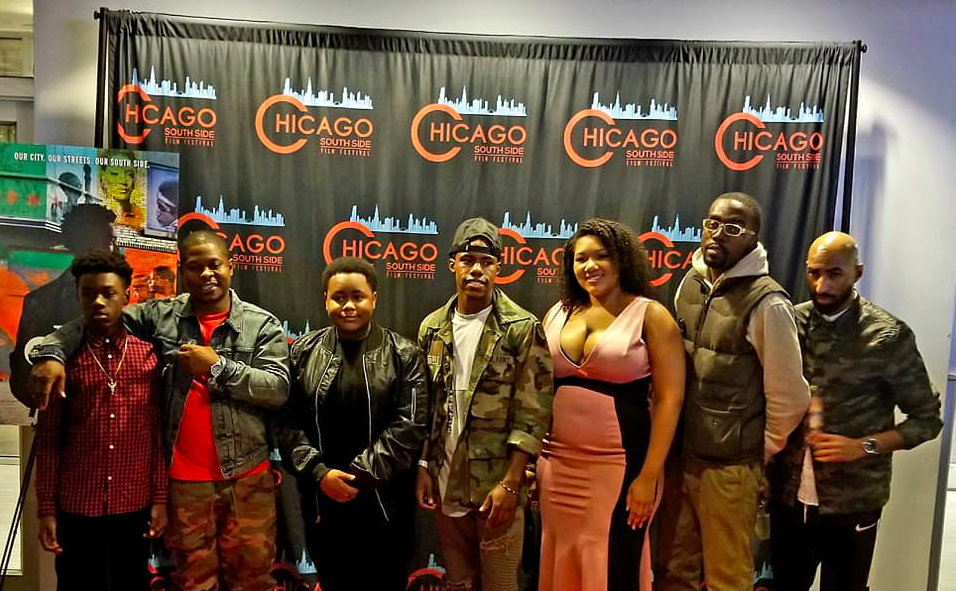 Part of improving the festival experience was tweaking the film submission requirements. Last year, organizers had the daunting task of sifting through 2,000 submissions. This year, they only had to view 50. Streamlining the process gave the team the opportunity to focus on the quality of the event.
"We've got a lot of different work. I wish we had more time to show it, but the goal for the future is to have a longer, broader festival to show more fantastic, up-and-coming filmmakers who send us their work," said Curtis.
That said, Curtis is still excited about this year's offerings, including the return of "Women Behind the Lens," a collection of shorts from black female directors. One of the films, "Training Wheels" was a finalist in the Jack Daniel's "Real to Reel" competition earlier this year.
For pop and lock enthusiasts (read: breakdance lovers), there's a special 35th anniversary red carpet screening of "Beat Street." And two new additions: "South Side Specific" and the script pitch competition, a collaboration between the fest and Script to Silverscreen, a collection of black female industry executives who will hear five-minute elevator pitches from aspiring filmmakers.
"Before we only accepted your finished, polished, ready-to-show film. Now we get to find creators who are near the beginning of their story's journey, and give them some extra assistance to really support their work and get them to the next level of being able to get it financed and make it better overall," said Curtis.
The fest will wrap up with a screening of "Thee Debauchery Ball," a story directed by David Weathersby about Chicago's Afro-futuristic, BDSM, fetish-themed house music party and how its challenged the narratives of black sexuality, with a panel discussion and dinner following after.
For Curtis and the rest of the team, balance and variety were as just as important as amplifying local talent.
"Access is not just the fact that you can look up something on Google, or the fact that you have $12 for a movie ticket. It's really making it meaningfully accessible as far as content, geography, price, and who you welcome to the conversation," said Curtis.
"House Music — 35 Year Tribute" will launch the festival at 9 p.m. Friday, Sept. 27 at Raven's Place, 13031 Western Avenue, Blue Island. Films will screen throughout the weekend at Studio Movie Grill, 210 W. 87th St.; and Illinois Institute of Technology, 3050 S. State St.
For more information about the Chicago South Side Film Fest, and to check out the schedule, click here.
Do stories like this matter to you? Subscribe to Block Club Chicago. Every dime we make funds reporting from Chicago's neighborhoods.