RAVENSWOOD — A new gaming hub in Ravenswood hopes to take virtual reality out of your friend's basement and give it a home of its own.
Redline VR, a virtual reality gaming facility at 4700 N. Ravenswood Ave., opened its doors last month. As VR gaming becomes more accessible to players at home, Redline aims to provide a superior social experience through high-end technology and curated events, said Aaron Sawyer, who co-owns the new shop with business partner Jonathan Irons.
"You know somebody that has a pool table in their basement, but you don't want to go to their basement that badly," Sawyer said. "When you have five friends over, now their basement doesn't work anyway. I think VR is like a pool table."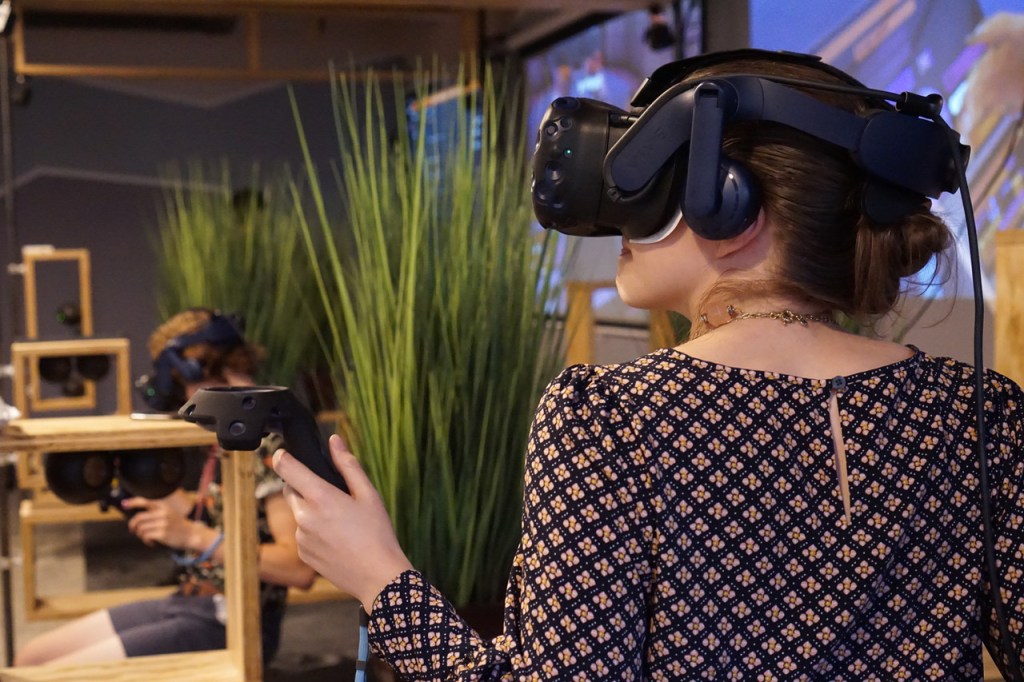 The new gaming hub is divided into what the founders call "bays," areas each rigged with a 100-inch screen and an HTC Vive Pro headset. Carefully arranged fake plants and warnings built into the headset prevent players from bumping into their real world surroundings, while the screen allows other members of the party to follow along with what the player is seeing.
Redline has a variety of games to choose from, played with a remote in each hand similar to a Nintendo Wii controller. The business' offerings include a rhythm game, shooters based in sci-fi and fantasy settings and simulators for boxing, table tennis and rowing. Though major game studios do produce VR titles, many of Redline's games are sourced from independent developers Sawyer and Irons discover through VR podcasts and on message boards online. The founders see curation as key to their business.
"It's not a brag to have 200 games if 150 of them are terrible," Sawyer said.
Players can book a headset at $10 for 10 minutes or $45 for a full hour. Much like a party of bowlers sharing an alley, players alternate between wearing the headset themselves and cheering on or heckling their friends. 
Redline also has options for simultaneous multiplayer games that require renting multiple headsets.
In the middle of the "bays" sits a a warm unfinished wood bar. The founders plan to offer a full service bar, including drinks specifically paired with VR films, when they land their liquor license.  
Sawyer and Irons first became friends while attending the same film school, and they saw an opportunity to act on their mutual interest in VR when they moved to Chicago simultaneously. Irons recalls visiting a VR arcade in 2017, "a really tiny operation in a converted office building in LA," and thinking, "We could do that better."
The two chose to open Redline in Ravenswood because of its proximity to public transit and breweries.
"We've had a lot of people excited for another place to be able to come in after a day of work and chill out," Irons said.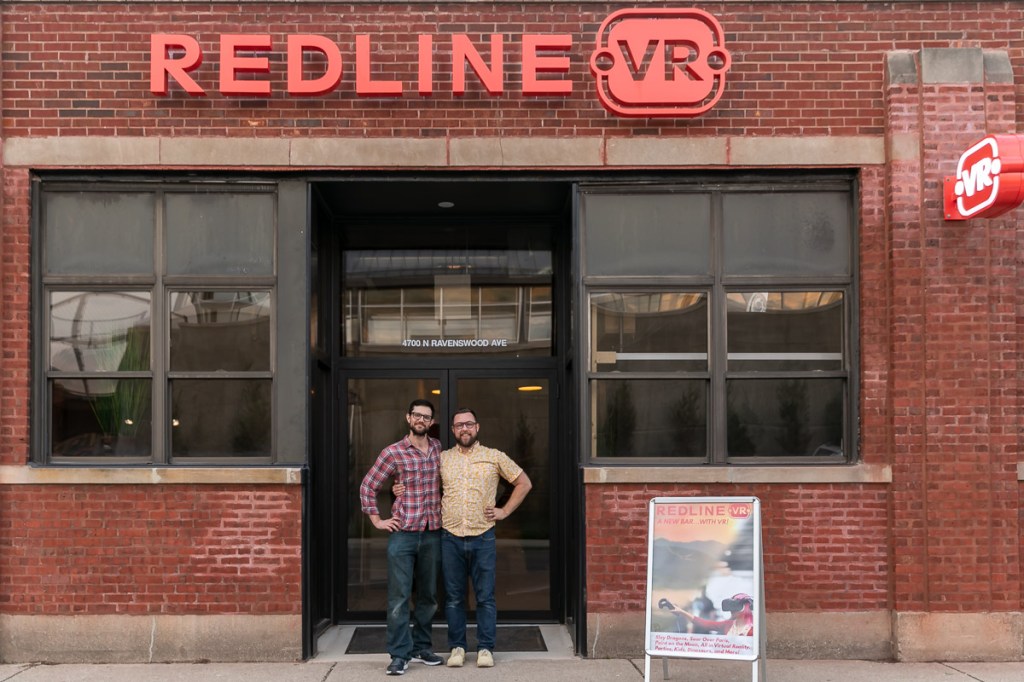 Redline has faced delays since it was first announced last fall because of zoning requirements. As a bar and an arcade, it requires both a liquor license and a public place of amusement license. In one instance, the founders requested clarification on a city department's comments. They ultimately only needed to resubmit their forms unaltered, but with multi-week waits for responses, the process took nearly two months, they said.
Any delay is expensive: "It's rent, it's overhead, it's insurance," Sawyer said.
RELATED: New Virtual Reality Arcade In Ravenswood Will Let You Walk In Paris, Paint On The Moon
Without a legal team, Irons said he and Sawyer handle any issues themselves, leading to "me on my laptop late at night looking up Chicago building code." A complaint submitted about a nearby Chase bank but accidentally filed under Redline's address created further red tape.
Sawyer recalls appearing before the zoning board, whose members were "not paying attention, except for one person who knows everything about your whole life." Once Irons confidently displayed a VR headset, "suddenly all the people that were on their phones are now watching, everyone's having a good time, they're laughing about why we even need this license!"
With most of the bureaucratic hurdles cleared, Redline VR is now open for business as a gaming destination, including some BYOB events. A grand opening is planned for later this fall once the liquor license is finalized.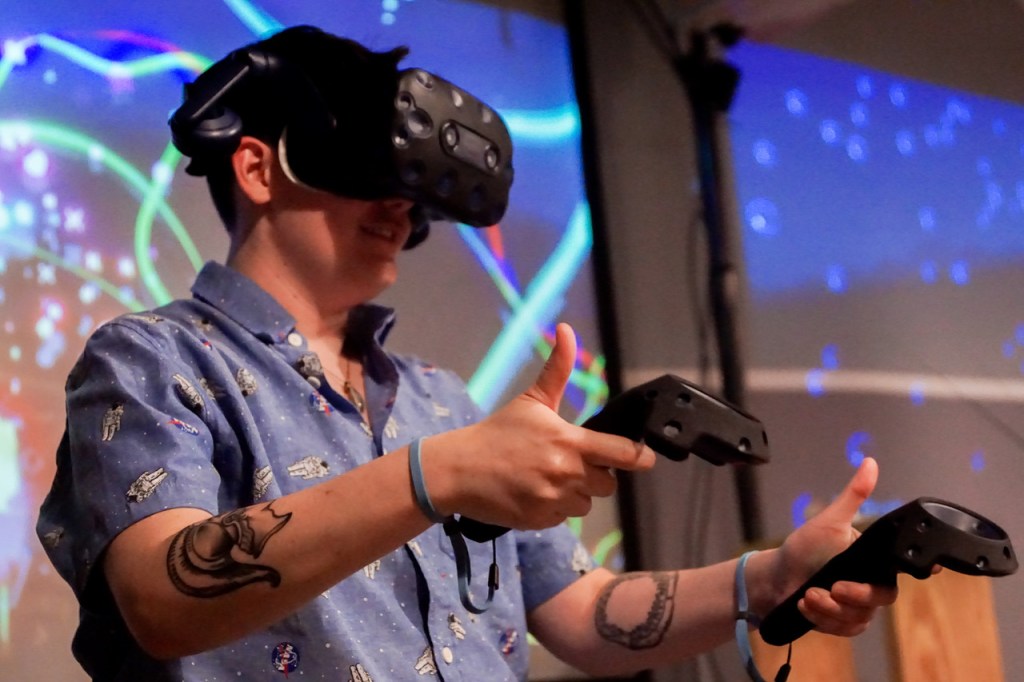 The business also offers recurring events, such as biweekly virtual painting nights and weekly sessions of a four-person co-operative game set on the bridge of Star Trek's famed USS Enterprise. Redline VR also furnishes private events, renting out its entire space or bringing headsets to other locations for corporate events, birthday parties and weddings. 
Sawyer and Irons are currently building a mixed-reality escape room in the facility, drawing from their theater background. Through heat lamps and other effects to supplement the VR, they aim to create what Sawyer calls "an immersive narrative experience" with in-game rationale to put on a headset or even take a drink. Beyond that, the two have many ideas for how to take advantage of the VR medium: art showings, film screenings, courtside NBA streaming, even developing their own games.
Redline's founders realize virtual reality is still unknown to most, and they are excited to offer a place for people to get familiar.
"It's a big deal to have your senses taken away that way," Sawyer said, "and you need to know you're in a space that feels good."
Redline VR is open 4-10 p.m. Monday-Thursday, 2-11 p.m. Friday, 10 a.m.-11 p.m. Saturday and 10 a.m.-10 p.m. Sunday.
Do stories like this matter to you? Subscribe to Block Club Chicago. Every dime we make funds reporting from Chicago's neighborhoods.