BACK OF THE YARDS — Drive too fast and you'll miss it. On the corner of 48th and Hermitage, in an unassuming storefront, you'll see them hanging in the windows — rusted meat hooks holding fresh tees. 
La Selva Shop, a pop-up design store brimming with Back of the Yards pride, held a grand opening over the weekend.
Directly across the street is St. Joseph Catholic Church, one of the first Polish parishes in the neighborhood, founded in 1887. This juxtaposition of old and new is exactly what 38-year-old owner Rolando Santoyo, who grew up in the neighborhood, had in mind when he chose this quiet block to open his first pop-up.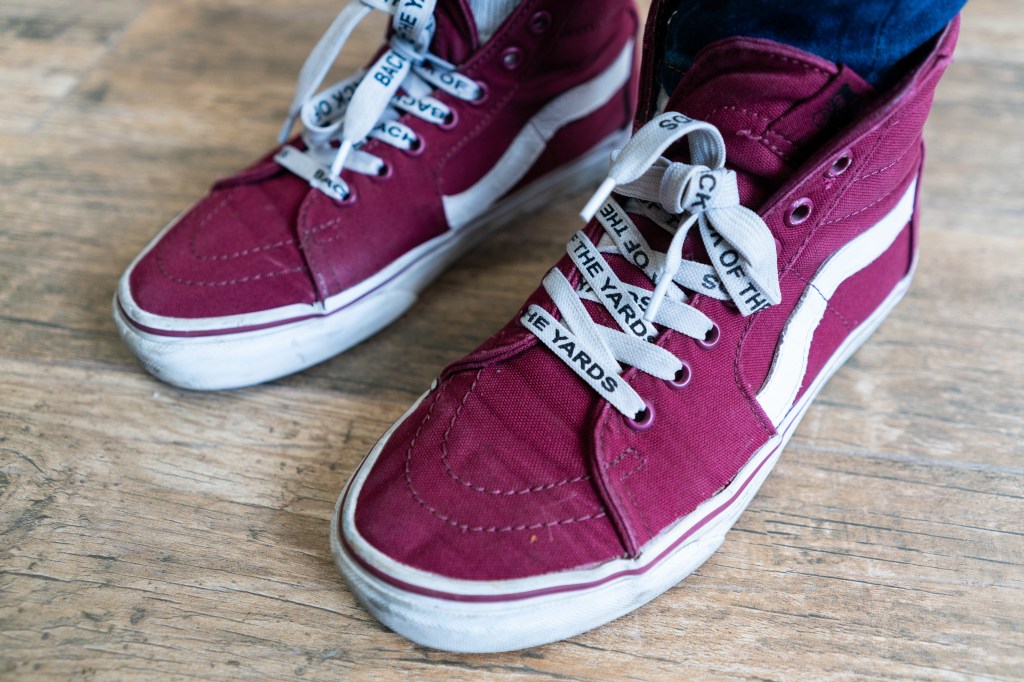 As a creative professional, he said he is looking toward the future, while always paying homage to the past. La Selva, or "The Jungle," is a callback to writer Upton Sinclair's 1906 novel of the same name, which portrayed the lives of exploited immigrants working in the Chicago stockyards. Santoyo's vision for the shop was clear: "I want to create it so it's like an art exhibit. It's all my designs; I'm selling pieces of art."
About a dozen people came to the Saturday opening within an hour span, friends, family, longtime customers and curious neighbors. People browsed the store, listening to music and chatting with each other, while a documentary on the stockyards played silently on a mounted monitor. Customers ranged from young and hip, to conservative folks. A bright red mannequin in a La Selva t-shirt greeted each visitor. Santoya said the red represents the blood of slaughtered animals in the stockyards — the grit and resilience of the community.
"I wanted something industrial, warehouse-looking stuff that represents some of these slaughterhouses. That's where I got the whole butcher idea," he said. It's even in the brand's logo, where "the writing has like a gory feel to it."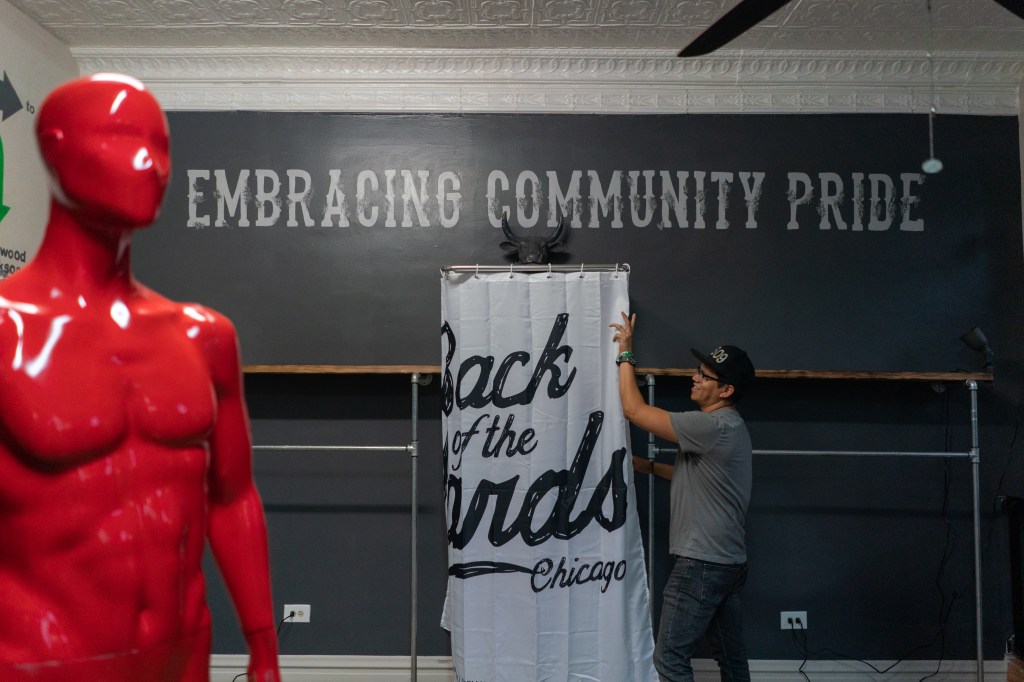 Santoyo, a CTA worker by day, credits his pursuit of the arts to staff at Holy Cross Immaculate Heart of Mary parish, a church he attended as a youth. There he learned to play marimba music and was encouraged artistically. Sister Angie Kolacinski, who showed her support at the grand opening, said, "He's always had a gift… whether it's murals or clothing."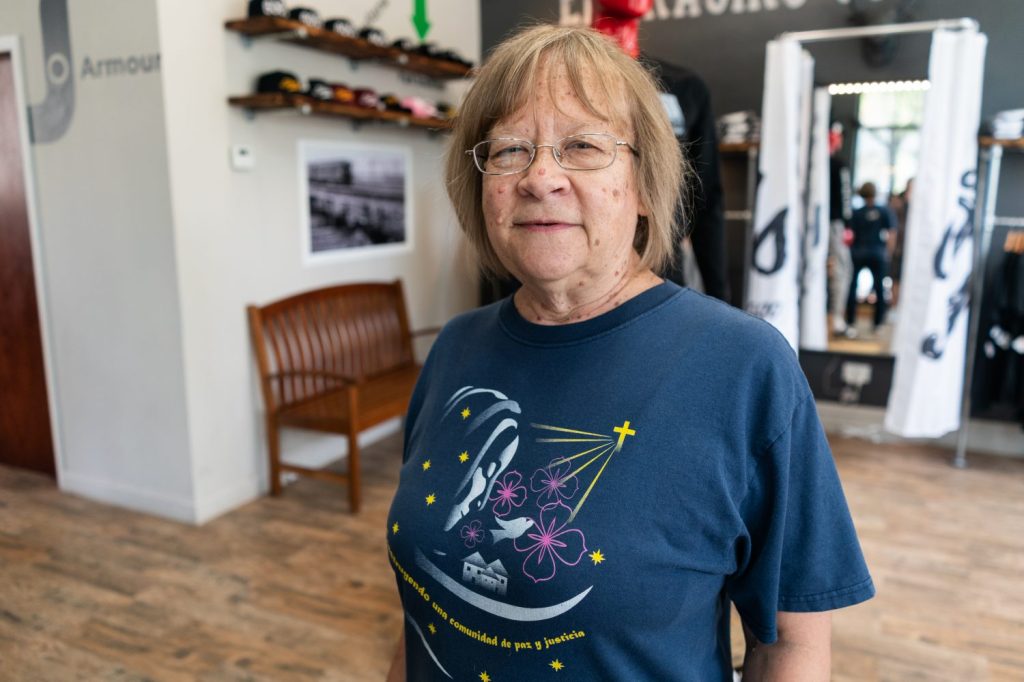 He was commissioned to paint his first mural in a community garden as a teen. As his work became more visible in the neighborhood, his reputation as an artist grew. Santoyo went on to receive a bachelor's degree from the International Academy of Design and Technology. 
The idea for La Selva came after Santoyo saw vendors at street fests hawking shirts emblazoned with different Chicago neighborhoods. "Pilsen had their thing. And Little Village had their thing. I [thought], 'Man, how come we don't have anything?'" he said. And so in the fall of 2016, he launched La Selva, which eventually expanded to a full product line including hats, sandals, shower curtains, dog apparel and more.
Santoya's work leans heavily on his artistic roots, his Mexican culture and even hip hop. "When I design my stuff, I don't just focus on [demographic]. That's why I feel my designs are so unique," he said.
Before the pop-up shop, fans could only purchase items online or at Back of the Yards Coffeehouse. "I wanted to create a space that would be a staple in the neighborhood… where people can go and get a product from Back of the Yards and take a piece of the community with you," said Santoyo. 
At La Selva's opening, the people who came echoed the company's tag line, "Embracing Community Pride."
"It is so important, [it] instills pride in the people of the community… helps businesses see the beauty of this neighborhood. [And] changes the business scape," said Sonya Eldridge of Back of the Yards Neighborhood Council, who has worked with the community's small businesses for the past 10 years. 
Though some shoppers at the weekend's festivities said they worry about gentrification changing the character of the neighborhood, they agreed that businesses like La Selva make a difference. "As long as the businesses stay here, the money stays here — it's the only way," said Fredy Dominguez, 26, who grew up and lived most of his life in the neighborhood.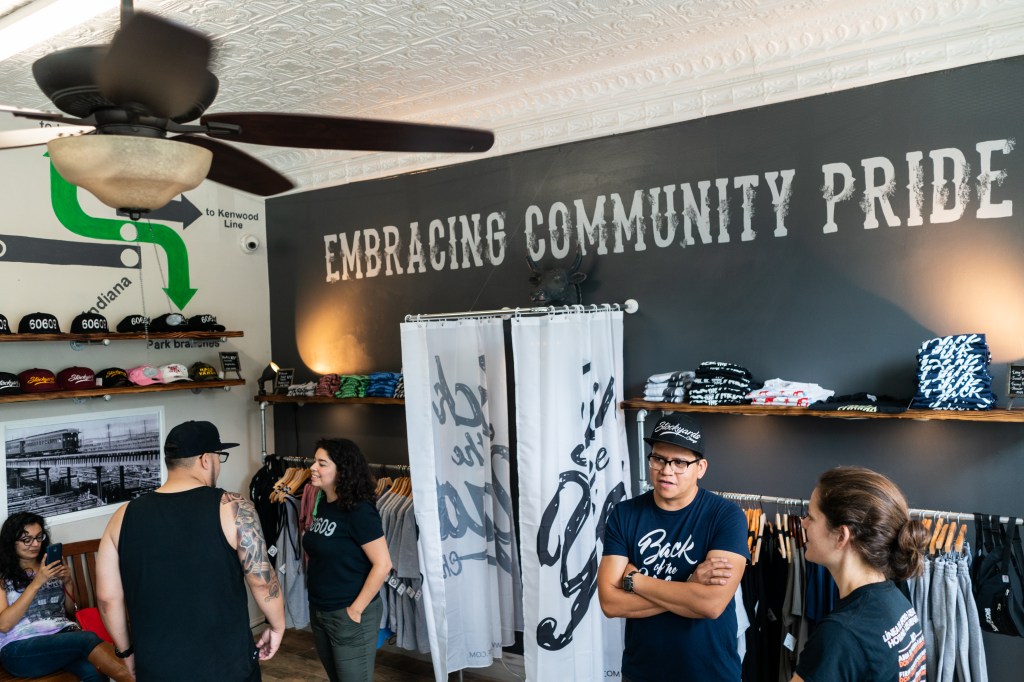 Santoyo hopes his shop will promote entrepreneurship, peace and positivity for the neighborhood youth and wants to "open the doors for others." Kolacinski, who showed up donning one of Santoyo's early designs, said, "We want the change to happen from within. That's the most effective change."
Santoyo describes Back of the Yards as hardworking, "a good representation of Chicago and the immigrant life of Chicago." He respects the community's older mom and pop businesses, but, "We don't see a lot of young people here creating businesses."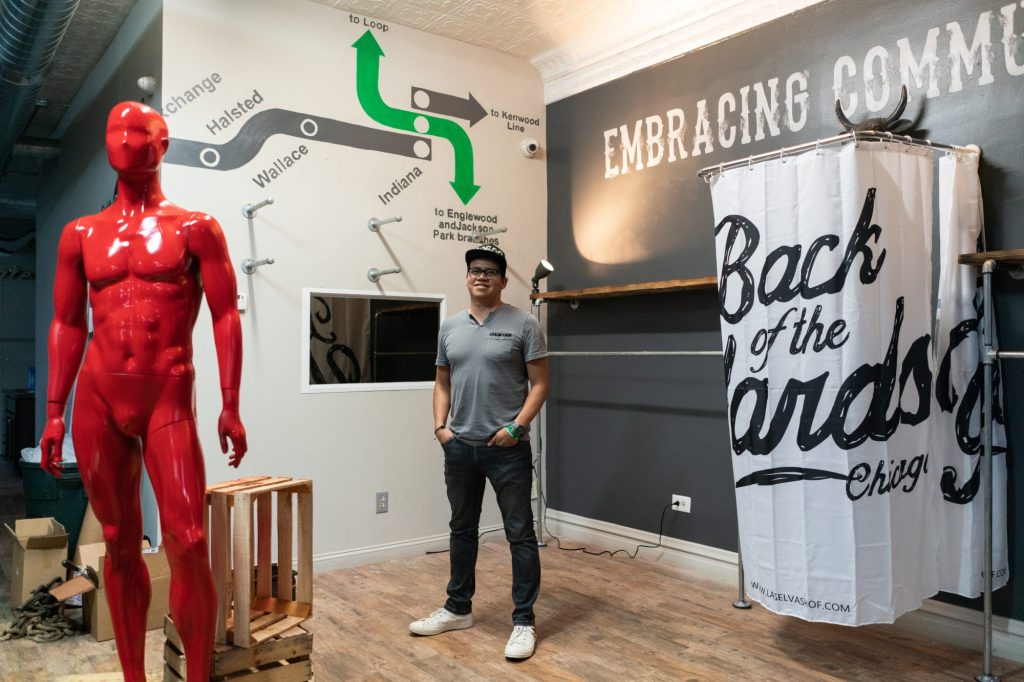 La Selva already has its followers, like Claudio Rivera, 37, who was raised in and only recently moved out of the community. "Pretty much everything he makes, I try to buy… I'm definitely his largest hat collector," Rivera said. He believes shops like La Selva bring a sense of "optimism for the future."
Santoyo plans on keeping La Selva Shop open until the end of the year. His idea of success? "I want to see this community wear my products with pride," he said.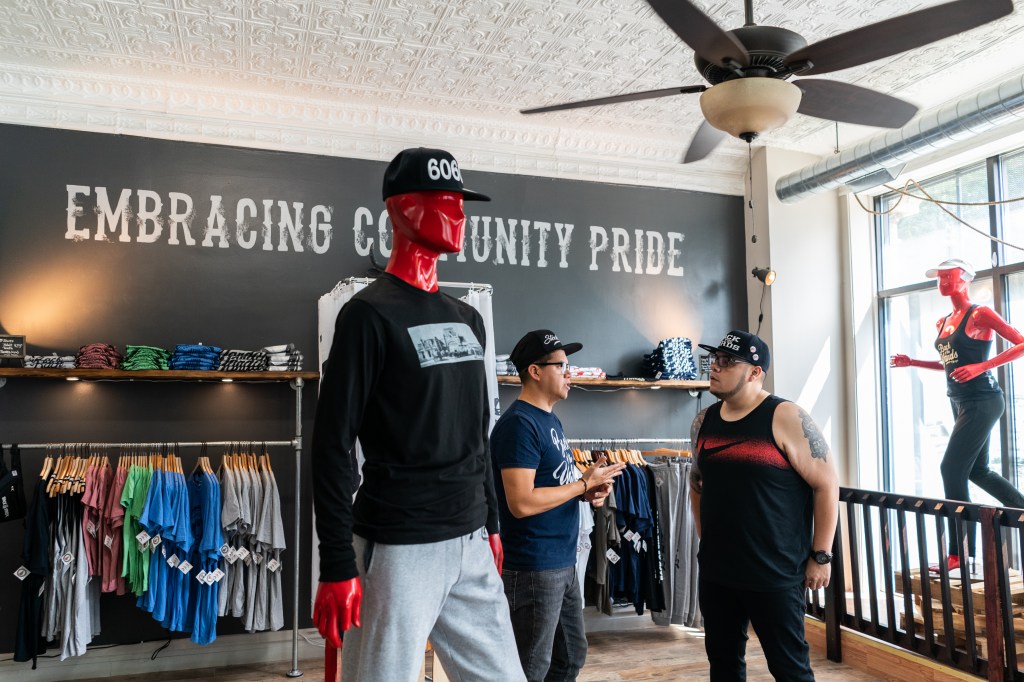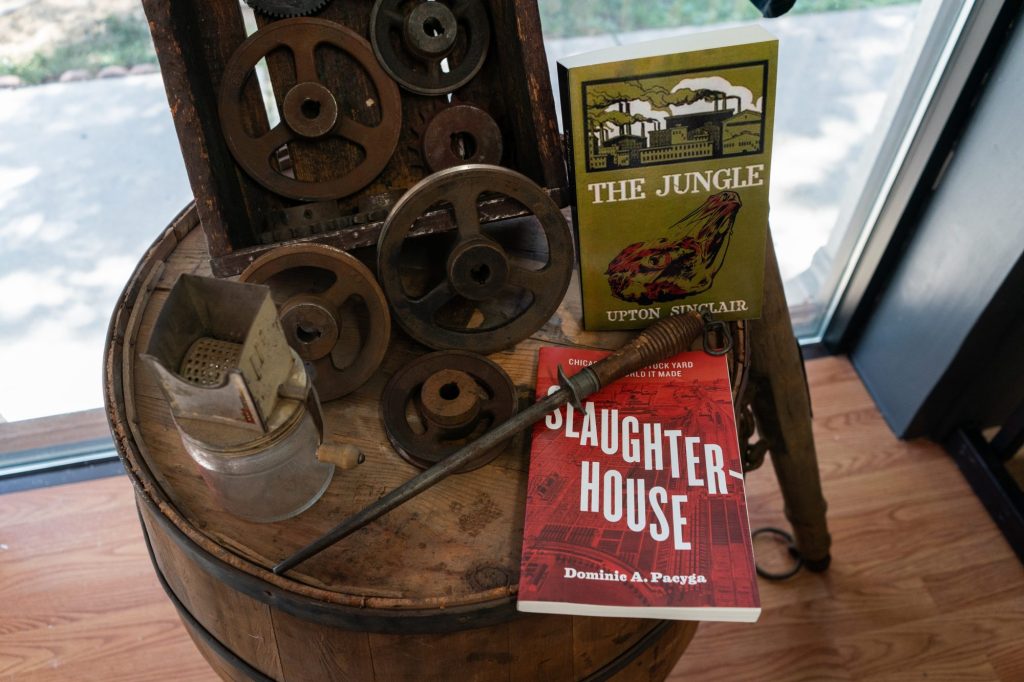 This story was produced by City Bureau, a civic journalism lab based in Woodlawn.