WEST RIDGE— The bungalows and worker cottages along North Sacramento Avenue all have small postage-stamp lawns. Some of the yards are scattered with toys, others decorated with carefully pruned rose bushes. Despite these small variations, the street is a near-unbroken row of identically manicured nature.
That is, except for one 0.08-acre yard bursting at the seams with prairie plants. It may look like a weed patch to the untrained eye, but all types of birds, bees and pollinators find this pocket prairie in the middle of Chicago.
At one time, nearly 60 percent of the state looked like this yard — more than 21 million acres of prairie. But according to the Illinois Department of Natural Resources, just 2,500 acres of prairie now remain in "the Prairie State."
So when Dan DeLorenzo bought a house across from Chippewa Park on barely a tenth of an acre, he knew right away he wanted to plant a pocket prairie, an urban garden on less than an acre featuring native plants.
"I always said when I get my own house, I'm getting rid of the grass," DeLorenzo said.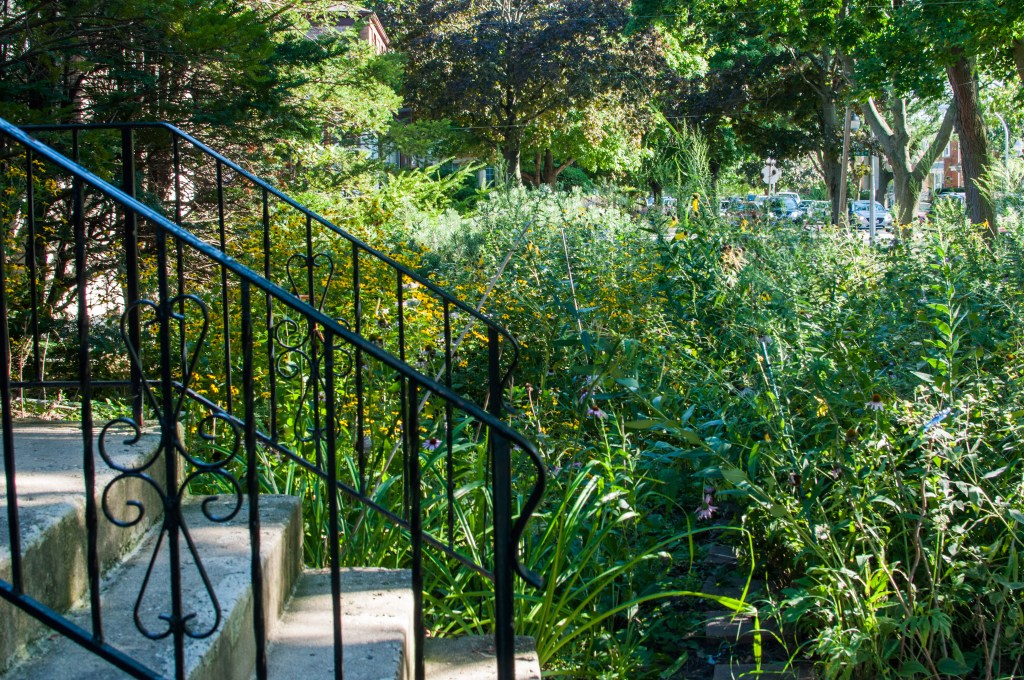 Lucky for DeLorenzo, his brother Andy is a forester in Wisconsin, and Andy knew what to do. 
Andy put in an order for a package of 50 seedlings, including 20 varieties of prairie plants, at a nursery in southern Wisconsin. The rule of thumb is 500 seedlings per acre for wild prairie restorations. 
DeLorenzo rented a sod cutter and spent a day ripping out the grass.
"You kick it into the grass, move it along, and it cuts underneath the roots of the grass," DeLorenzo explained. With the sod cutter, he was able to prep the whole front yard in one day.
Then, they planted the prairie plant seedlings on one of the hottest days of summer.
"It was not a good time to plant," said Kathy Kelly, DeLorenzo's partner. "I was wondering, 'Are these plants gonna live?'"
But they're prairie plants, tough and hardy. They survived the shock of transplanting in the midst of high summer heat.
DeLorenzo watered every week and put down a few inches of mulch. By the next year, the plants were established and filling in nicely. Even dandelions had a tough time finding a spot to grow, no chemicals needed.
"Once these prairie plants take over, there's no room for dandelions," Kelly said. "Well … I guess there could be some dandelions in there … ." 
The plants are growing so densely, it's hard to know what's actually in there.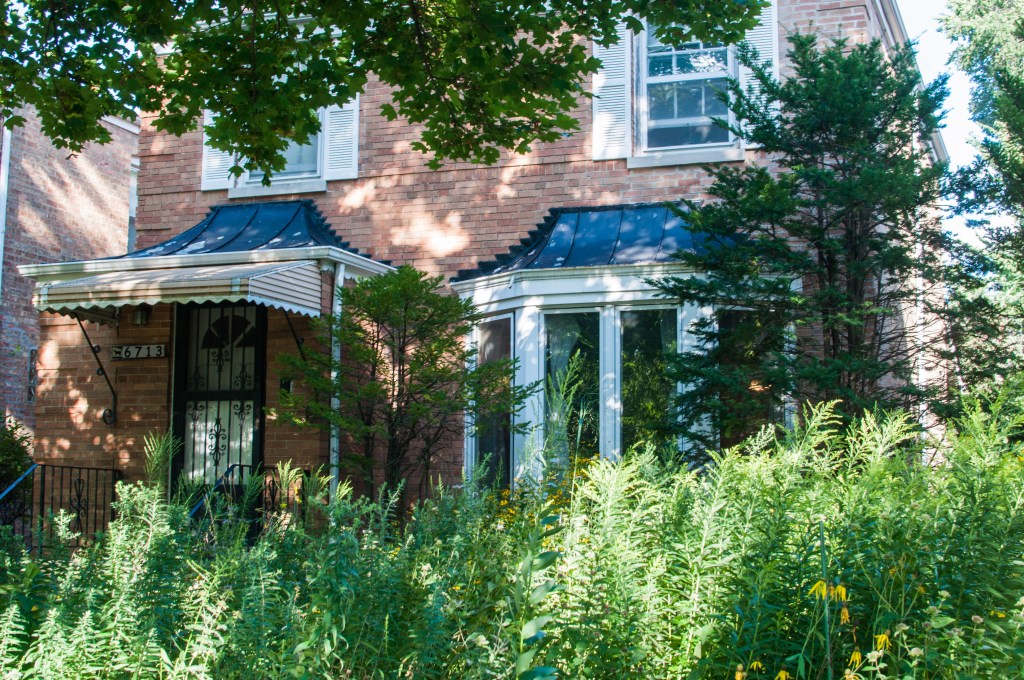 Even still, every time Kelly walks out the front door, she said she pulls a few weeds.
Once they installed the pocket prairie, deciding upon a management strategy was a bit of a struggle. Even in gardens filled with native plants, it's possible for one species to begin dominating and turn a diverse micro-ecosystem into a monoculture patch of land. 
DeLorenzo and Kelly's prairie is now in its sixth year of growth, and some of the more aggressive plants are starting to take over. Kelly prefers minimal interference, but DeLorenzo favors a more managed approach.
"If I dig up any plants, she notices," DeLorenzo said. "But I've gotten much more comfortable with letting things grow."
DeLorenzo just does a biennial burn to keep things under control.
DeLorenzo's brother Andy, the forester, has a burn license and comes out to visit and burn the prairie with Dan. Typically, they walk around with a lighter in the early spring, lighting clumps of brown stems individually. It produces a little smoke, but it's manageable. 
But there was that one time a couple years ago the Fire Department came.
"It was a heavy wind like today," DeLorenzo said, "and all the sudden the leaves in the back caught and a wave of black smoke just came up and blew down the block."
Luckily, one of the police officers who came to check things out saw it was a prairie and recognized Andy knew what he was doing. The officer reminded them to give the neighbors a heads up next time.
"We gotta make sure if we do another complete burn that all the dead leaves are out because that's what supplied all the black smoke," DeLorenzo said.
But does a tenth-of-an-acre prairie actually make a difference for wildlife? 
Benjamin Vogt, author of "A New Garden Ethic" and a prairie-inspired landscaper, doesn't think so.
In Vogt's August newsletter he wrote: "The benefit of wilder, native-plant-driven gardens at home, work and school is that they connect us to other species. These gardens make us familiar with wildlife and other cultures while providing tangible physical and mental health benefits to us. But even a 'green' city is a drop in the ocean when flying overhead."
Vogt makes the case people need to "rewild" America. Meaning people need to stop mining and drilling on public land and start restoring the millions of acres of prairie that has been lost.
"This is where gardens come in," Vogt said in the newsletter. "They wake us to larger issues in larger places, growing a landscape ethic on the scale we need to curb extinction and climate change."
So far, none of DeLorenzo's neighbors have decided to replicate his pocket prairie — although a few enjoy bringing their kids over to admire the flowers and look for insects and birds. 
That's partly because a weedless patch of green is still a picture of the American dream.
In West Ridge, most of DeLorenzo's neighbors keep very simple, orderly lawns.
And most of them use a lawn service.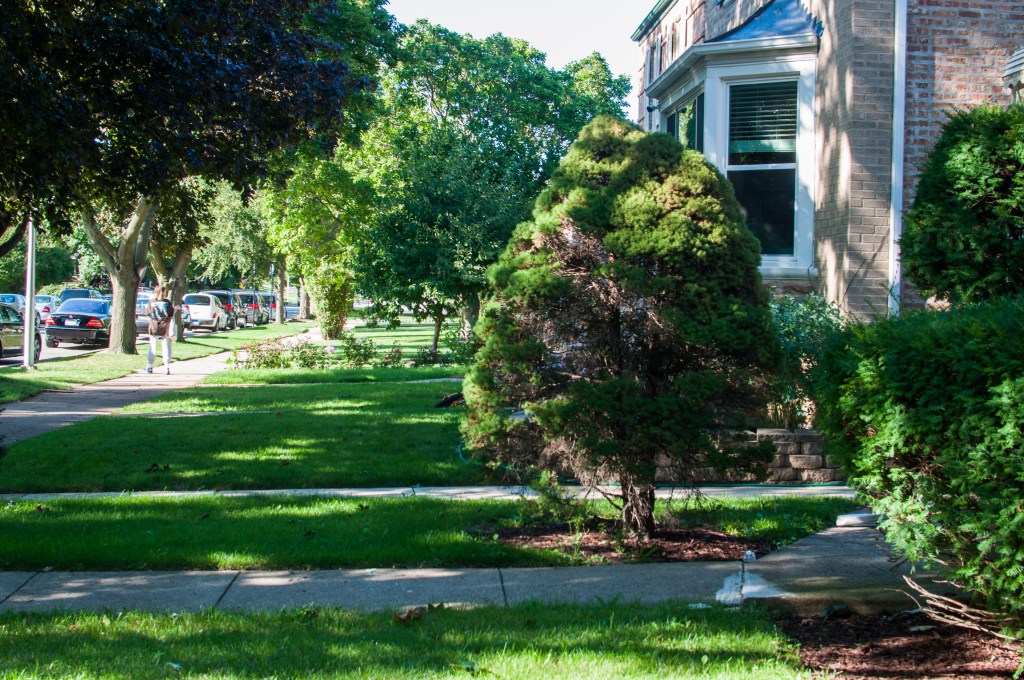 Do stories like this matter to you? Subscribe to Block Club Chicago. Every dime we make funds reporting from Chicago's neighborhoods.