BUCKTOWN — When Caitlin Schwind moved into her one-bedroom apartment on Milwaukee Avenue and Leavitt Street two years ago, she thought it was perfect.
It was steps from the CTA Blue Line, which she uses to get to her office in the West Loop. It was surrounded by restaurants and bars. It was also brand new.
The $2,000 monthly rent, Schwind said, was worth it.
But in the last eight months, the price tag for living in Centrum Bucktown, a luxury apartment building with 94 units, has seemed less than justified for Schwind and her neighbors.
In January, the apartment complex's heater broke, leaving several tenants with ice-cold homes during the record-breaking Polar Vortex.
RELATED: Residents Of Luxury Bucktown Apartment Building Without Heat In Deadly Cold: 'There Is No Way This Is Acceptable'
Last week, the HVAC cooling system in at least six apartments, including Schwind's unit, went kaput. Her dog, Milo, became ill.
Schwind and Milo spent a night at Ray's Bucktown Bed and Breakfast, a nearby dog-friendly bed-and-breakfast. Then the duo moved in with Schwind's friend. Schwind's apartment was 96 degrees on Tuesday.
The property management company, 33Realty, has refused to reimburse her for emergency vet services and the cost of boarding herself and Milo.
"When I chose to live in this building, I thought there would be a certain level of service," Schwind said. "I lived in tons of crappy apartments in my life. When you pay cheap rent, you expect certain level of response. … This is actually my first expensive apartment."
The broken HVAC system is part of ongoing maintenance issues at Centrum Bucktown. Two other residents, both of whom asked not to be named, described a routinely broken key fob entry system, trash in the lobby and a moldy leak inside a unit.
"With what we're paying, we expect to have heat in the winter and AC in the summer," one of the residents said.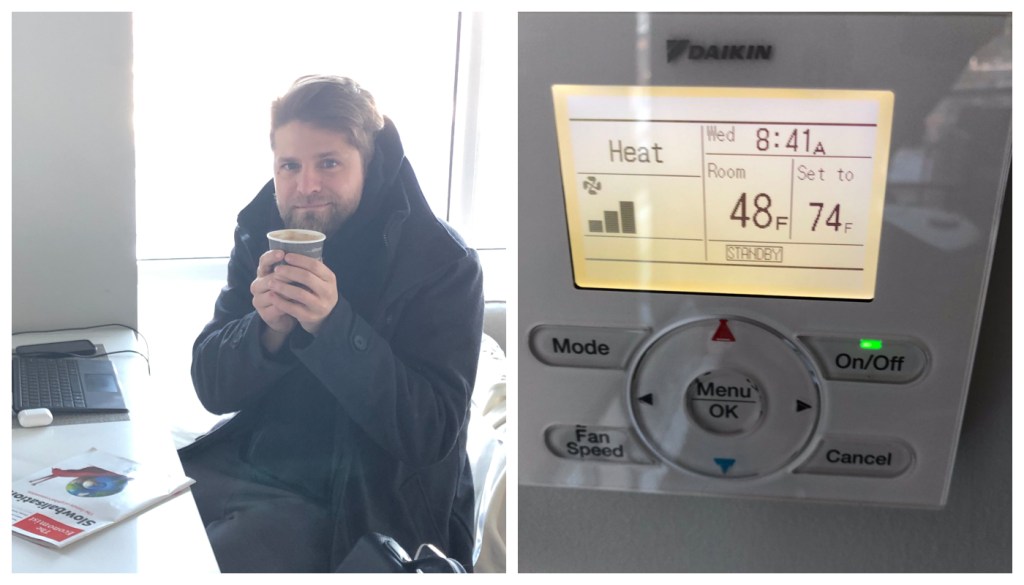 Schwind said she first noticed her thermostat appeared faulty in April. Even though it was set to 68, her apartment felt warmer.
At that time, she put in a maintenance request through 33Realty's online tenant portal.
Over the summer, she realized nightly temperatures in her apartment never felt cooler than 80 degrees, even thought the thermostat was always set to 68.
She submitted a second maintenance request, along with emails to management, on July 12. Then she submitted three more requests on Aug. 19, Aug. 24 and Aug. 27. 
Last Thursday, Schwind submitted a sixth request. That evening, she came home from work around 6 p.m. to find her dog Milo panting, dry-heaving and shedding profusely. The HVAC system had finally broken. 
On Friday morning, Schwind checked Milo into an air-conditioned doggy day care. 
That afternoon, 33Realty sent a specialist to work on the AC.
As of Tuesday, however, Schwind said her apartment was as hot as 96 degrees.
She's been waiting for answers for "six days and counting," Schwind said.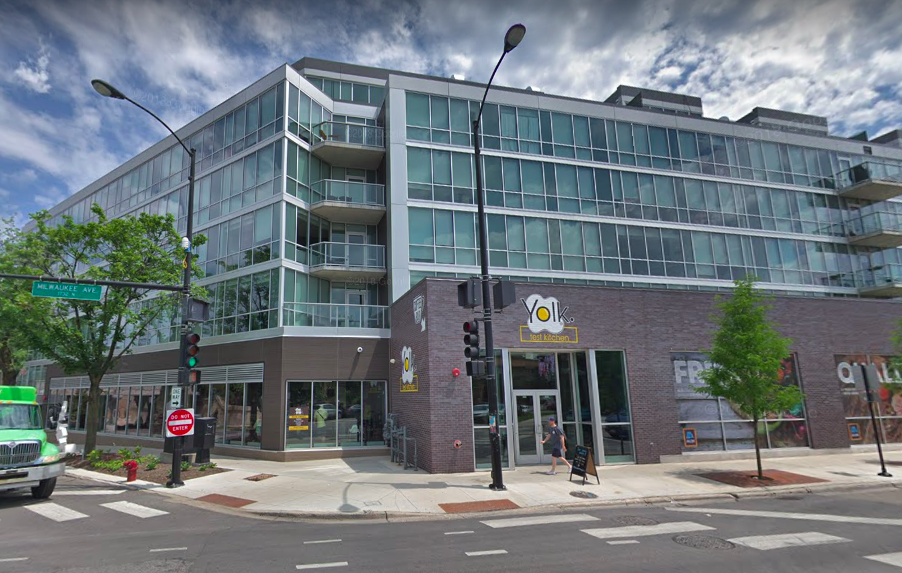 A 33Realty staffer told Schwind the company would not reimburse her for the emergency veterinary and hotel costs associated with the broken HVAC system. (As of Tuesday, Schwind has spent $1,421.54 to keep her and her dog safe).
The company will, however, credit Schwind a pro-rated rent concession for the days she has not lived in her apartment.
"They have agreed to provide a concession for the days I am affected, essentially admitting that my apartment is unlivable, but not offering to help me find a place to stay during the time I am affected," she said. "It makes no sense."
On Wednesday, 33Realty director of management Mary Gibala told Block Club the she was working as fast as possible to fix the AC. 
Technicians have been inside the building working since last Thursday, but because the HVAC system is so unique to the building, it took workers a few days to identify what parts were needed and from where they could be ordered, Gibala said. 
On Tuesday, 33Realty ordered the necessary parts from a shop in Texas. The AC is expected to be fixed by the end of the day Thursday, Gibala said. 
"It's unfortunate when these things happen. We understand that as well," Gibala said. "We're working as quickly as we can." 
Tenants who lost AC will receive a rent concession, as well as a daily concession on the monthly $125 utility fee, Gibala said. Tenants like Schwind will not be reimbursed for out-of-pocket costs. 
As for the broken key entry, trash in the lobby and moldy leak, Gibala said, "That is not anything that I'm aware of, and any time things are reported we always take care of it as quickly as we possibly can." 
The owner of the building, New York-based Harlington Realty, declined to be interviewed on Tuesday.
Schwind herself has tried to contact Harlington Realty. She hasn't heard back, either.
"I want there to be a level of accountability for management. So many requests were put in," Schwind said. "It's just been hard to get even a phone call back."
Last year, the original developers of the building, John McLinden and Arthur Slaven, sold the building to Harlington Realty for $51 million, according to Crain's.
McLinden and Slaven also sold Wicker Park Connection, a 207-unit building near the corner of Division Street and Milwaukee Avenue.
RELATED: Construction Begins On New Batch Of Million-Dollar Condos, Townhomes On Wicker Park's Division Street
In January, as temperatures felt as cold as 50 below zero outside, the property management company, 33 Realty, sent out an email to all residents, apologizing for the "major inconvenience."
At the time, 33Realty did not respond to calls for comment. This week, however, Gibala said the heat issue stemmed not from a broken heater, but from the heater producing too little heat ahead of the Polar Vortex. Additional heating sources have since been added to each unit to avoid this issue come winter. 
While that apology has yet to come this time around, there was a saving grace for tenants on Wednesday: temperatures dropped to 65 degrees.
Do stories like this matter to you? Subscribe to Block Club Chicago. Every dime we make funds reporting from Chicago's neighborhoods.