NORTH LAWNDALE ⁠— For more than 30 years, Homan Square neighbors have frequented the McDonald's on Roosevelt Road. On Friday, after being closed since May, it will have its grand reopening to debut a complete redesign of the restaurant.
The renovations are part of McDonald's "Experience of the Future" initiative committing $6 billion to transform thousands of restaurants across the country. It's aimed at integrating technology in the dining experience and modernizing the look of its 14,000 U.S. locations by 2022. The new design will be unveiled at a ribbon-cutting ceremony starting at 11 a.m. Friday.
The grand reopening aligns with new ownership of the 3200 W. Roosevelt Road location, now operated by Akins Akinnagbe, who took over after the previous owner retired last year.
The restaurant has already hired 80 staff members, and Akinnagbe expects to employ about 100 people once it is up and running. McDonald's will hire people on-the-spot at the ribbon-cutting and will accept applications on-site after the opening.
"I'm happy to say a majority of those people come from this community or nearby neighborhoods," Akinnagbe said.
Akinnagbe hopes the jobs will be a good opportunity for young people in Lawndale, recognizing that McDonald's is often somebody's first job. As an owner of eight other McDonald's locations across the city, Akinnagbe takes pride in being able to instill good work habits of honesty, punctuality and responsibility into his staff's first work experiences.
"McDonald's was my first job. I started at the age of 16," Akinnagbe said.
The new building is modeled to be aesthetically similar to the future-forward McDonald's Global Headquarters restaurant in the West Loop with a contemporary dining area. Guests can order their meals using touch screen kiosks or receive table service if they're dining-in.
The exterior has also been updated with a dual drive-through, intended to speed things up as new delivery services like McDelivery, Uber Eats and Door Dash gain popularity.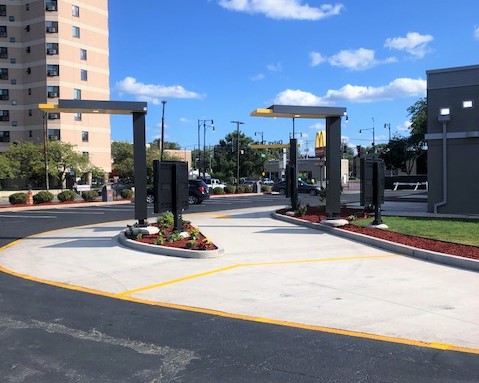 According to Akinnagbe, the grand reopening will be a community-focused event with music and fun activities across the day. The event will culminate in a back-to-school celebration with a school supply giveaway for 500 students.
Akinnagbe is a member of the Black McDonalds Operators Association, which he said has deep roots in supporting the neighborhood with similar programs like toy drives and turkey giveaways.
"We really wanted to make the reopening as much about the community as it is about the restaurant," Akinnagbe said.
Pascal Sabino is a Report for America corps member covering Austin, North Lawndale and Garfield Park for Block Club Chicago.