PULLMAN — After life threw her a series of curveballs, Pullman resident Patricia High found herself heartbroken, out of a job and forced to take a break from school due to money woes.
But the young woman who published a book of her poetry at the age of 17 is never one to quit — and is now using art to get herself back on her feet.
Next month at Melanated Queen Productions, 2023 Ridge Rd. in Homewood, 20-year-old High will have her very own art exhibition, with all funds raised helping her get back to class next semester.
In April 2018, High's close friend died from a heart condition he was born with. Her brother was shot in the same month but survived. She couldn't keep up with tuition at Trinity Christian College in Palos Heights and she had to sit out to save. To make matters worse, she was going through a breakup.
She knew she needed cash to get back on her feet, so started working at a local summer camp. While doing art projects with the kids, she discovered a talent and emotional outlet she hadn't explored previously: painting.
"When I first started working at the camp, I just needed something to do to stop thinking of the bad stuff that had happened," High said. "It began with the kids, that was fun for them, but it became more like therapy for me."
She noticed the kids loved painting, but they didn't have the best art materials to work with. She decided to purchase better brushes and paints for them. It was during that time that she was able to explore creative art projects, which helped her tap into her own gift of painting. 
When the summer ended, she didn't stop. During the last school year, she worked as a fifth and sixth-grade art teacher at Chicago Collegiate Charter School. 
"I provided the space to help the students relax and have a therapeutic experience," she said. "It was a great and rewarding experience for me because it allowed me to build relationships with some of the challenging students."
Painting has helped High cope with the personal issues she'd been grappling with, but it also allowed her to comment on the injustice in the world around her. She passed this strategy on to the kids she taught as well, giving them a safe and creative way to express themselves.
"A lot of my paintings are created to represent black and brown children who look like me," High said.
One painting shows the faces of a brown-skinned boy and girl with graduation hats above their heads, and the quote, "I matter, you matter, we matter," next to "Black Lives Matter."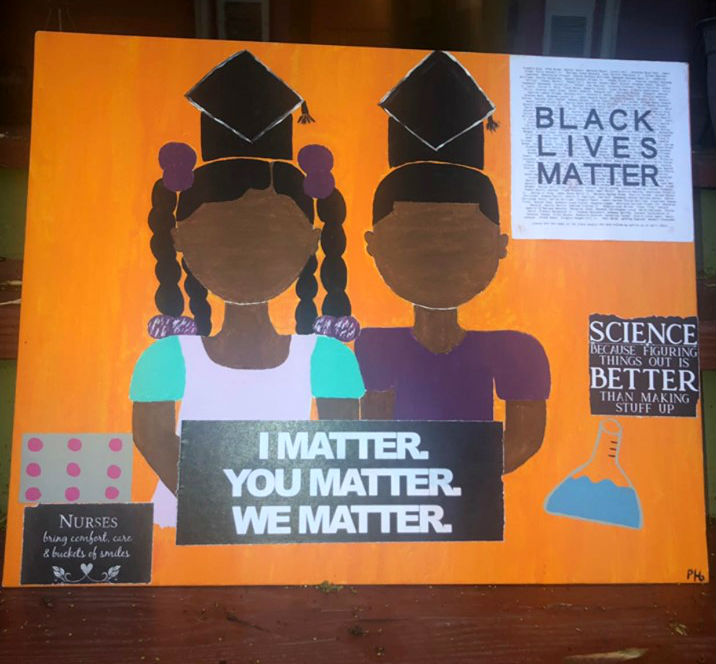 "When I look at her art, I see black love and black empowerment," her mother Shaniqua Jones said.
The art speaks to her, she said.
"I see this [painting] as an example of college students or students graduating from high school or college," Jones said. "When you look at 'us' it's not just the criminal justice system or incarceration, or talking about the juvenile justice system, it's saying that there is more than just that."
Jones, who is an author, speaker and community advocate, also practices and conducts training on restorative justice best practices. 
High said she learned at an early age about her mother's efforts and why they were so important. She wanted to send the same message through her art.
Right now, painting is more of a hobby, but High said she would like to one day create murals in her neighborhood.
She's been inspired by the work she currently sees on the sides of buildings in Pullman. Her ultimate goal is to open her own homeless resource center in Chicago. She plans to return to school in January after raising and saving enough to cover her tuition.
She's also working on her second book, which is aimed at young women.
"It's the same thing as my first book, encouraging, but it's for teens and not girls," she said. "I'm just trying to help people [overcome] different issues."
Her first book, "Words of a Sunflower," was a collection of poetry. The poems were a way for the then-17 year old to express herself as she battled low self-esteem that teen girls often face.
Her mother, Jones, and three younger sisters are all authors as well. She credits her mother for encouraging her to publish.
To see High's work and get more information about her upcoming exhibit, follow her Facebook page, Sunflowers Art Therapy. 
Do stories like this matter to you? Subscribe to Block Club Chicago. Every dime we make funds reporting from Chicago's neighborhoods.