LOGAN SQUARE — Some neighborhoods are defined by their landmarks or cultural attractions. This summer, Logan Square added a new distinction to its already-long list of offerings: The neighborhood has its very own clown.
For about two months now, Joseph Nechtow, who goes by the name Joey the Clown, has been roaming the streets of Logan Square in a full clown getup.
Nechtow, 38, approaches people in passing cars and pedestrians and asks if they'd like to buy ballon animals for $1 each.
The reactions, at least based on social media, are mixed. Some are delighted and others are horrified. Clowns don't have the best reputation, after all.
But Nechtow said he doesn't pay any attention to the naysayers.
"I'm just having a good time. It's better than being sad. Life goes too fast," he said.
Nechtow had for years performed at birthday parties and other events but said he decided to move his operation outside about two months ago after securing a street performer's license, he said.
Nechtow lives in Logan Square and has for about a decade. He said traveling the streets and performing in the neighborhood where he lives is rewarding. He typically works along Milwaukee Avenue.
"I love it. It's incredible," he said.
Nechtow said he grew up in suburban Deerfield and went on to earn a degree in early childhood education from Colorado State University in 2003.
It was that degree, he said, that inspired him to take up clowning about a decade ago.
"Children are my intended audience," he said.
Nechtow has learned how to make all sorts of balloon animals over the years: dinosaurs, bunnies, butterflies, poodles, fish.
But, unfortunately for customers and for Nechtow's wallet, Nechtow said he can't make the one thing people ask for the most: a sword.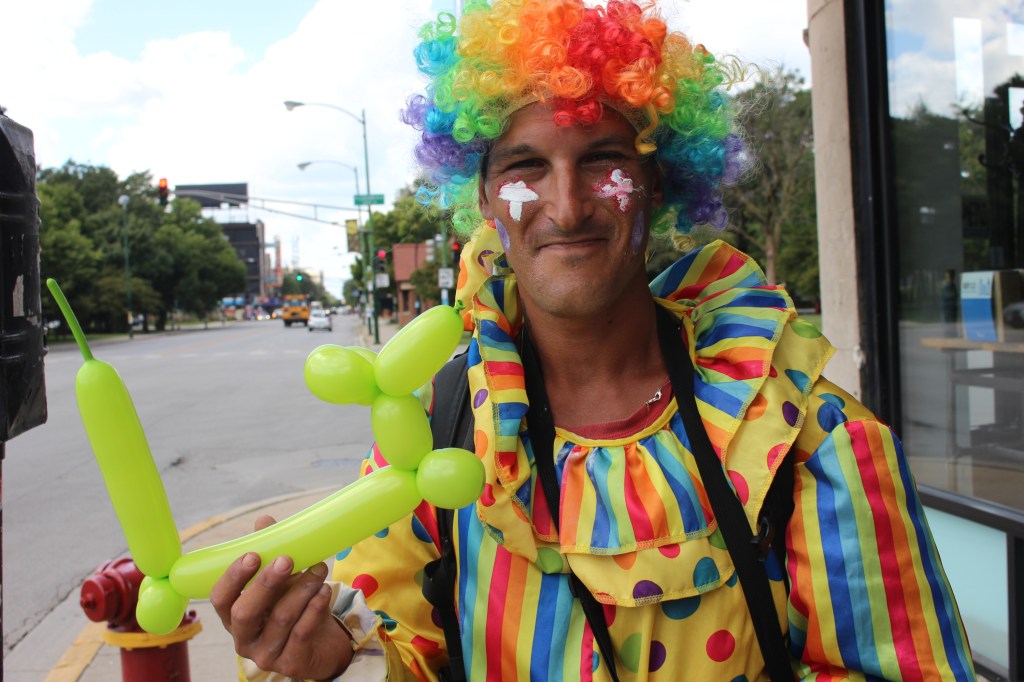 Necthtow travels with a Cubs fanny pack full of balloons. He also carries juggling balls with him for anyone who wants to watch him perform.
Typically, Nechtow wears a lot of face makeup, but when a Block Club reporter stopped him on Tuesday, he was only wearing a little bit of face paint. Asked why, he said he was on his way to run some errands.
Nechtow's shifts are long. He said he works seven days a week, many hours a day, sometimes hours into the night. Sometimes he hands out business cards, which have a cartoon picture of a clown on them and list "birthdays, entertainment, gifts, balloons" as his services.
The job isn't lucrative. Nechtow declined to say how much money he typically makes, but said, "I suffer, like every other adult. … It's $1 a balloon."
Since he moved his operation outside, Nechtow said people stop him all the time and ask him why he's dressed up as a clown.
"It's hard to have a bad day as a clown. It's just a funny costume," he said.
Do stories like this matter to you? Subscribe to Block Club Chicago. Every dime we make funds reporting from Chicago's neighborhoods.