ANDERSONVILLE — Mystery and adventure await in a shadowy back room hidden by the ages. OK, maybe not "hidden by the ages," but hidden anyway, as Uncharted Books in Andersonville has installed a "secret bookshelf entrance" at the back of the shop.
Pull the right tome, and the bookshelf creaks open — just like in your favorite old adventure story (or "Scooby-Doo" episode). Uncharted, which unveiled its Andersonville location at 5140 N. Clark St. in July, after 12 years in Logan Square, installed the trick door about two weeks ago.
"I have always wanted one," said store owner Tanner McSwain, who said he loves old, "swashbuckling" adventure stories, naming "Treasure Island" as his favorite book. "My entire life, I've been angling to figure out how I could fit a secret door in my life."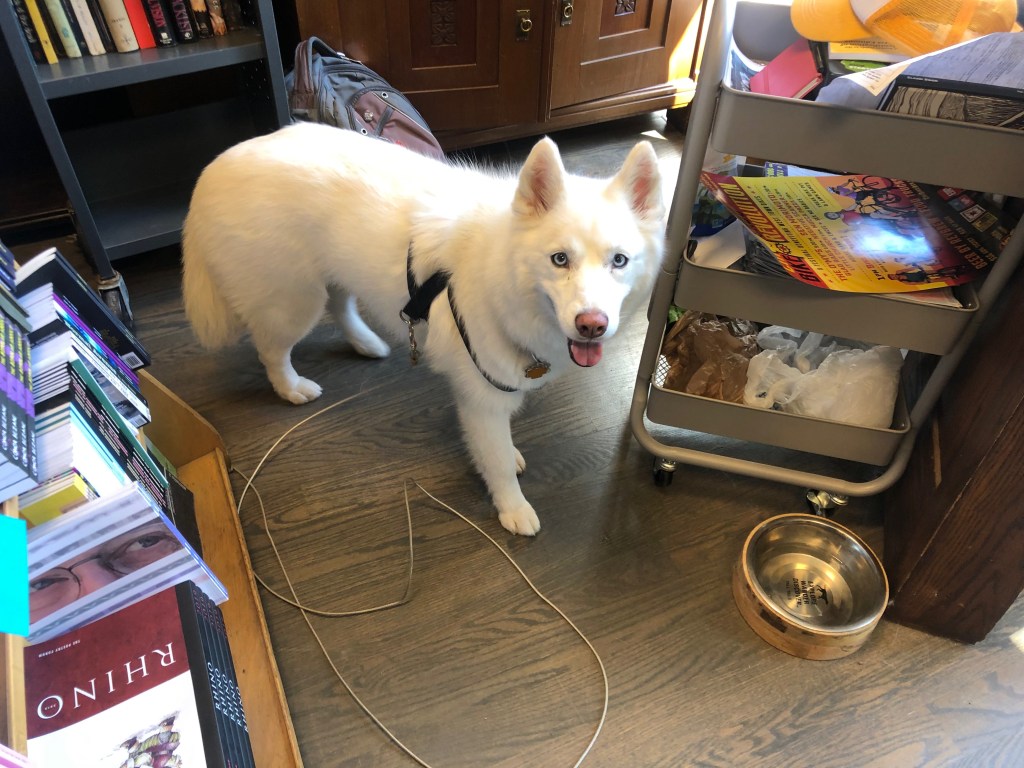 Still, the romantic curiosity meshes with the overall, adventurous aesthetic of the store, which features old maps, nautical décor and at least one haunted painting. And behind the new door, you'll encounter an "Adventurers Club," the name for the new store's backroom. This space hosts the store's events and will soon serve as a co-working spot for paying members. (Entry may also involve a pat for store mascot and canine adventurer Ramona.)
The door has already won fans, McSwain said. An Instagram video of its operation garnered nearly a thousand views, and at least two lucky customers have discovered the door by accident. 
"One of them lost their mind in exactly the way that I hoped they would," McSwain said. "And it was great."
Kids, especially, have loved the contraption, McSwain said. He inducts littler visitors to the store's mysteries with clues about what book to inspect, without giving away what's about to happen. The resulting childlike wonder is the whole point — no matter the age of the visitor, McSwain said.
"If you didn't know there was a secret door there, and you accidentally find the secret, I think just for a second, magic is real," he said. "It makes me really excited if I can, just for a second, give that feeling to other people."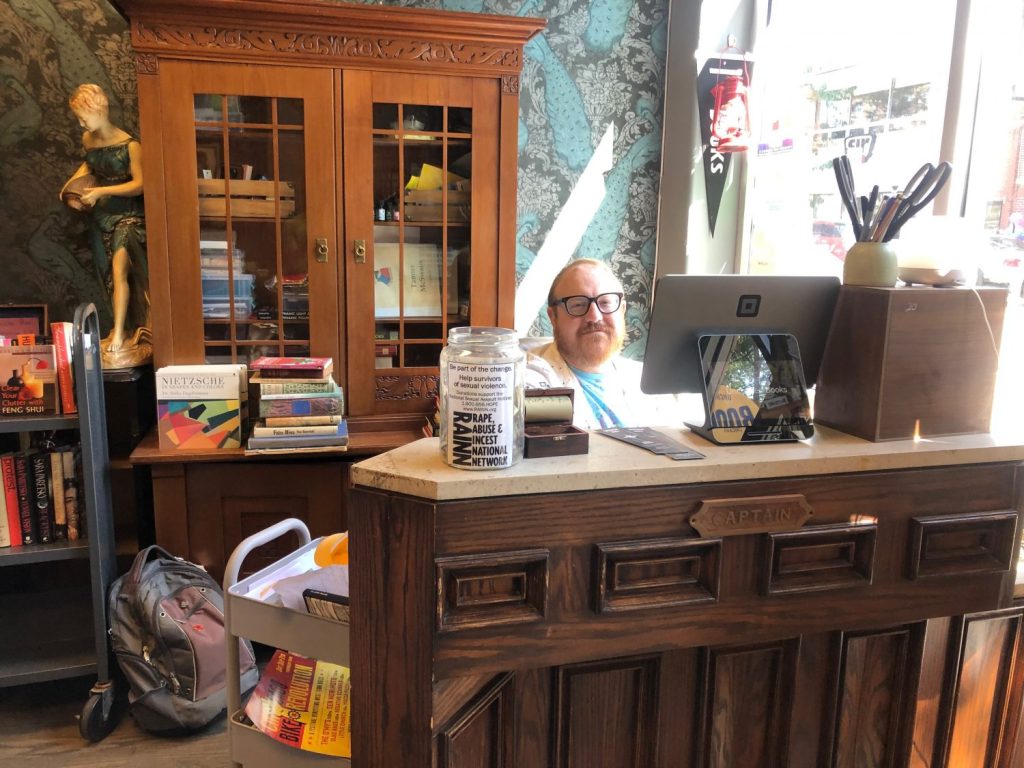 For those more inclined to engineering than the occult, that "magic" book houses a sensor. When tilted, the device speeds an electromagnetic missive to the shelf-door, releasing an electronic lock. A spring nudges the door open.
The book, incidentally, need not sit near the door. It could reside anywhere in the store, but McSwain wanted to keep the mystery less than completely baffling. In case you're wondering who McSwain's "secret-door guy" is, the whole system comes from the Hidden Door Store, a company specializing in panic rooms and secret doors for securing valuables.
"But I don't really have valuables," McSwain said, with a laugh. "I just wanted a cool bookcase door."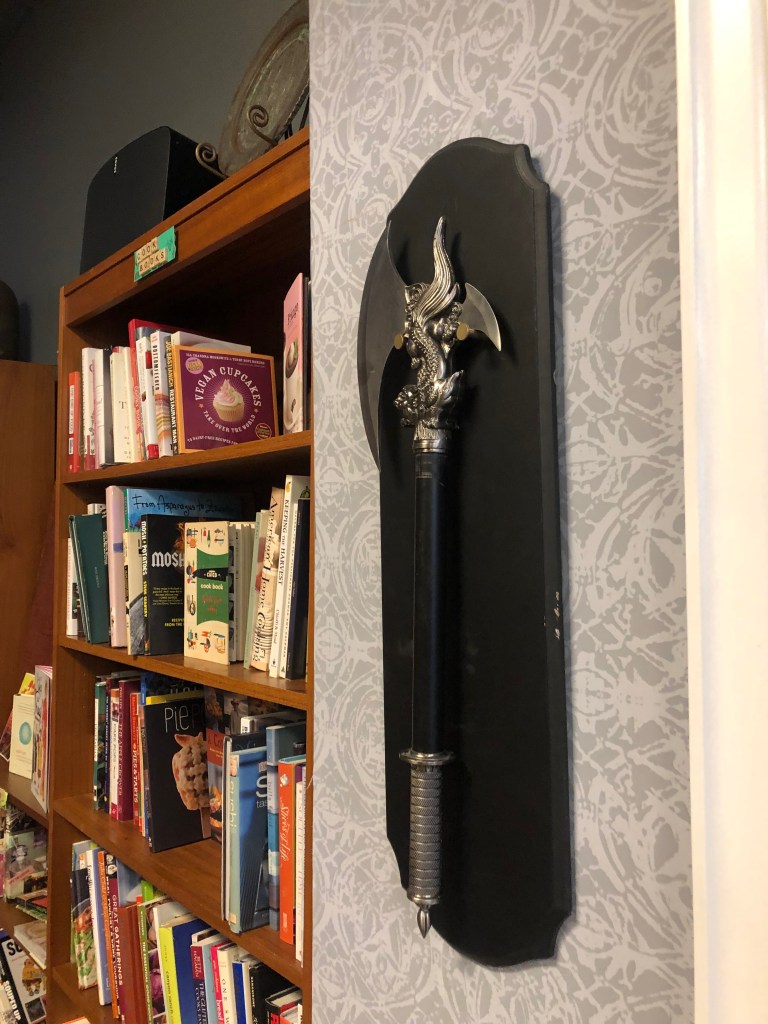 Come October, the secret door will serve more of its intended function: separating the Adventurers Club from the rest of the store. By then, Uncharted will have fully furnished the backroom so that paying members can use the space to read, study, hang out with friends, play board games — or however they want, McSwain said.
Monthly memberships will run $99, granting unlimited access to the club during business hours (11 a.m.-7 p.m. Sunday-Wednesday, 11 a.m.-9 p.m. Thursday-Saturday). Club booty also includes high-speed Wi-Fi, coffee and tea and free event admission. Vagabond adventurers can purchase "a la carte" entry at $12 for 2 hours.
Events now consist mostly of literary carry-overs from the store's Logan days, including Sharing Short Stories on last Mondays and the Poetry Salon on second Tuesdays. But more events will be added in coming months.
Inspiration for the Adventurers Club name and décor, with its dark leather couch and heavy treasure chests, came largely from New York's Explorers Club. Founded in 1904, the Manhattan institution has hosted trailblazers from Mt. Everest climbers to moonwalkers. It also hosts exploration- and conservation-themed lectures for the public, and McSwain aims to replicate those events on a smaller scale. Prepare for tales from dog mushers and other interesting people.
"It's this incredible place," he said of the New York spot. "It's basically if you picture in your head the words 'explorers' club,' that's what it looks like, and the programming is incredible. That very much inspired me wanting to have something like that here."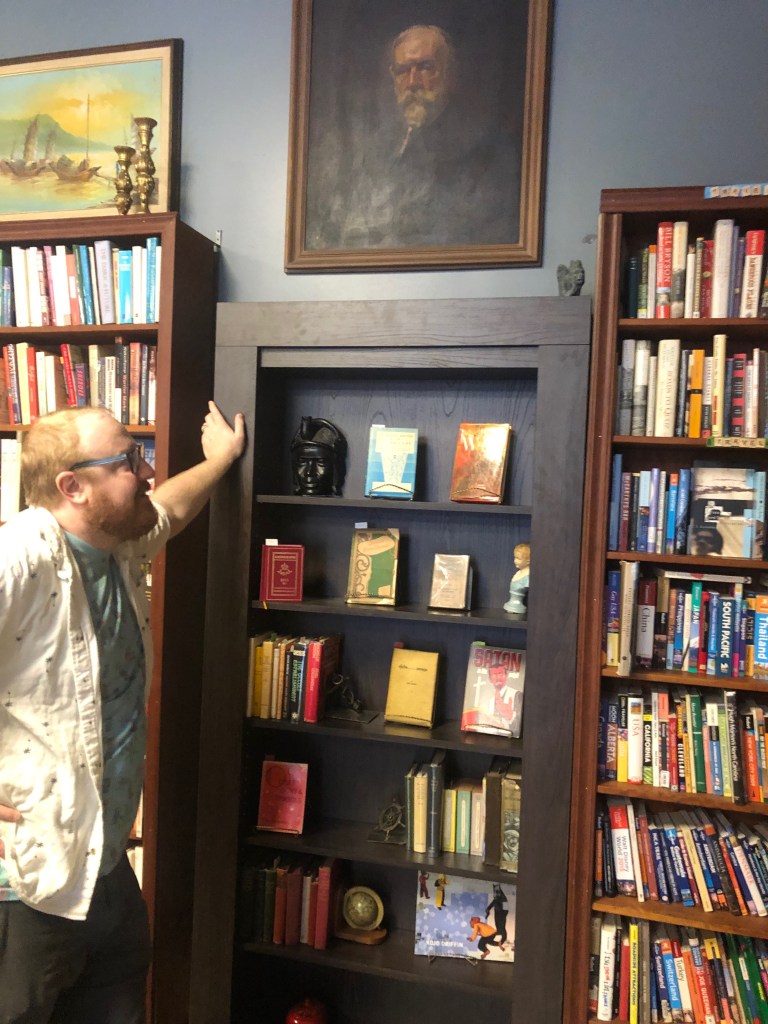 Other hidden treasures await Uncharted visitors, too, including secret compartments and a picture that changes depending on your vantage point, McSwain said.
And over the threshold to the Adventurers Club, note the painted visage of a salt-bearded old man. No one knows who he is, or where the picture originated. McSwain inherited it from his Logan spot's previous owners, Reform Objects, who told him it was haunted.
Everywhere the painting sits, books fly off the shelves, McSwain insists. Given the portrait's current position, you might blame that on the moveable shelf. But when that door eerily creaks open beside you, maybe you should believe in ghosts, too.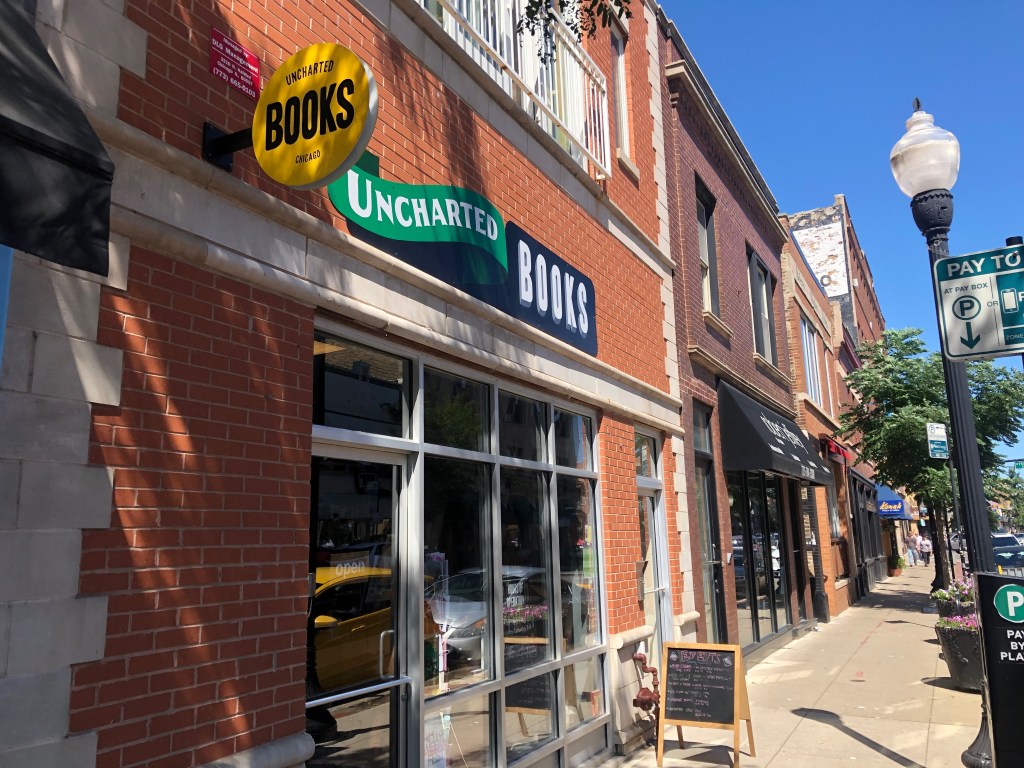 Do stories like this matter to you? Subscribe to Block Club Chicago. Every dime we make funds reporting from Chicago's neighborhoods.