ENGLEWOOD — Shetoya Jones tears up when she talks about her recent positive experiences at St. Bernard Hospital's Women's Wellness Clinic. She hasn't always felt that way.
The Englewood native, eight months pregnant with her second child, was born there. Her mother later died there. And, like others who prefer Downtown hospitals to struggling neighborhood ones, she assumed the quality of care at the 103-year-old institution would be sub-par.
But on Wednesday at the hospital's fourth annual baby shower, 326 W. 64th St., she said she's changed her tune. Not only do the doctors listen to her, but they look like her.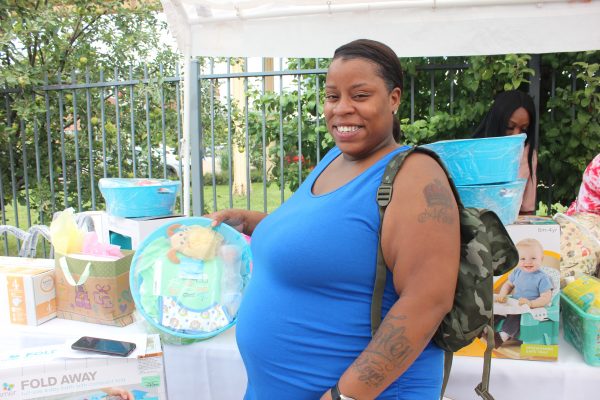 "I was one of the people who was like, 'Oh no, I'm not going to the neighborhood doctor,'" Jones said. "But they're turning it around. I appreciate the progress."
According to the Centers for Disease Control, the black maternal mortality rate has been on a steady incline; black women are three to four times more likely to die due to pregnancy-related complications regardless of socioeconomic status. They also tend to experience "weathering," where their bodies age faster due to external factors like racism and economic instability.
Improving those outcomes can be as simple as covering basic needs.
St. Bernard's Women's Wellness staff began throwing annual baby showers four years ago, when some discovered that many of the expectant mothers in their care couldn't afford to have one of their own. They pooled their own money to buy diapers, onesies, bottles and other necessities to make sure the women were prepared for their new roles.
"The first year we had 102 moms show up. I thought it was going to be 50, but everyone left with a gift. We spent around $3,000," said Evelyn Jones, vice president of nursing services. "I spent about $1,500 of my own money, and I asked my management staff to kick in. No one hesitated."
Today the party has grown considerably, with the larger community chipping in. Meridian Healthcare donated $2,500, University of Notre Dame's Chicago alumni network gave $1,000 and Jewel-Osco provided a $500 gift card, which covered food and refreshments. The hospital's catering service donated a sheet cake large enough for all 150 new moms to enjoy.
"We had one lady who was born at the hospital 70 years ago even crochet baby blankets for us," Jones said. "The community has really come through."
Three local high school students — Valencia Williams, Cynthia Williams and Harmony Abrams — spent $200 of their own money to make baskets for the moms.
"We like making an impact every year, and this is one of them. Not many moms are able to do for their kids," said Valencia Williams, a student at DuSable High in Bronzeville.
Wednesday was the first time Lavina Ville, who had three of her children at the clinic, got to enjoy the shower as a mom-to-be, having volunteered to organize it since its inception.
"It's a very exciting experience," she said. "Getting to learn new things, getting to talk to other expectant moms. It definitely helps."
Do stories like this matter to you? Subscribe to Block Club Chicago. Every dime we make funds reporting from Chicago's neighborhoods.