LOGAN SQUARE — As regulars know, Cole's Bar has a thing for Abraham Lincoln.
Look around the bar at 2338 N. Milwaukee Ave. and you'll find several paintings, drawings and old artifacts depicting our 16th president's face.
Over the years, the Lincoln artwork and memorabilia has been a source of joy for patrons and the comedians and musicians who perform at the bar.
Now owner Coleman Brice wants to spread that joy in the name of political change.
Brice is planing to sell off the beloved collection and donate all of the money to Logan Square Neighborhood Association to "use in their fight for immigrant rights." The fundraiser is set for 9 p.m. Sept. 14 at the bar.
"Since the Trump election, I've been looking for ways to leverage my voice and my resources to effect change," Brice said.
"At the end of the day, these are just objects."
'I'd rather be without the painting and make an impact'
Brice's Lincoln obsession started in 2009, the year the bar opened, he said.
Brice said one his original customers, Bjorn Skaptason, who also happened to be the operator of the Abraham Lincoln Book Shop, a River West shop dedicated to authentic Lincoln memorabilia, offered to sell him a "goofy" black velvet painting of Lincoln for "real cheap," which became one of the bar's first pieces of decor.
Then, in 2012, someone cut it out of its frame and made off with it. Brice tried to get it back by putting out a call on Facebook, but was ultimately unsuccessful.
That's when Tracy Kostenbader, local artist and friend of the bar, helped Brice throw a Lincoln-themed art show, which is when more Lincoln pieces started rolling in.
From then on, Brice was hooked on all things Lincoln.
"From one small thoughtless crime, I gained so much rich and wonderful art. It was a very special moment for me," Brice said in a written statement.
The current collection includes all kinds of artwork, some donated and others bought or commissioned, including oil paintings of Lincoln done by local artist Matt Hilker (selling for $2,000) and a black velvet painting of Lincoln made by a factory artist sometime in the '70s (selling for $200).
Brice has also accumulated historic artifacts over the years like a plaster cast of Lincoln's face from the Abraham Lincoln Book Shop and iconic photos of Lincoln printed from an original glass plate negative.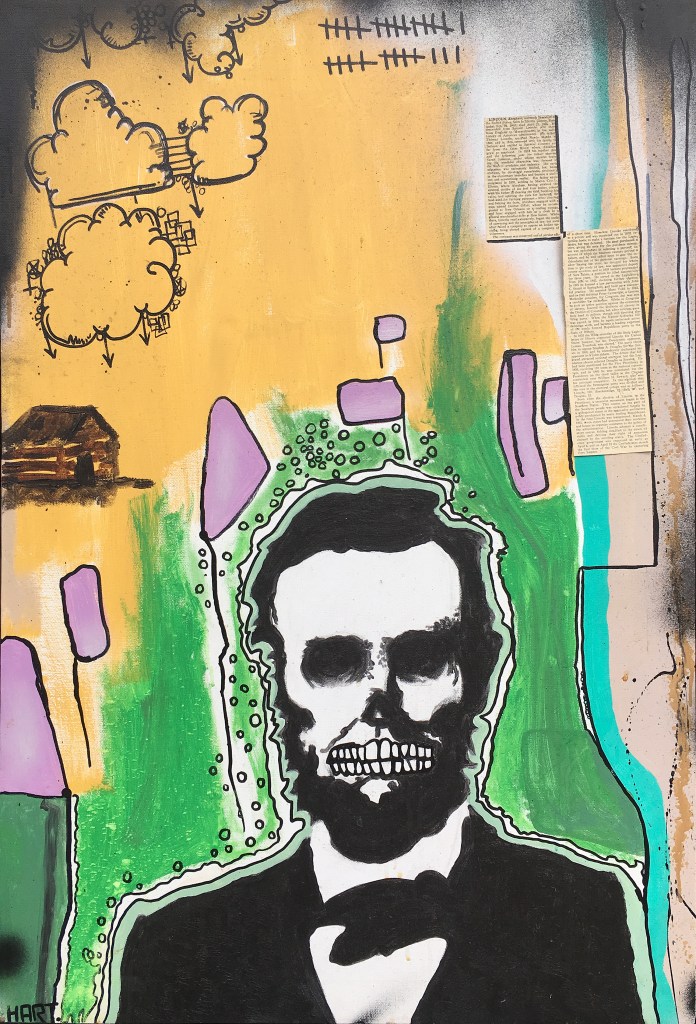 Most of the artifacts are slightly damaged, which is why Brice was able to get them for cheap. For example, the original glass plate negative photos are backwards, meaning the Book Shop can't sell them for full price, Brice said.
"But they're still cool," the bar owner said.
Brice is also planning to sell Cole's Bar T-shirts and other, more affordable artwork that isn't Lincoln-themed at the fundraiser.
Brice said he came up with the idea of selling his Lincoln collection for a cause earlier this summer when one of his customers insisted on buying one of his Lincoln paintings off the wall.
"This customer kept being like, 'Hey, I wanna buy that painting.' And I would say, 'Oh, it's not for sale. I'm not really interested in selling because it was a gift,'" Brice said.
The customer offered more and more money for it, which is when Brice caved and told him he'd sell it to him if he agreed to donate the money to an immigrant rights group.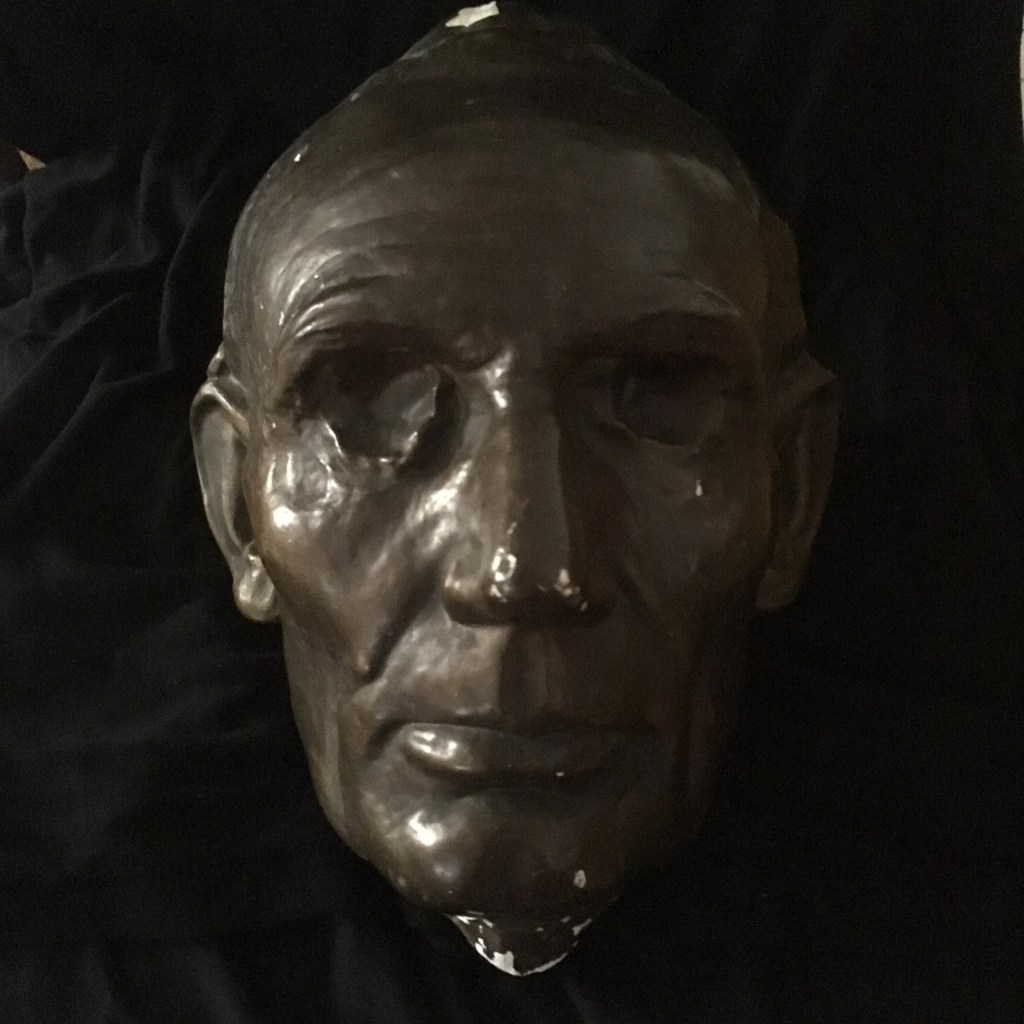 All summer Brice had been reading about the migrant crisis and family separations at the border. The bar owner said a widely-shared photograph of a dead man and his child along the U.S.-Mexico border had sent him over the edge.
"All of that stuff was sitting at the top of my brain," he said.
With the fundraiser, Brice said he's aiming to make an impact on a local level.
"A lot of this stuff at the border is monolithic and it's hard to conceptualize. It's not hard to conceptualize your neighbors being victims," he said. "Logan Square Neighborhood Association does a great job of reaching out to our specific community."

Founded in 1962, Logan Square Neighborhood Association bills itself as "working to address the root causes of poverty and community instability, which we interpret as lack of affordable housing, inadequate quality education, fear and isolation due to discrimination, and limited access to jobs with growth opportunities."
Brice said he wants to join Logan Square Neighborhood Association's fight.
"When I think about what I want my legacy to be — I don't think the the bar will be open forever and I don't want to do this forever," he said. "At some point, I'll be left with all of this stuff and I'd rather be left with memories and impact."
Do stories like this matter to you? Subscribe to Block Club Chicago. Every dime we make funds reporting from Chicago's neighborhoods.