WEST LOOP — After the city rejected their previous pitch to build three buildings near Union Park, a developer surprised West Loop groups and the area's alderman with a new plan Wednesday night.
And one West Loop leader wasn't happy about the last-minute changes.
Marquette Companies now plans to build a 21-story apartment-and-retail building at 1400 W. Randolph St. and a 10-story apartment building across Ogden at 1440 W. Randolph St. that would bring a total of 495 new apartments to the west end of the West Loop.
They previously planned to build a 21-story tower, an eight-story building and a six-story building — one of which would've housed 85 affordable housing apartments — on the block. But the city's Department of Planning and Development nixed the plan, forcing them to "go back to the drawing board," said Sara Barnes, a zoning attorney representing the developer. All told, 512 apartments would've been built under that plan.
Carla Agostinelli, executive director of the West Loop Community Organization, called the developer's last-minute notice that they aimed to present a new plan "unacceptable."
"Had we known such amendments were made to the proposed development prior to 3 p.m. [Tuesday], we would have canceled the meeting," Agostinelli said.
Agostinelli recommended the development team meet with West Loop community groups, nearby businesses and neighbors once again so they could properly vet the new proposal.
Under the new plan, the 21-story, 230-foot tall building would include 252 apartment buildings and 67 parking spaces, Marquette President Darren Sloniger told residents at Catalyst Ranch Wednesday night. The proposed building would replace a one-story building at the site that formally housed BellyQ and Urbanbelly.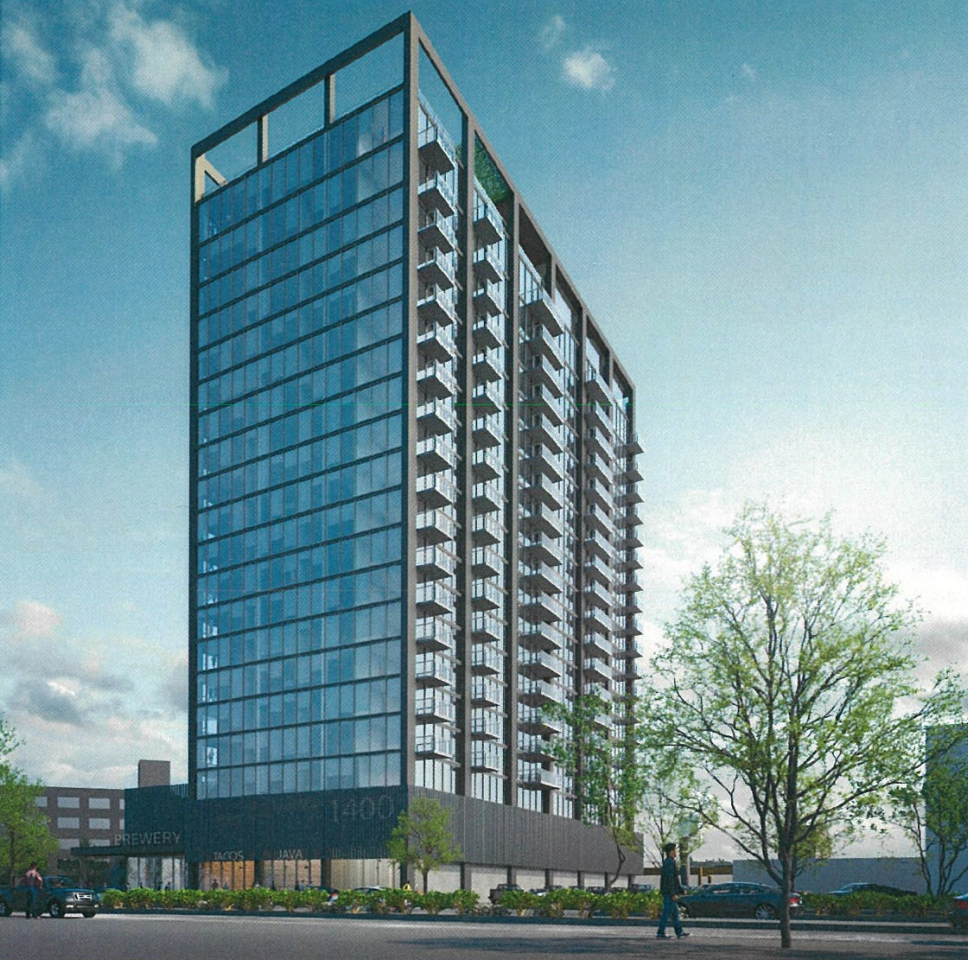 The first floor would mostly house a restaurant, said David Brinninstol of Brinninstol Lynch Architecture, the firm working on the project.
Across Ogden, the developer aims to build a 10-story, 120-foot tall building with 243 apartments and 85 parking spaces.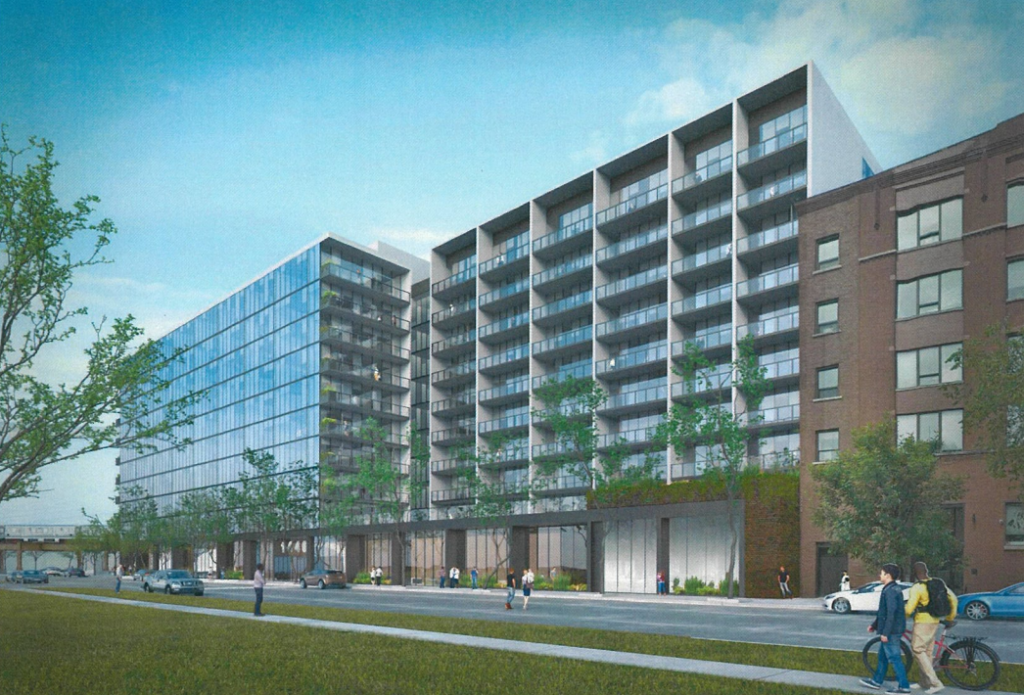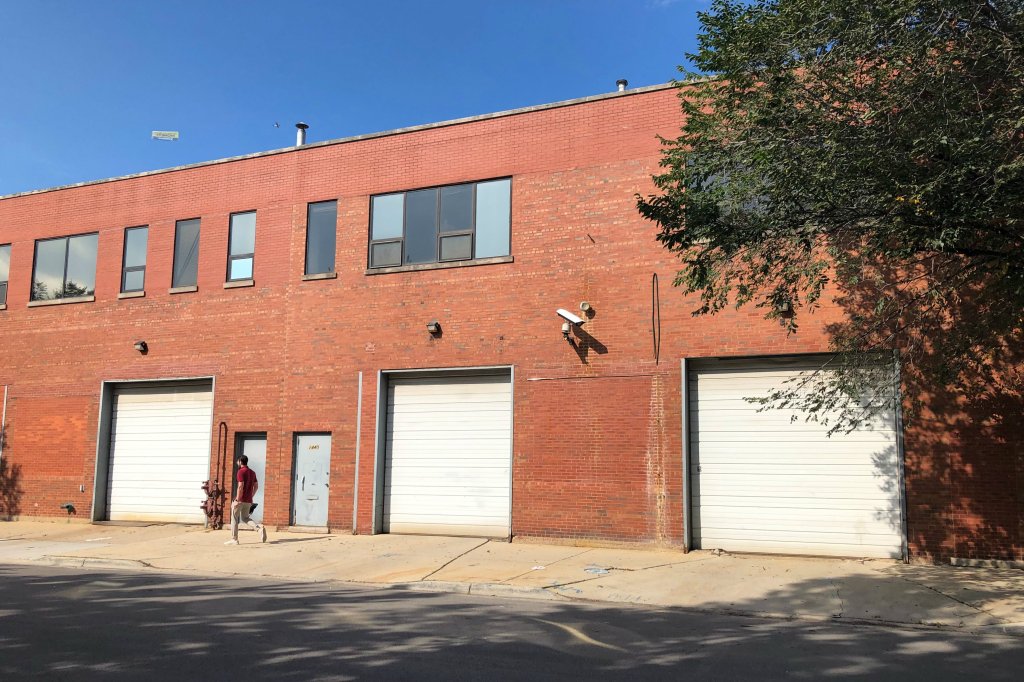 The two buildings would offer a mix of studio, one-, two- and three-bedroom apartments, but the developer didn't detail how many of each apartment type would be included.
The development team also would not answer questions about how many affordable apartments were now planned on site.
An existing five-story office building near the 1440 W. Randolph St. property would be preserved and updated, Brinninstol said.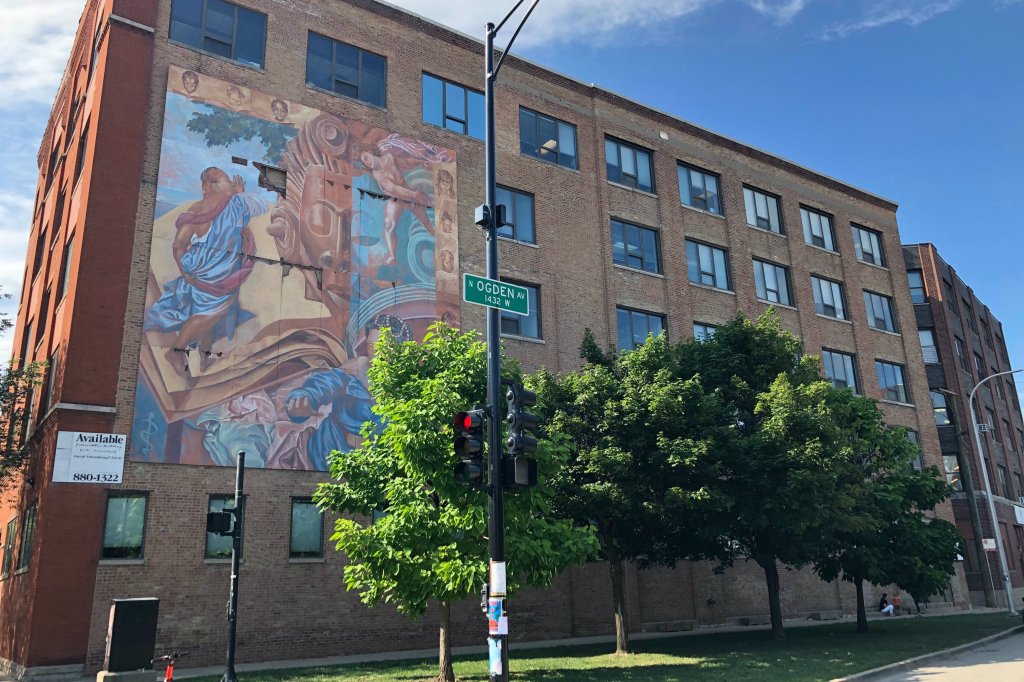 10-story building too close to Union Park, Burnett says
After hearing the developer out, Ald. Walter Burnett Jr. (27th) said the 10-story building was planned too close to Union Park. During summer festival season, he already fields lots of complaints from neighbors who say the fests are too noisy, he said.
"I have a problem with this one because it's across from the park. We have concerts in the park. People that go into the building are going to be complaining to me," Burnett said. "The complaints won't come to you. They come to me, and I'm not looking for that."
Sloniger, who also developed the Mason at 180 N. Ada St., asked Burnett if he would prefer for the lot to remain "blighted."
"I think bringing neighbors in here makes this a safer neighborhood," the developer said.
"I hear what you are saying but are you hearing what I'm saying?" Burnett responded. "…I already get complaints from people living three blocks away from the park."
Some neighbors at the meeting also said the project was too tall and dense for the area.
West loop resident Bene Dituri said it was "too much density, too much height going into a tight space."
"I find it to be a travesty," he said. "…I understand neighborhoods are not static…but again, …it's about measured growth."
As towers go up around them in the booming neighborhood, another resident said he isn't sure how much more density the West Loop can handle.
Others worried the added density would making parking problems in the neighborhood even worse.
Sloniger said the buildings' residents won't necessarily own cars. The two buildings are near the Ashland 'L' station, Brinninstol said.
"We will have a lot of commuters," Sloniger said.
Damone Richardson, the West Loop Community Organization's development chair, said a traffic study is needed in the increasingly congested area.
May Toy, vice president of Neighbors of West Loop and president of the Skinner West Park Advisory Council, also criticized the plan, saying the proposal leverages Union Park as a benefit to prospective tenants without adding a community benefit to the neighborhood.
Sloniger said the project would generate $1.7 million toward the city's Neighborhood Opportunity Bonus Fund, a program that allows developers to build bigger and taller projects in an expanded downtown area to support commercial projects in blighted neighborhoods.
But Toy argued the contribution is not a community benefit or donation to the community. Only 10 percent of that contribution will be earmarked for projects within a mile of the city, according to city rules.
"You are buying a commodity [of added density] which the city decided to sell to you that the community did not want to sell," Toy said.
As density in the neighborhood explodes, Toy said the city sorely needs to make a plan to add amenities to serve its growing population.
"I don't see the city providing green space, or a school plan as density increases. This does not happen in a vacuum, the city made a conscious decision to allow for density, but we are the ones suffering from a lack of amenities," Toy said.
Burnett reiterated he was not in support of the 10-story building planned for 1440 W. Randolph. He said he saw the 21-story building more favorably but the development team needs to do a better job of explaining why the height and density is needed. Burnett needs to know how many affordable housing units are now part of the plan, too.
"They have to be more transparent," Burnett said. "There needs to be sensible communication with the community."
RELATED: Apartment Towers With More Than 500 Units And New Brewpub Planned For Former Belly Q Spot In West Loop
Do stories like this matter to you? Subscribe to Block Club Chicago. Every dime we make funds reporting from Chicago's neighborhoods.