LOGAN SQUARE — Plans to redevelop the 107-year-old Hollander Storage & Moving site in the heart of Logan Square are moving forward.
The current proposal, illustrated in new renderings, calls for boutique offices, restaurants and retail, according to developer Mitch Goltz of GW Properties.
Goltz said the project no longer includes the 20 "loft-style" apartments proposed last summer. The developer said that's because Logan Square already has a lot of apartment projects. Offices, he said, are "needed" in the changing neighborhood.
"There's a lack of these cool boutique offices in Logan Square," Goltz said. "As strong of a market as Logan Square is, and it continues to be a hot area, most of the development is residential with ground-floor retail space. There's been a lack of vertical development for commercial use."
"We'd rather create something more unique and let the apartment buildings go up around us."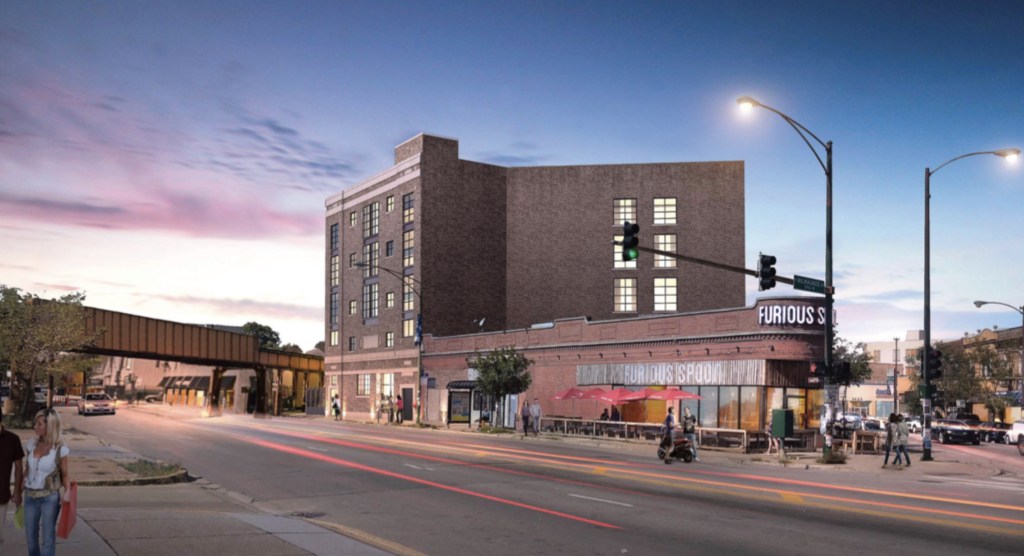 Under the current proposal, Goltz aims to restore the Hollander building at 2418 N. Milwaukee Ave. and construct another building in place of the neighboring single-story annex most recently home to cowboy apparel shop Dos De Oro.
The new building would be about the same size as the Hollander building, which is five stories tall and offers 30,000 square feet of space.
Goltz needs a zoning change to construct the new building. The developer said his team is aiming to submit the legislation to City Council for approval in the coming months.
If everything goes according to plan, Goltz plans to break ground on the project early next year.
Nicholas Zettel, policy director for Ald. Daniel La Spata's 1st Ward office, declined to say whether the alderman supports the project or not, saying, "Our office follows a community-based zoning process, in which we use the feedback of our community partners and 1st Ward residents to build our approval for any case."
Zettel said they've met with Goltz and his team to go over a community benefits agreement and local hiring, among other things, and plan to hold at least one large community meeting on the project. He encouraged residents to reach out to him directly with questions or concerns.
In the lead-up to zoning approval, Goltz and his team are busy securing tenants for the project.
Goltz said he already has an anchor tenant lined up for the Hollander building. The developer wouldn't provide the tenant's name, saying it's too early, but described the tenant as a "lifestyle" company that will bring coworking, a cafe and fitness and recreational brands to the first four floors of the building.
There's 10,000 square feet of boutique office space available on the top floors of the Hollander building. Goltz said they're targeting "creative loft type users." The developer is also hoping to attract a rooftop restaurant.
Built in 1912, the Hollander building could be the oldest structure on the block.
Albert Hollander founded the storage and moving company in Chicago in 1888 when horse-drawn wagons were the only mode of transportation. Over the years, generations of Hollanders have taken the helm. It wasn't until 2017 that the family decided to sell the building, which was used to store archives and records.
"There's always been difficulty with that building. It really isn't designed well for warehousing and logistics. It was designed for horse-drawn trailers," David Hollander previously told DNAinfo Chicago.
The Hollander redevelopment plan is the latest change on a booming stretch of Milwaukee Avenue, which is being transformed by trendy bars and restaurants.
Do stories like this matter to you? Subscribe to Block Club Chicago. Every dime we make funds reporting from Chicago's neighborhoods.
RELATED STORIES