BUCKTOWN — When the city signed off on Sterling Bay's plans for the massive Lincoln Yards development, the developer said it would create new park space for the community — but so far, what they offered the city is too expensive to maintain.
Ald. Brian Hopkins (2nd) told Wicker Park neighbors last week that Sterling Bay wanted to give Fleet Fields, a collection of new soccer fields adjacent to the impending Lincoln Yards, to the Chicago Park District. But that won't happen, Chicago Parks District spokesman Luis Hernandez said, because the city can't afford it.
Funding for the maintenance, programming and security staff at Fleet Fields represents a "significant financial undertaking," one that was not budgeted for the 2020 year, he said.
"In the case of Lincoln Yards and Fleet Fields, alternative options for ownership and management should be explored," Hernandez said.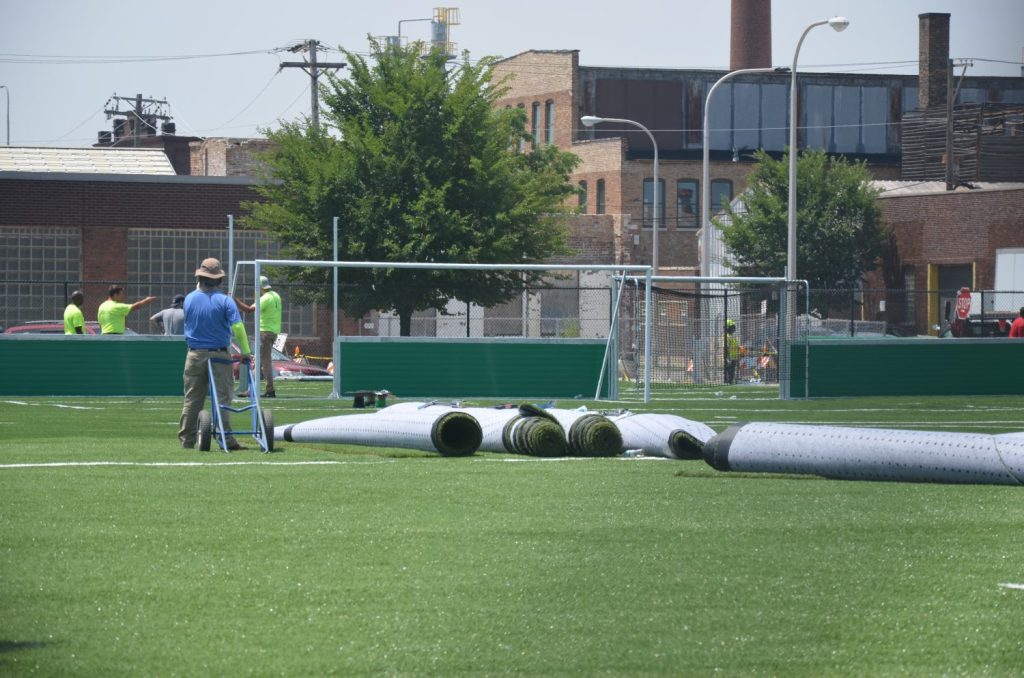 The gifting of public land must be considered relative to the more than 600 parks and 8,800 acres already within the city's purview, he added.
Fleet Fields at 1397 W. Wabansia Ave. marks the border between Bucktown and what is soon to be Lincoln Yards — a $6 billion project that aims to turn 55 acres along the North Branch of the Chicago River into a new neighborhood with housing and retail.
Sterling Bay spokesperson Julie Goudie confirmed the developer wanted to gift the soccer fields to the city.
"We have had several discussions with the city regarding turning over Fleet Fields to [the] Chicago Park District," Goudie said.
The soccer fields are just one part of 21 acres of public space Sterling Bay must create at Lincoln Yards, Hopkins has said. Of those 21 acres, 11 will be "contiguous green space," he said.
In a show of "good faith," Sterling Bay constructed Fleet Fields using private money 18 months ahead of the city's required timeline, Hopkins said last week at the neighborhood meeting.
"They put their own skin in this game," he said.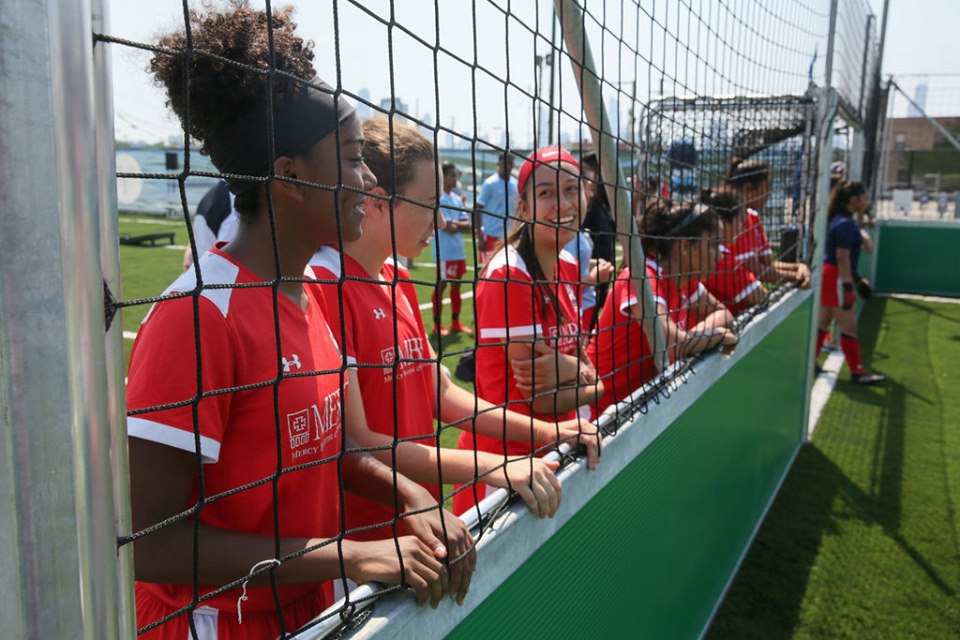 Whether Fleet Fields ends up belonging to Sterling Bay, the city or another entity altogether, Hopkins said "the kids aren't gonna care."
Goudie wouldn't say how much money Sterling Bay invested in Fleet Fields, but she promised the "best is yet to come."
"Fleet Fields is a temporary park space created to serve the community while we build out the permanent — much larger — parks throughout the site," she said. "Sterling Bay remains committed to managing and maintaining the public open space at Lincoln – at its own cost and expense – just as the Chicago Park District would."
The Parks District plans to help Sterling Bay find a new owner for Fleet Fields, Hernandez said.
"We are committed to working with Sterling Bay, the city of Chicago and the community to identify the right formula to ensure the parkland in Lincoln Yards will be a vibrant, viable asset for generations to come," he said.
Hopkins has said he will host community review meetings on permanent park designs once designers and architects are selected.
Hopkins also said in March that his office would hold a public meeting on each phase of the project as Sterling Bay prepares to build it, in an effort to give residents a chance to review the plans.
No public meeting was held regarding the soccer field. It is unclear when Sterling Bay will hold public meetings.
Hopkins did not address why a public meeting was never held regarding Fleet Fields. He did, however, mention a "community review process" for future park designs.
"While the Park District has set their budget for 2020, we have yet to begin the design phase and community review process for an 11-acre park and over 11 acres of recreational and open space," Hopkins said.  "In the interim, the developer has committed to managing and maintaining Fleet Fields and temporary open space with standard Park District regulations and protocols. It will operate as a public park."
The price of soccer at Fleet Fields? Free
Since opening in late July, Fleet Fields has been used by a handful of soccer clubs, a lacrosse club, a high school team and a pilates studio.
And everyone has played for free.
While soccer leagues and clubs may charge their own fees, Sterling Bay itself does not charge people or groups to use the fields, Goudie said.
To date, American Youth Soccer Organization, Urban Initiatives, Lincoln Park High School, Girls in the Game and the Chicago Police Football Club have used the fields, Goudie said.
Non-soccer groups, including Lincoln Park's Free MVMT Shop and the Summit Lacrosse Club, have used the fields, too.
Bucktown's Frog Temple Pilots & Yoga, 1635 W. Cortland St., rented Fleet Fields from 7-8 a.m. Thursday for a free Pilates in the Park class.
"We're really proud of the impact it's already made among Chicago residents, especially those who come from underserved neighborhoods where access to facilities and programming is desperately needed," Goudie said.
Fleet Fields is open from 8 a.m.-11 p.m. daily, and users are able to schedule field rentals by emailing info@fleetfields.com, but this is not required.
On April 10, after months of hotly contested debates, the City Council voted to approve $1.6 billion in subsidies for Lincoln Yards.
The Lincoln Yards TIF district, named the "Cortland and Chicago River TIF, will generate at least $900 million to cover the cost of infrastructure projects to pave the way for Lincoln Yards to be built.
These projects include:
New bridges over the Chicago River
A new Metra station,
An extension of the Bloomingdale Trail (The '606' park system)
Water taxis
Dedicated bicycle lanes
A potential light-rail transit way and extension of the city's street grid.
It is unknown whether the developer will construct a school, library or community center as previously promised — nor is it clear how the developer plans to finance this concession.
Last week, Hopkins told neighbors at a neighborhood meeting in Wicker Park the developer is "still talking about building a school."
RELATED STORIES:
Sterling Bay Commits To Building School, Library Or 'Shared Space' As Part of Lincoln Yards
Lincoln Yards Plan Will Move Forward After Sterling Bay Agrees To More Affordable Housing On Site
Lincoln Yards, The 78 Tax Approved By Key Committee Ahead Of Rahm's Last City Council Meeting
$1.6 Billion In Tax Subsidies For Lincoln Yards, The 78 Delayed, But Both Could Be Approved Wednesday
As Newly Elected Aldermen Protest Outside, City Council Approves $1.6 Billion Lincoln Yards, The 78 Projects
What Are These Soccer Fields Popping Up At Lincoln Yards? Ald. Hopkins Announces Fleet Fields
Lincoln Yards Developer Sterling Bay Will Unveil 'Fleet Fields' Soccer Fields This Weekend (PHOTOS)
Potential Buyers Of Stanley's Market Thought Sterling Bay Was Coming, But No Sale Has Happened, Realtor Says
Read the redevelopment agreement — a document that outlines rules and requirements for Sterling Bay's use of the TIF funds — here:
Do stories like this matter to you? Subscribe to Block Club Chicago. Every dime we make funds reporting from Chicago's neighborhoods.