AUSTIN — The line between success and failure can be thin, and often the difference is being in the right place at the right time — and having someone give you a chance.
People with "backgrounds," as businessman Tyrone Wideman describes someone who has gone through the prison system, are often denied a chance to work legitimate jobs, resulting in a cycle of recidivism that has plagued the Austin neighborhood on the city's West Side.
In an effort to stop the cycle, Wideman who grew up in Austin and now lives in neighboring Oak Park, launched Dream Makers, a new program to connect people with leaders who can train them and help them land jobs.
It's not his first foray into giving back. Wideman and his wife, Linda Leslie, own Ben's Bar-Be-Que at 5931 W. North Ave., where for years they have employed people who otherwise may not have the chance to work a legitimate job.
At Ben's, Wideman hired people like Eddie Harris, who served 27 years in prison after being convicted of murder. And Cliff Davis, who spent 20 of his 57 years behind bars. Harris has now worked for Wideman for seven years now, Davis has worked at Ben's since it opened 12 years ago.
Wideman believes the city's problems are overanalyzed. Taking a more personal approach and focusing on a block-by-block approach yields better results.
"We don't need a massive committee," Wideman said.
It's that attitude that led Wideman to start Dream Makers, which helps both people who have served prison time and at-risk youth.
"I had young folks coming in looking sad or strange or mean, they call it 'mean mugging,'" Wideman said. But one man dropped his front and opened up when Wideman began to talk to him.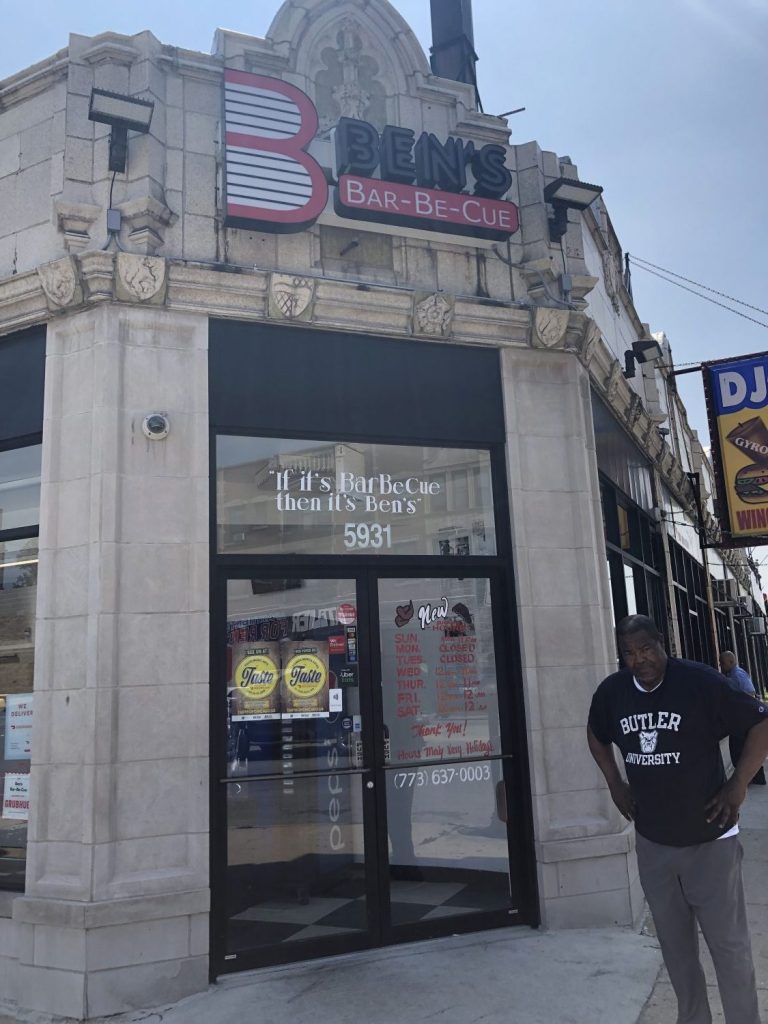 "I met this one guy and learned he was doing online stuff and hooked him up with someone who had a shop. I helped set his company up online for free. I knew if I could do that for him, I could match other people up, one at a time," Wideman said, realizing he could do more as a matchmaker, connecting people to those who can help them rather than helping them all himself.
"I said instead of me wasting a lot of time, why don't I match these guys together and he can help him," Wideman said.
Wideman doesn't like to call Dream Makers a mentoring program, though. People who want to help should simply come and see him at Ben's.
"I don't want to use the word 'mentor' because I feel like that puts an obligation on the person. I don't want them to feel responsible. I just want them to sit down and share information," Wideman said.
"I've been meeting with people, trying to get people jobs and I was sitting there and was like 'this is only going to help, 15, 16, 17 people. What about everyone else?," he said. "So I went down the street and know the alderman [Chris Taliaferro] pretty well from the 29th Ward. I know Congressman Danny Davis pretty well. I brought them in here."
Wideman expects to match up between 25 and 40 people this year with his new program and will apply to for funding through the city's TIFWorks program, which funds workforce-training costs for companies located in tax increment financing (TIF) districts.
Through Dream Makers, Wideman says he wants to do more than just help people land jobs and start businesses through the program. He recently connected with a psychologist from Northwestern who agreed to speak with anyone having a tough time mentally in the neighborhood.
'I try to respect everybody and they respect me'
Although Dream Makers is a new idea from Wideman, he has been passionate about helping others since he was a young banker at Northern Trust, where he eventually became a vice president.
Back then, in the 1980s, he was part of a group called Urban Bankers that helped recruit minorities into the banking industry. After retiring at the age of 50, Wideman said he intended to do "nothing" until boredom caused him to go to work for International Tax Advisors.
It was that job that led Wideman to his wife, Leslie, whose restaurant was experiencing a tax issue. He helped fix her problem and began a relationship with her, eventually getting married and helping her run the business despite not knowing anything about barbecue.
"She does, she knows everything about restaurants. I was a manager all my life," Wideman said.
While running Ben's Bar-Be-Cue, Wideman put many people to work that some employers would write off — people like Harris and Davis, and also helped train many others to work at other places.
"I began to talk to people [who got in trouble in the past] and I asked them, 'What could you have done differently to make the outcome different?' To my surprise, they make poor decisions. A police officer told me that someone with sense would understand in five minutes that they made a bad mistake, but for people like gang members, it takes months or years to figure out," Wideman said.
Leslie said the pair should hire those who need help.
"We have people coming to us saying 'just let me do something.' At times, we've had them cleaning the neighborhood, sweeping the alleys," he said.
Wideman may be doing a lot of work to help others, but he is quick to give most of the credit to Leslie, who like him, does not take a salary from Ben's Bar-Be-Cue.
"All the stuff I'm doing doesn't add up to what she has sacrificed by not taking a salary," Wideman said. Just before they met and married, Leslie had to work a second job to keep the doors open at the restaurant.
"She actually lost everything, but she still hung in there. She went to FedEx and worked while this place was running to make sure this everyone got paid. She made a commitment to the neighborhood and that's a real commitment," Wideman said.
After marrying Leslie, Wideman learned how to tap the city to help even more people in the neighborhood.  He applied for and received assistance from the city's TIFWorks program which allowed him to rent the storefront immediately south of his restaurant and hire a trainer to teach people, many of them formerly incarcerated, the skills to work in the restaurant industry.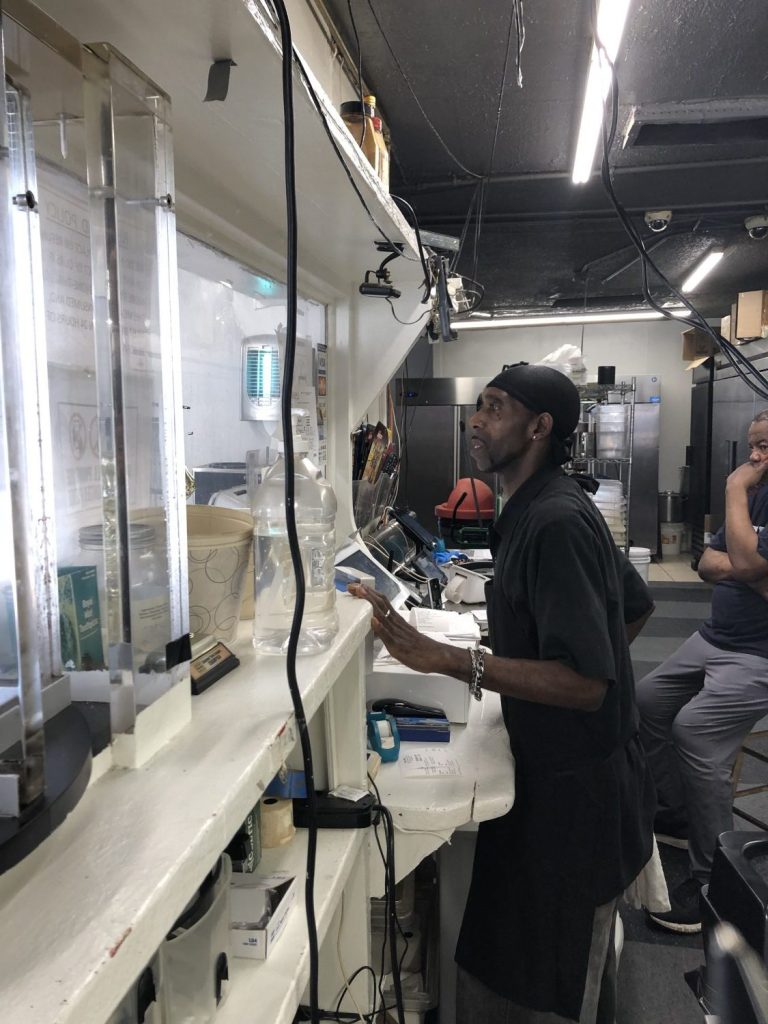 Through his efforts, the people in the program earned food management certificates, qualifying them to work in many restaurants in town.
Background checks, however, remain a real obstacle and one Davis faced more than once.
"A couple places saw my managers certificate and said 'oh wow, when can you start?' I said I can start now but they said they'd call me," Davis explained. "I know they must have pulled my background because they called me back the next day and said, 'You know, Mr. Davis, I must have made a mistake. I don't think we are going to be able to use you, we have a full house.'"
Another place gave him a job and told him to start Monday, Davis remembered.
"They called me on the Saturday before that and said not to come in," he said.
Harris said he got lucky when he walked into Ben's on a whim.
"Everybody else don't give you a chance, especially when they see my background. I didn't go to jail for no robbery, I went to jail for murder, but they gave me a chance. The chance to work with the public. They taught me a lot of things," Harris said. "I don't tell them enough that I'm so grateful for that second chance. I probably would have wound up back in the penitentiary because my mentality was still stuck in that stage until I came here and found a different way. My intention was not to become a cook but I became good at it."
Wideman said Davis and Harris have become like family.
"I think we've both learned from each other. I try to respect everybody and they respect me," he said.
Both Harris and Davis said the generosity and trust from Leslie and Wideman has made all the difference in their lives. They both have keys to the restaurant and take Wideman's car to pick up supplies during the day.
"That's trust. Who else would give keys to their livelihood? That made me feel good to let them know that I'm trustworthy and that they can depend on me," Harris said.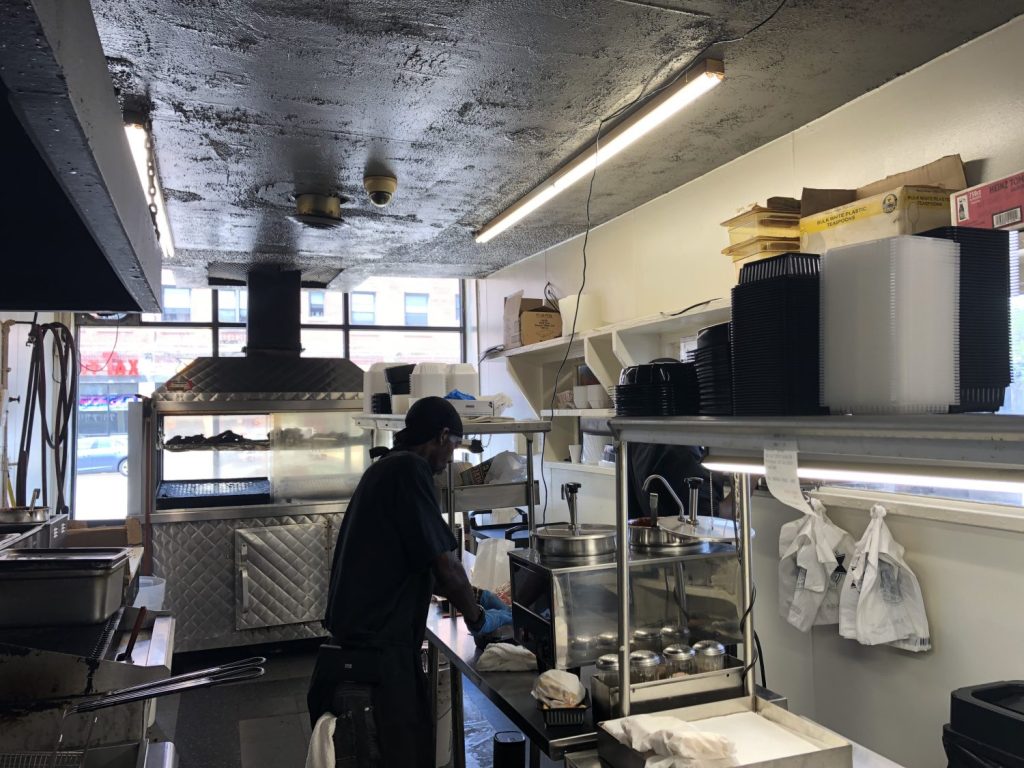 Trust and mutual respect is also likely the reason the restaurant has never experienced anything like a robbery in its 12-year history.
"The guy at the KFC across the way was pistol whipped, others have been robbed," Wideman said. "The key is that people know that someone cares about them in the neighborhood. There are people who come here who don't have any money. I don't need to hear their story, I just give them something to eat. At the end of the night, we give food to people."
Being from the neighborhood and experiencing some of the same hardships despite his background as an executive gives Wideman credibility, as well — and what will make Dream Makers a success.
"I have nephews that have gone to prison. I have nephews that are gang members. I know a lot of folks in the neighborhood. I may happen to be an executive but I didn't stray far from the neighborhood. That allowed me to continue to be respected."
Do stories like this matter to you? Subscribe to Block Club Chicago. Every dime we make funds reporting from Chicago's neighborhoods.