UPTOWN — Live Nation, owner of the famous Aragon Ballroom in Uptown, has sold the theater's naming rights to Byline Bank — and they're adding their logo to the theater's iconic sign.
Ald. James Cappleman's office confirmed Wednesday morning that the Chicago bank had purchased naming rights to the theater at 1106 W. Lawrence Ave. The theater's iconic marquee sign, which was recently refurbished, will soon include the Byline Bank logo, according to Cappleman's office.
Wednesday morning workers at the theater, located at 1106 W. Lawrence Ave., said the Byline Bank logo would not appear on the iconic vertical portion of the Aragon sign, but would be added to three places on the horizontal sign below it.
In a statement, Live Nation said the arrangement was "more than a name change" and that both companies were committed to "preserving the legacy of this historic Chicago music venue for years to come."
"Byline Bank is committed to building relationships within the community, which is why we felt they are such a natural partner for this historic venue," Live Nation President Jason Wright said in a statement. "Together, we will be able to establish genuine bonds with members of the community who have a passion for live music through seamless brand integration."
Ald. James Cappleman (46th) said the rehabilitation of the Aragon's historic sign "is stunning."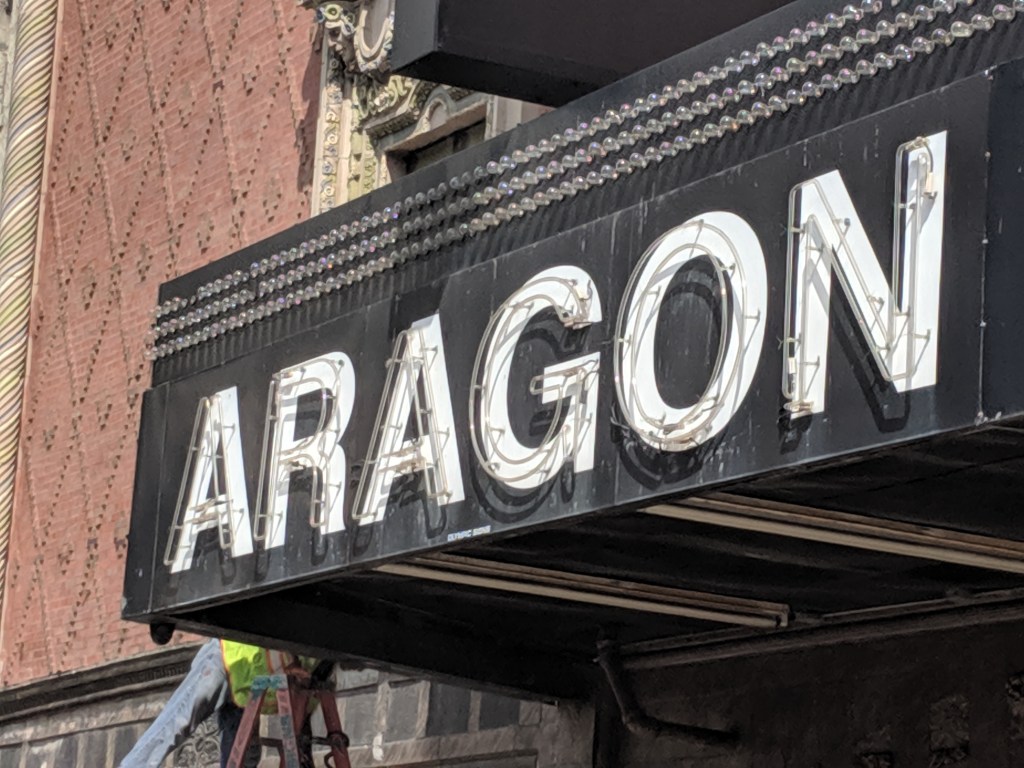 "I want to give a big thank you to Live Nation and Byline Bank for their continued investment in the Uptown Entertainment District," Cappleman said.
Ward Miller, executive director of Preservation Chicago, said Byline Bank could legally add their corporate logo to the sign despite the front facade of the building being landmarked by the Chicago Landmarks Commission — but he thinks it's a bad idea.
"Landmarks has a specific set of guidelines for signage, so technically I would think they would need to run it past Landmarks," he said. "They would have to be modest and probably within a certain size."
RELATED: Uptown's Iconic Aragon Ballroom Sign Is Getting Some TLC
Miller said the Landmarks Commission would look at other similar historic theater signs as precedent. He mentioned the Chicago Theatre, which has a small Chase Bank logo on the marquee.
"Signs can be sort of a slippery area with designations because sometimes names and places change. But I think they would use the Chicago Theatre sign as a good example," Miller said.
But Miller also voiced his displeasure of corporate buyers adding their brand on historical Chicago buildings.
"I think its really kind of crummy that these sponsors want their names all over these historic theatre," he said. "A historic theatre should remain with its historic name. It waters down and commercializes so many aspects of these grand places. If Byline Bank wants to be a sponsor I think thats fine, but we don't need to put their name all over it."
Do stories like this matter to you? Subscribe to Block Club Chicago. Every dime we make funds reporting from Chicago's neighborhoods.