GARFIELD PARK — Each morning, Michelle Scott wakes up at about 5 a.m. to get her seven-year-old daughter dressed for school. After a quick breakfast, they begin the long drive from East Garfield Park on the city's West Side to Walt Disney Magnet Elementary School in Uptown on the North Side.
On a good day, the trip takes only about 30 minutes each way. But since morning commutes are unpredictable in Chicago, Scott gives herself an hour to drive the eight miles. In all, it can amount to four hours of driving each day to get her daughter to and from school.
Scott makes this trip daily because her daughter is academically gifted, and she wants her to be on track to get into one of the city's coveted selective-enrollment high schools like Whitney Young. Even though Scott lives just around the corner from high-achieving Morton School of Excellence, a Level 1+ neighborhood elementary school, she said the school isn't able to provide the same educational opportunities and gifted track available to her daughter at Disney, a magnet school.
If Scott's daughter chose to attend a selective-enrollment school instead, she still would've faced a long commute: of the 28 selective-enrollment elementary schools across the city, not one is located on the West Side of Chicago.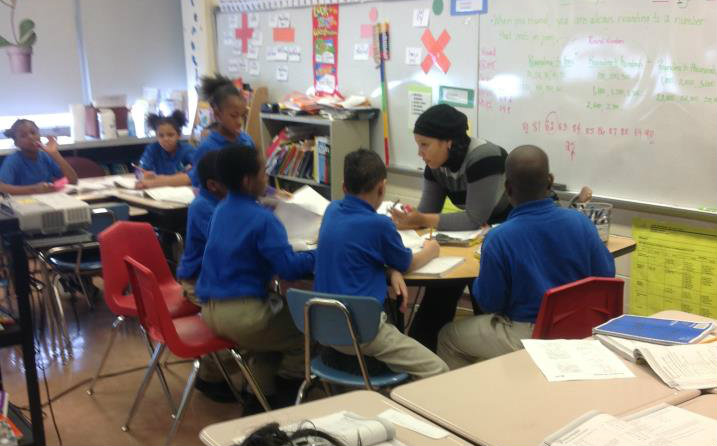 "We shouldn't have to go out of our area to provide our kids with the same necessities and the same amenities that we get in other areas," Scott said.
As a first-grader at Disney, Scott's daughter participated in an accelerated program with a curriculum typically used for second-graders. Her class has unparalleled access to technology, including a Promethean interactive whiteboard in each classroom and a Makers Lab with a 3-D printer that students can use to design objects out of metal and carbon fiber.
Computer science and coding languages are incorporated into the curricula for each grade at Disney. Each student is given an iPad full of educational applications and a digital library of books for them to read.
Scott said her daughter loves Disney's digital media program that gives students access to editing software and equipment that isn't available at many schools. And next year, thanks to Disney's language program, her daughter might study Mandarin Chinese.
While the Morton School of Excellence in her neighborhood has a top-tier Level 1+ ranking among Chicago schools, Scott said the school doesn't come close to having Disney's resources.
"They're not getting the same experiences," Scott said.
When CPS released its 2017 Annual Regional Analysis, a comprehensive report on school quality, enrollment patterns, school choice and program offerings at each of the 17 network areas within CPS, the disparities in access to academic resources for West Side students became apparent.
The report made it clear. While academic programs are not evenly distributed across the city, the situation out west is especially dire since the West Side has no selective-enrollment or gifted programs for elementary students.
When Morton's Principal Dr. Peggy Burnett-Wise read the report, she realized that since there weren't any gifted centers in Lawndale, Garfield Park, Austin or Humboldt Park, she could request to develop one at her school. The district allowed school administrators to use the data from the report to submit proposals for new academic programs in areas where resources are lacking.
While there were a few STEM and magnet cluster program options locally, Wise said, "there's barely anything on the West Side at all," she said.
Wise and an engagement team made up of teachers, parents and administrators reviewed the programs available for students in the area. When she allowed the team to decide which type of program they would request from CPS, the decision was unanimous: Morton would ask to become the only regional gifted center on the West Side.
"Everybody said, 'We need programming for academically gifted students," she said.
When Wise submitted the application, she said she received excellent feedback and CPS was highly supportive of eventually bringing a gifted program to Morton. Despite receiving a perfect score on the proposal, CPS officials weren't sure there was enough interest on the West Side to build a successful gifted program, she said.
"We got a five out of five on each of the areas that we were scored on our rubric, but we were denied because of lack of demand, based upon that small number of West Side students who had been admitted into gifted programming in the prior year," Wise said.
For the past two school years, an average of just 17 West Side kindergarteners each year tested into gifted elementary programs, according to CPS enrollment statistics. There were 24,919 kindergarten and elementary students enrolled in CPS from the West Side in 2018-2019.
About 30 kindergarten students would need to qualify each year for a gifted program to demonstrate adequate demand for a West Side program, CPS spokeswoman Emily Bolton said.
But for many, the low enrollment numbers for West Side students in gifted programming represents a lack of access, not a lack of interest, Wise said. Since many parents don't have the bandwidth to take their kids across town to a gifted program, they don't even bother trying to test into a selective-enrollment school.
And since there are no selective-enrollment or gifted programs local to West Side neighborhoods, many parents don't even know that those options are available. So with the support of CPS, Morton's administrators are teaming up with Kids First Chicago to spread the word about gifted programming.
"Most of the parents that I talked to, they didn't even know that selective elementary schools existed… So they didn't even know that they could demand it," Wise said. "A lot of this is just really informing parents of their options."
Wise and organizers are meeting with parents and residents to get their support for the gifted center at Morton and launched a petition to drum up local support for improved academic opportunities in the neighborhood. They are also seeking the support of Community Action Councils, principals and aldermen on the West Side so they can demonstrate widespread support for the program when they resubmit the application.
When asked about what outreach resources CPS provides to ensure that West Side parents know about selective-enrollment programs, Bolton issued a statement.
"All children in all neighborhoods across the city deserve access to a high-quality education, and the district has been meeting with parents and community members on the west side to gather a greater understanding of their educational needs," Bolton said. "Community and parent feedback play a critical role in improving educational opportunities for students and the district is committed to continued engagement as we work to expand opportunities."
Morton has until April 2020 to resubmit its proposal. Until then, advocates will continue to spread awareness so they can prove there are enough West Side students that would benefit from the gifted center.
For Wise, it's already clear there is an abundance of academically talented students on the West Side that would benefit.
"I know, having worked with these incredible students every day, that there are so many more students that I'm sure could test into a program option like that," she said. "I know— I don't even have to guess about that. I work with them every day."
Pascal Sabino is a Report for America corps member covering Austin, North Lawndale and Garfield Park for Block Club Chicago.
Do stories like this matter to you? Subscribe to Block Club Chicago. Every dime we make funds reporting from Chicago's neighborhoods.