THE LOOP — Of all the best dogs walking around Chicago — and they are all tied for best — Sporty the Dog might be a little closer to the top of the list than most. 
Sporty is a handsome, ruggedly white-faced, nearly 12-year-old golden retriever who can be found most days walking himself through the Loop, his leash in his mouth.
His owner, David Duncan, 36, is not far behind, live-streaming Sporty's semi-ecstatic interactions with his fans.
And Sporty has lots of fans.
Nearly 73,000 people now follow Sporty on Instagram, and his growing legend has been documented by local and national media outlets alike.
Duncan and Sporty, however, haven't moved to cash in.
"We are in it for the smiles, man. It's like a wave when Sporty goes through the crowd, he's a beacon of happiness," Duncan said.
The walks spark joy in Sport, too, Duncan said.
"I can tell, being on walks is when he is most happy, holding his leash, doing his little trot, stopping so people can pet him. Nothing compares. He is in his element," he said.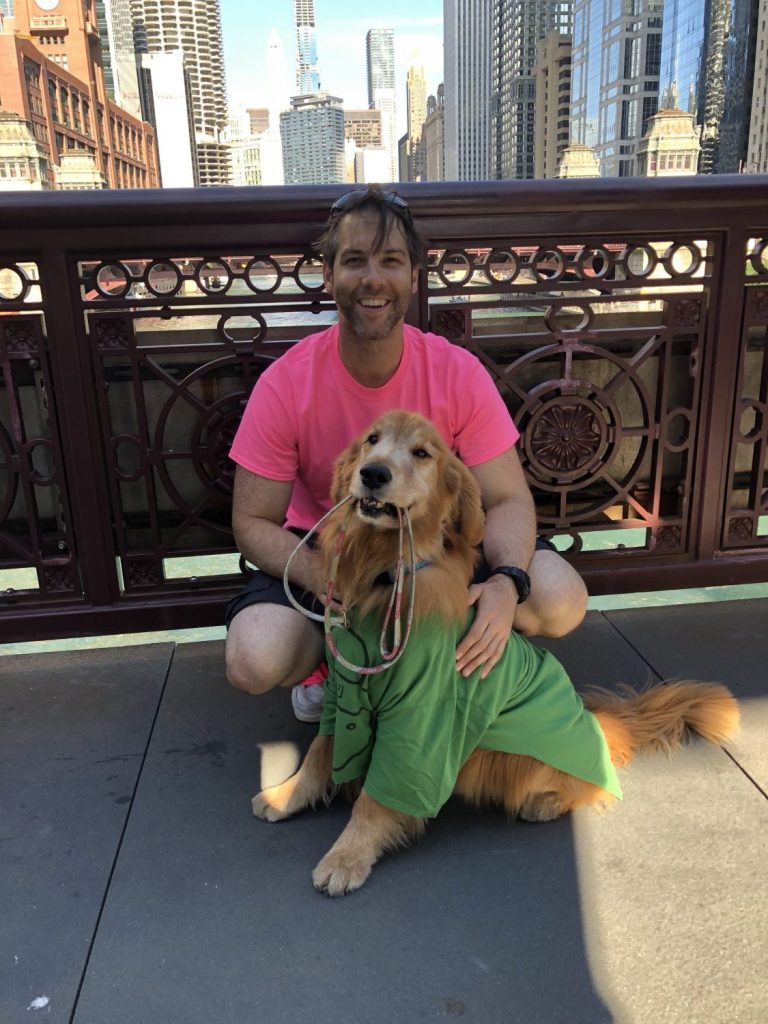 "Doing his little trot" is not just a creative way of saying Sporty walks around. Take a look at his many Instagram videos, or go find him on the street during some afternoon walk, and take note of this golden's unique stride.
With his leash looped cleanly over itself and hung symmetrically from his mouth, Sporty does not so much walk as he kind of saunters down the sidewalk, his bushy tail up and rear hips swinging back and forth, his head high and on a pivot, scanning the crush of pedestrians all around him.
And there sure seems to be a smile on his face begging for recognition. 
"Sporty has the alpha personality," Duncan said. "He has always needed to be the center of attention. He loves it."
At street level, it does not take long before Sporty gets noticed. Generally walking a late-afternoon circuit running parallel to the Chicago River, hoards of just-off-work pedestrians with beaten looks on their faces start to perk up. 
Once he has stopped for a pet or a picture, there is a good chance the crowd size will swell. People set on an otherwise unbreakable stride to get out of the Loop double back and say hello to Sporty.
"Oh, look! That dog's walking himself!" is a constant cry. 
"That's my dream," says one, watching Sporty with a beaming face.
"That's the best dog I've ever seen," says another.
"That dog is pretty much my boyfriend," says a girl walking past with a female friend, who nods in agreement.
A young man approached Duncan and asked him how old Sporty was. He had a golden of his own that recently passed, aged 14 years. His eyes seemed to be welling up with tears. 
"I miss him so much," the young man says.
"Yeah, well, 14 is a great life! Those were amazing years, you have to be happy for that. Hopefully Sporty can help out with some of those feelings," Duncan consoled him.
The young man agreed and went back to petting Sporty. He got his photo taken and went away, a little sad but clearly happier than he had been. 
A group of three young girls ran across a busy Wacker Drive, shouting, "Sporty! Hey Sporty! Is that Sporty!?"
"We basically ran across the street through traffic when we saw him," said one of the trio.
They all posed for several pictures and then went off, clearly exhilarated.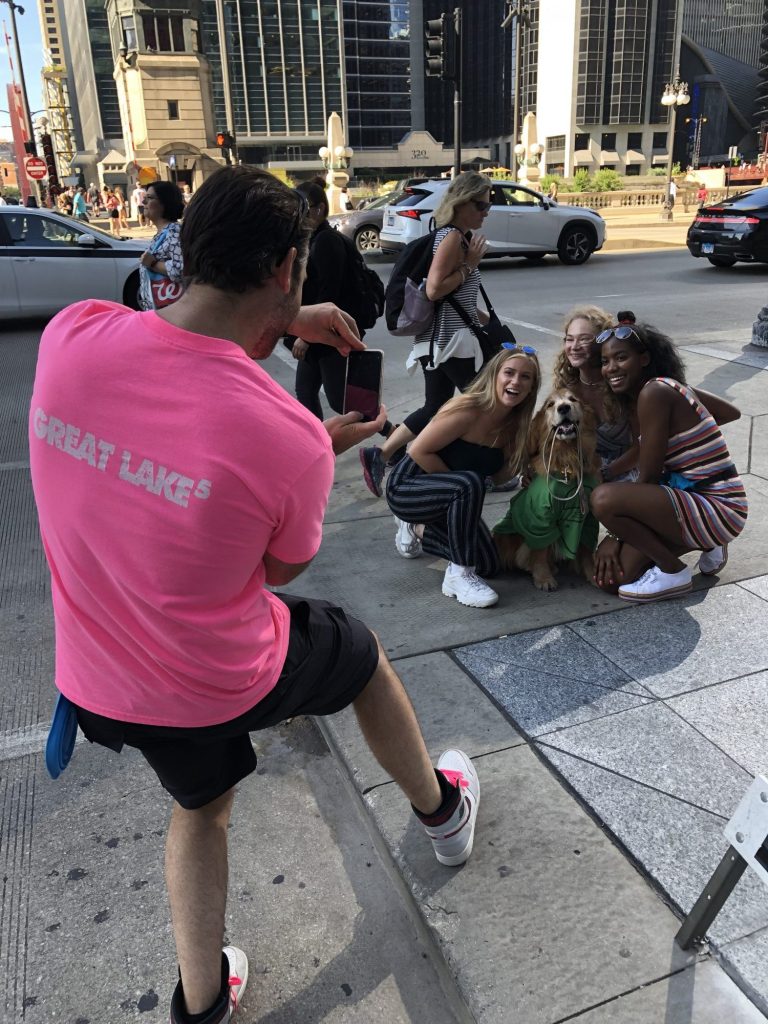 He is a true Loop celebrity in certain circles. From a distance it appears like a crowd is following some notably short star. 
The course of events that led to Sporty walking himself through a busy metropolis came about without any forethought or intention, Duncan said. 
Adopted off of a farm near Cedar Rapids, Iowa, at age 6, Sporty was one of those not-so-rare retrieving dogs who prefer to have an object in their mouth most of the time, whether it be a ball, a rag, a toy or anything else he found to play with on the farm. 
"Being from a farm, he had never had to deal with a leash," said Duncan, who because of his busy days working as a commodities trader knew raising a puppy would not be fair to the dog, or himself, and opted to take in a trained adult who needed a home. 
"After about six months to a year of walking together on the streets, he really started pulling the leash, grabbing it in his mouth and pulling it. He was adamant that it was his leash. I didn't know what to do at first but it kind of progressed, and I realized he was actually more obedient when he was holding the leash himself."
It is almost surely his instinct as a retrieving dog that caused this to happen, according to Duncan. Once Sporty gets hold of his leash, it becomes his duty to make sure the object is properly handled and returned home. 
"Any command he got he responded to instantly, he was better behaved. So we started slowly walking around the block and gradually expanded the circle wider and wider." 
One of the things Sporty always has done, according to Duncan, and this is supported up by endless video evidence, is look back over his shoulder to make sure Duncan is still behind giving the go-ahead voice commands. 
"He's never going to run out into the street," Duncan said. "Unless maybe there's a big ol' group of female goldens in the middle of the road — that's his only weakness. But I think that's a pretty unlikely scenario Downtown."
Sporty is so well behaved many people assume he is a service dog and obey the unwritten rule of not touching him while he is working.
"I tell them: 'He's just waiting for you to pet him, he loves it, he just acts like a service dog,'" Duncan said.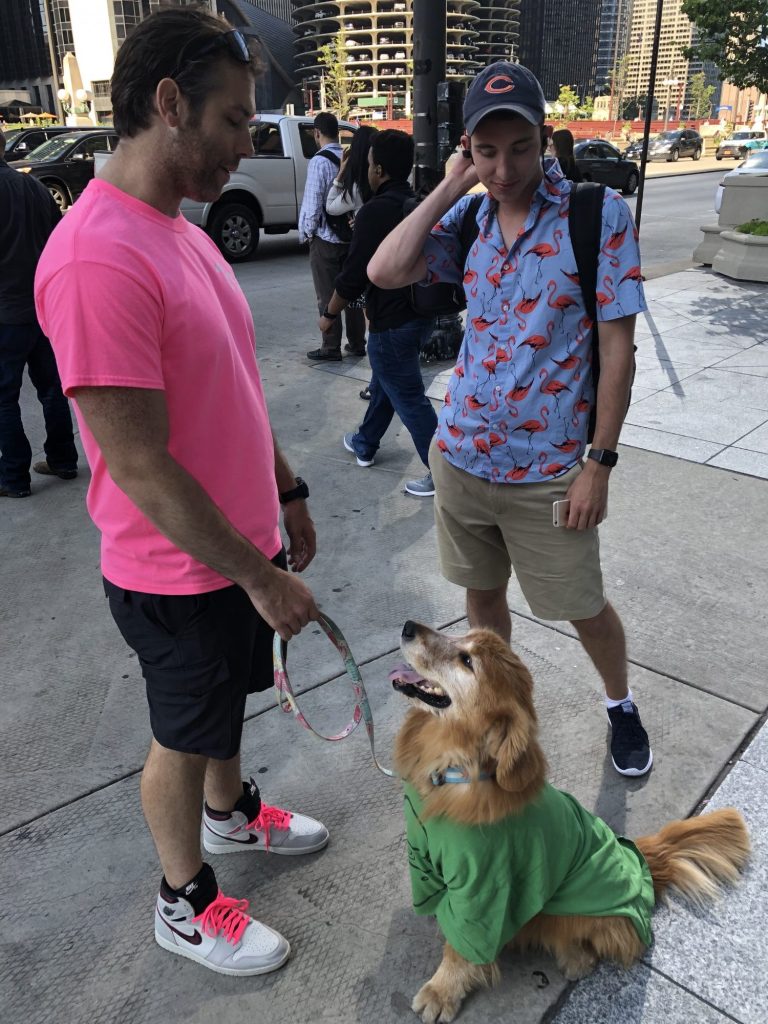 Almost every interaction they have is positive, Duncan says, but every once in a while someone has a beef with Sporty's independent lifestyle as off-leash dogs are illegal in Chicago.
Several weeks ago, for example, a guy with a big waxed mustache aggressively challenged Duncan near the intersection of Wacker Drive at North Wells Street.
"He came out yelling and swearing, 'Who the f— lets a dog walk around on its own like that! He's going to get hit by a car!'" recounted Duncan. 
"But I explained it to him, obviously I wouldn't do this without 100 percent trust in Sporty.
"I'm always aware of our surroundings and don't want to offend anybody, if someone is uncomfortable around the dog I'll put him back on the leash and we'll walk by in standard fashion."
Duncan is embracing every moment he has left with Sporty, who was diagnosed with a slow-moving lymphoma on his 11th birthday. On a very hot day last year, he began to overheat and essentially choke to death. 
Duncan said he had Sporty on his lap and was asking him to give him a sign he could go on living, that he still wanted to live, or else he would be left without a choice, for humane reasons, except to euthanize Sporty. 
But a chunk of peanut butter in Duncan's hand seemed to rouse Sporty. He was given an emergency shot for the cancer mass and left overnight in an oxygen tank to let the medicine take effect, with the big test the next morning to see if he could go on his own. 
Duncan did not sleep the entire night, pacing the floors of his apartment, alone in the odd sudden and creaking emptiness, scared for his suffering best friend.
"But the next morning I got the call, and Sporty was up and breathing. He was recovering. He stayed one more day in the hospital and then came home."

It is now almost one year to the day since Sporty's awful birthday. The mass of cancer in his neck is too entwined and entrenched in the muscles for an operation, so Sporty stays on a cocktail of medications to keep the mass under control. 
"Every day since then has been such a blessing," Duncan said. "For him to keep going like he has after being diagnosed with lymphoma 16 or 17 months ago is incredible."
Do stories like this matter to you? Subscribe to Block Club Chicago. Every dime we make funds reporting from Chicago's neighborhoods.