BUCKTOWN — After putting their property at North and Elston on the market more than a year ago, the owners of Stanley's Fresh Fruit & Vegetable Market have yet to sell it despite Sterling Bay buying up lots around the old grocery store.
Their new realtor hopes that changes very quickly.
Since taking over the 45,877-square-foot property at 1558 N. Elston Ave. last month, Realtor Ed Wabick's team at Paine Wetzel Commercial Real Estate has made it clear to potential buyers that the property is fair game.
"Everybody thought Sterling Bay was going to buy this," Wabick said. "A lot of other developers thought Sterling Bay [would buy it], so they backed off of it."
Sterling Bay, which bought up other property near Stanley's as they worked toward planning Lincoln Yards, did not come forward with an offer, he said.
Wabick, who knows the Peters family who own the old Stanley's property personally, said he's committed to selling the building to a qualified buyer — and fast. The property will likely go to auction in mid-October if it is not sold soon, Wabick said.
While he's discussed the property with Sterling Bay, the developer now seems more focused on the construction of Lincoln Yards, Wabick said.
Laura Perlman, a broker with Paine Wetzel, said it was also assumed by many in the real estate community that Sterling Bay had, in fact, bought the property.
Paine Wetzel is talking to "everybody" who might be interested, she said.
"They could wind up coming in and buying it," she said. "From what we know they're focused on Lincoln Yards. We're talking to everybody, including Sterling Bay."
In recent weeks, a range of developers and potential owners have pitched ideas for what they'd like to do with the old Stanley's property.
"I'm hearing very positive things, [ideas for] long-term nice developments that I think will complement the area," Wabick said.
Predictions that Sterling Bay would buy the Stanley's property were not unfounded.
Last summer, the owners of Star Car Wash, a gas station at 1901 N. Elston Ave., closed their business after selling to Sterling Bay for an undisclosed amount.
RELATED: Sterling Bay Buys Bucktown's Star Car Wash But Iconic Neon Sign To Remain
Sterling Bay representatives did not immediately respond to a request for comment Thursday.
In July 2018, the Peters family hired real estate brokerage CBRE to sell the site, but Wabick said, "The Peters family, in my opinion, was not really ready to sell yet."
CBRE did not return a request for an interview on Monday.
Underneath the iconic Stanley's sign, which features founder Stanley Peters smoking a pipe and sitting atop a watermelon-turned-helicopter in the clouds, a large blue-and-white board now reads: "FOR SALE."
Paine Wetzel and MWA Capital are marketing the property as three distinct groupings of parcels, which can be viewed at StanleysNorthAndElston.com.
In April, the Peters family abruptly closed Stanley's after 52 years, leaving dozens of longtime employees out of a job.
RELATED: Stanley's Abruptly Closes After 52 Years Of Selling Affordable Produce, Longtime Workers Caught Off Guard
The family-owned business was founded in 1967 by Stanley Peters, who retired several years ago.
Peters' son and other family members continued to operate the store, which offered produce on its shelves from more than 50 Midwest farms.
Despite the announcement of the pending sale last summer, longtime employees continued to work for the Peters family until a Monday in April when dozens showed up to the market to find a sign on the door: "Closed for Remodeling. Employees come Wednesday for your checks. Thank you. The Mgmt."
A few hours later, the staffers learned the Peters family had abruptly decided to close the store for good.
Stanley's is just west of the Lincoln Yards development, where developer Sterling Bay aims to create a 55-acre sprawling residential, office, hospitality, recreational and entertainment district.
The April store closure took place just a few weeks after City Council signed off on $900 million in taxpayer-funded subsidies for Lincoln Yards.
The Lincoln Yards project is set to include new bridges over the Chicago River, a new Metra station, an extension of the 606 trail, water taxis, dedicated bike lanes as well as a potential light-rail transit way and extension of the city's street grid.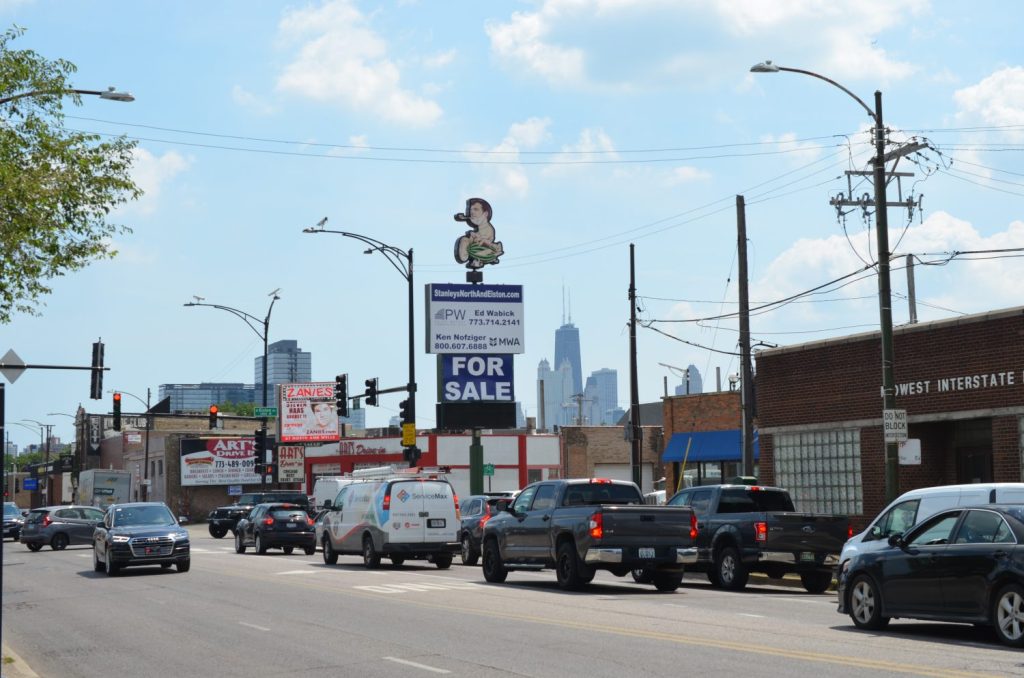 Do stories like this matter to you? Subscribe to Block Club Chicago. Every dime we make funds reporting from Chicago's neighborhoods.