PORTAGE PARK — As neighbors get antsy about the future of The Point At Six Corners, Ald. Jim Gardiner (45th) has been quietly working to gather support for a denser version of the senior housing development, according to those who have attended invite-only meetings with the alderman.
Gardiner announced his desire to host small meetings in area homes on Facebook and Twitter Tuesday, and some neighbors who happened to notice flyers on their blocks in recent weeks have already met with him.
"Mostly we talked about what to do with the big hole at Six Corners," said Sandra Kirkland, who lives near the intersection of West Berteau and North Kenneth avenues. Kirkland circulated flyers for a July 29 meeting that was held in her home.
The "big hole" has been an issue for years. In March 2016, city officials approved plans for a shopping center at the site that would be anchored by Ross Dress for Less and Aldi. But that plan fell apart.
After multiple attempts to get other retailers on board, developers pivoted to a senior housing plan which seemed poised for city approval until Gardiner won the February election.
After being sworn in, Gardiner said he wanted to slow down the timeline for The Point project. Whatever happens at the former Bank of America site will be "built on my watch," he said.
Now, Kirkland said, neighbors are talking to Gardiner about what they liked and disliked about the senior housing plan as he gets the ball rolling again on the project, which still needs City Council approval.
About 18 people attended the meeting in Kirkland's home, including Gardiner, and one of the topics discussed was the development's affordable housing component. The most recent plans publicly available for The Point call for affordable housing units to be built off-site.
"I thought it was really important that the affordable housing be on site, that they don't keep it segregated. It should be integrated," she said.
Lynn Ankney, president of the Old Irving Park Association, said her group, which represents more than 500 households in the neighborhood, met with Gardiner and The Point developers on July 18, where they were shown new plans that added market-rate senior housing units alongside on-site affordable housing.
Ankney acknowledged that her group does not typically approve of "up-zoning," — a zoning change that allows for a building to be more dense — but in this case, they are on board.
"The move to have affordable housing on site only further solidified our support of the project," she said.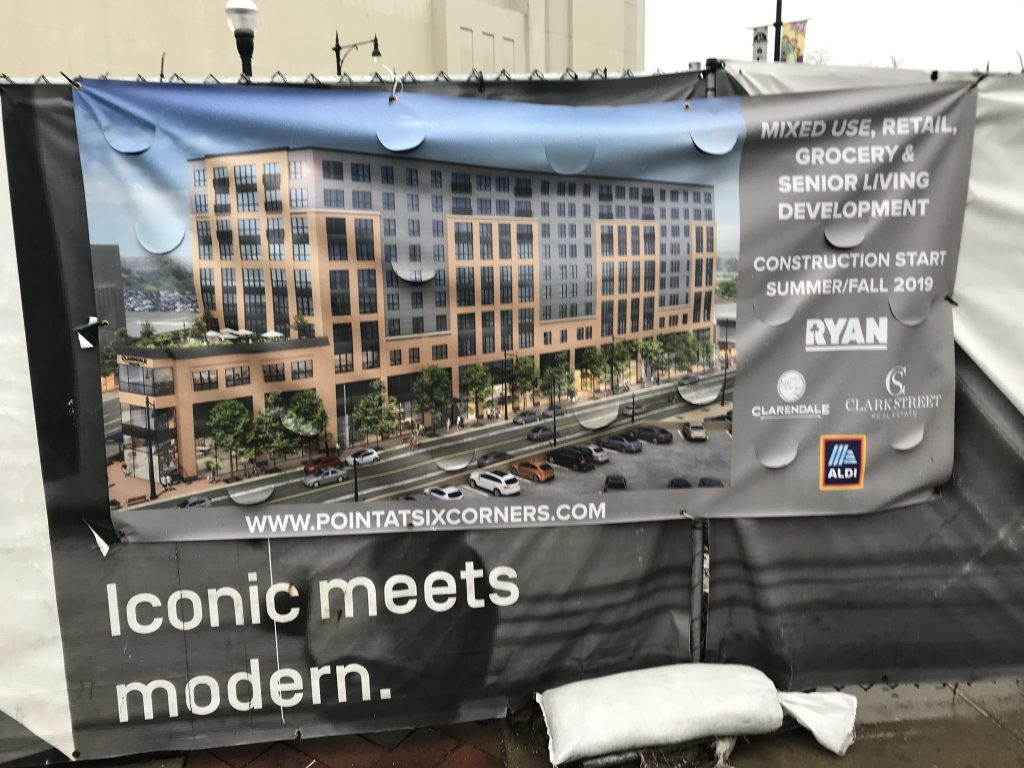 'We Just Want Something To Happen'
Before the election, construction on the senior housing complex, along with an Aldi planned for the corner, was expected to start this summer. Now, people are getting nervous.
"I've heard that some of the smaller businesses over there are going out of business," Kirkland said. "You look at Six Corners and you see all those 'for rent' signs on stores. It's just not very encouraging."
Ankey said the small household meetings were unique in her experience, but she is glad something is happening.
"Our preference is to see this project move along, and if that means small group meetings and a large community meeting that's fine. We just want something to happen sooner rather than later," she said.
Gardiner's office would not comment on plans for The Point or answer any of Block Club's questions about meetings with neighbors or planned future meetings.
The same developers who worked with former Ald. John Arena on the senior housing plan remain on board, however. Aldi is still in, too.
"We are excited to confirm we plan to open a new store at The Point At Six Corners development in Portage Park, but at this time it is too early to confirm any other details," Aldi spokeswoman Laura Branneman said.
Dan Walsh, senior vice president for real estate development at Ryan Companies, was also optimistic about The Point's future.
"Ryan Companies along with Clark Street Real Estate is happy to hear that Alderman Gardiner is having conversations with the community about our proposed retail and senior living project in Portage Park," Walsh said. "We hope to move forward with this project and believe wholeheartedly that it will be a catalyst for growth and vitality for the community."
Walsh said he expects a public meeting on the status of the project to happen in August or September, but summer vacations have slowed down scheduling. He also declined to answer questions about what changes have been made to the plans since they were last presented to aldermen in April.
The History Of The Hole
Developer Clark Street paid more than $10 million in June 2014 for the 140,000-square-foot triangular property at the corner, as well as a one-acre parking lot in the 3900 block of North Milwaukee Avenue, according to public records.
The corner has been a large hole in the ground since the Bank of America branch that once stood there was torn down in 2016.
At a June 2018 meeting about the project, developers said the senior living facility would be a "cruise ship on land" and defended the high price as on par with other assisted living facilities in the area.
At that meeting, developers said independent living at the site would be $4,400 a month, assisted living would be $6,000 a month and memory care would be $7,200 a month — which is in line with other facilities that offer both housing and healthcare services for seniors.
For comparison, at Norwood Crossing, 6016 N. Nina Ave. in Norwood Park, assisted living services begin at $5,700 a month. At Autumn Green at Wright Campus, 4239 N. Oak Park Ave. in Dunning, the price of assisted living begins at $3,520 a month. And at Bethesda Rehab & Senior Care, 2833 N. Nordica Ave., the price of assisted living begins at $4,712 a month.
Cheaper nearby regions include suburban Oak Park, which has an average starting cost of $4,085 for assisted living.
Critics of the project have said it's too tall, too expensive and not a good fit for the shopping district. Business owners near the project, however, say the vacant lot has taken a toll.
On Facebook Tuesday, Gardiner urged residents interested in hosting home meetings to reach out to his office or sign up for his weekly newsletter.
RELATED COVERAGE
Plan For Aldi, Senior Housing At Six Corners Isn't Dead, Ald. Gardiner Tells Residents — But It's On Hold For Now
As Plans For Dreaded Hole At Six Corners Intersection Stall, Area Business Owners Plead: 'Just Put Something There'
Is The Point At Six Corners Dead? Neighbors Try Convincing New Alderman To Support Senior Center At Long-Vacant Intersection
Critics Of Current Plan For The Point at Six Corners Say Building Would Be Too Tall
Do stories like this matter to you? Subscribe to Block Club Chicago. Every dime we make funds reporting from Chicago's neighborhoods.