CITY HALL — On the campaign trail, now-Mayor Lori Lightfoot was a vocal opponent of the new $95 million West Side training facility for Chicago Police and Fire departments pushed through City Hall by Rahm Emanuel.
But after criticizing Emanuel for a lack of transparency on the issue, Lightfoot's administration has continued the previous mayor's legal battle to block more than 400 pages of planning documents that #NoCopAcademy organizers have sued the city to release.
The plaintiffs represented by the People's Law Office have argued since March 2018 that the Freedom of Information Act demands those documents be made public. They say the documents should be released since they detail the process of implementing Emanuel's decision to build the cop academy in West Garfield Park, where some residents have complained they have been entirely left out of the decision-making process.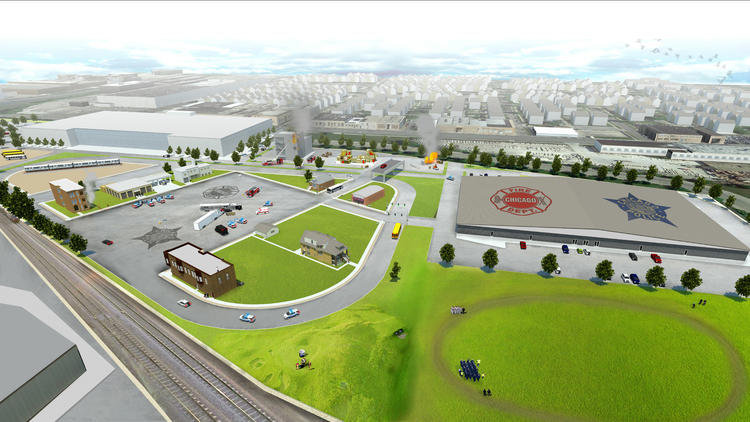 But attorneys representing the mayor's office are asking the Cook County Circuit Court to throw out the case. City officials have argued they don't have to release the documents because public information law allows internal deliberations as a government agency makes a policy decision to remain private.
Freedom of Information Act law states that documents are exempt if they are "preliminary drafts, notes, recommendations, memoranda and other records in which opinions are expressed, or policies or actions are formulated."
According to Tia Mathew, who represented the mayor's office in court Tuesday, the city has only refused to share documents that fall squarely within those exemptions: internal discussions weighing options for possible locations, possible funding, and possible communications strategies around the police and fire training academy. She argued that since these discussions were recommendations that happened before a policy decision, they aren't subject to FOIA law.
" [The exemption] is meant to encourage frank discussion among the employees. … What we have redacted here are records that are drafts, or records that are that reflect give-and-take in the deliberative process," Mathew said in her oral argument.
RELATED: Rahm Pushes Plan To Spend $95 Million On New Police, Fire Training Academy Through Divided City Council
But Christian Snow, an attorney with the People's Law Office, said some of the redacted documents were unrelated to the internal exchange of ideas among city employees, and had nothing to do with the decision-making process that lead to the development of a new cop academy.
"They have gone through and redacted items that are clearly not deliberative. It's not related to policy formulation in the least bit," Snow said.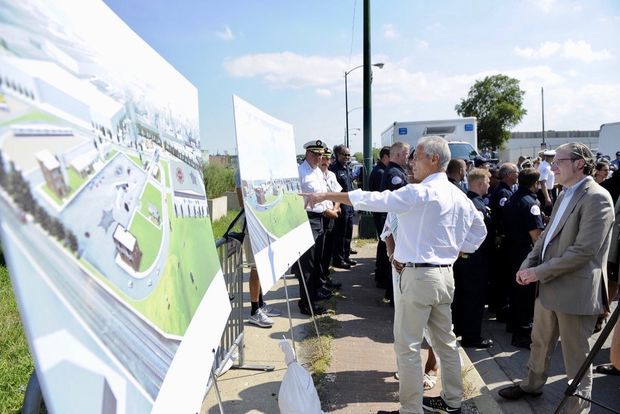 Snow presented emails obtained through the public information law in which city employees were discussing #NoCopAcademy protesters at a public meeting. An attached image of the demonstrators had been redacted by the Mayor's office.
Judge Sophia Hall agreed with Snow that the redacted photo shown in court was clearly not a deliberative exchange of ideas and wasn't a fair use of the exemption.
According to Judge Hall, the case hinges on whether the city can prove that each redacted document is tied to a specific decision-making process in the development of the police and fire training academy.
More specifically, they must prove that these documents are all related to pre-decision deliberations for key points in the policymaking process of the various agencies involved in planning, designing, building, and funding the training facility.
"If there is a decision, there is a decision making process. I need to know what that means," Judge Hall said. "Then I can look at the conversations and see if they are pertaining to the process to reach that decision."
The case will next be heard Aug. 28, giving the city one last chance to provide by then the decision points in the process of developing the academy, the judge said.
"To the extent that that cannot be demonstrated to the court, then all of it is subject because the burden of proof is on city," she said.
Pascal Sabino is a Report for America corps member covering Austin, North Lawndale and Garfield Park for Block Club Chicago.
Do stories like this matter to you? Subscribe to Block Club Chicago. Every dime we make funds reporting from Chicago's neighborhoods.