DOWNTOWN — When Jeff Woelker walks into a doughnut shop, he doesn't just scan the menu or pastry case.
Woelker likes to kick the tires, so to speak.
"Whatchya got back there? A Belshaw?" he asks the guy behind the counter at the newly opened Dip and Sip in Roscoe Village.
The Counter Guy responds with a glazed "I didn't know there was going to be a quiz today" expression.
"A Donut Robot?" Woelker asks again, this time opting for the Belshaw's nickname.
Counter Guy ducks his head into the kitchen. Yeah, the doughnut-making-thingy machine is indeed a Belshaw.
Woelker approves — the Donut Robot, an automatic fryer, is a model of consistency — and Dip and Sip earns extra credit for using a housemade mix versus pre-packaged.
Yeah, this place passes.
It's safe to say that Woelker knows as much, if not more, about doughnuts as anyone not named Krispy or Kreme. And he's quietly been turning his passion for fried cakes into a thriving tourism business, now operating in nearly a half dozen states.
Four years ago, the digital marketing pro founded the Underground Donut Tour in Chicago, banking not only on people's love of doughnuts, but their desire to get to know a city through its food.
Essentially Woelker, 39, a long-time Chicago resident who grew up in Detroit, was betting there were lots more people like him in the world.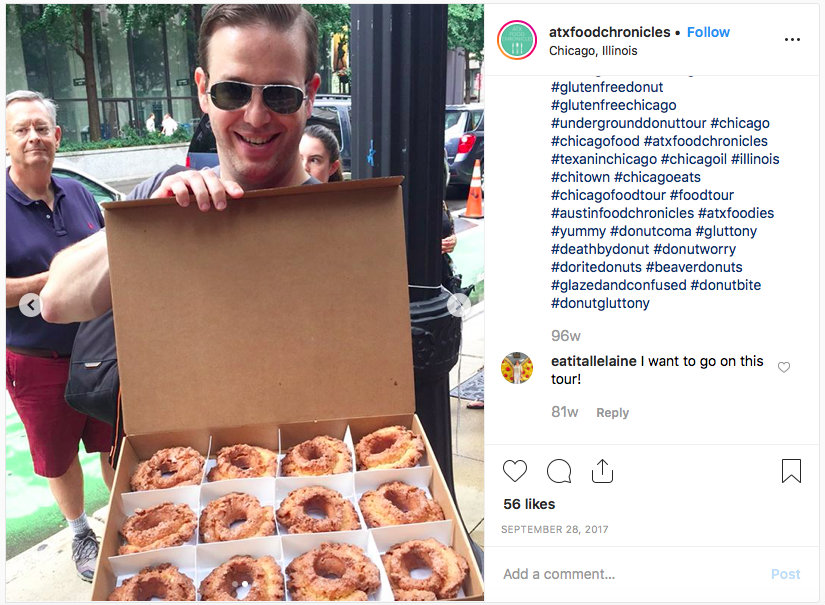 "I've always had a passion for doughnuts. One of my fondest childhood memories was always in the fall going to apple orchards and getting apple cider doughnuts," he recalled.
More recently, Woelker, his wife and extended family have gotten into the habit of kicking off vacations with food tours, in places like Barcelona, Buenos Aires, Venice and Thailand.
"I think it's one of the best ways to get to know the city and get to know the culture and the food scene, specifically," Woelker said. "You can always ask the guides, 'Where should I go and what should I do?' Everyone is always so inviting, so cordial and casual over food, that I think you get a really good read on a place."
So when Woelker was casting about for an idea for a start-up business, it didn't take long to settle on walking tours of Chicago's doughnut shops.
"It all just sort of came together," he said. "I just decided, you know what, let's just throw this out there and see how it goes."
It went well. It went better than well.
Underground Donut Tour was originally a one-man operation, with Woelker leading a lone weekly tour on Saturday mornings, making stops at four Downtown doughnut shops along a two-mile walking route.
"The walking helps," he said, "because it's a doughnut tour."
The enterprise has since grown to four days a week in Chicago, including a second route in Wicker Park, and a staff of guides.
Tours last two hours, and cost between $30 and $40, depending on which tour you take.
In 2019, Woelker launched Underground Donut Tours in Philadelphia, New York City, Portland and Seattle, with more cities set to come online within the year.
Though he's largely handed off tour guide duties these days, Woelker has been decidedly hands on when it comes to the expansion process, particularly choosing tour locations.
Shops have to be local, welcoming and, most importantly, serve an amazing doughnut, he said.
To ensure the latter, Woelker conducts extensive market research, easily the biggest perk of the job, if you can call eating doughnuts a "job."
"When we start a new city, I visit anywhere from five to 10 different doughnut shops, trying half a dozen doughnuts at each," he said. "It's a lot of doughnuts."
Underground Donut Tour owes its national appeal in part to the universal popularity of doughnuts, but Woekler also said that the rise of Instagram — and doughnut makers' response to it — was crucial.
Shops began competing as much for eyeballs as taste buds — "You can't just have a series of round rings anymore," Woelker said — and created renewed buzz for their product with colorful toppings and unusual shapes.
All of which has been very good for the doughnut tour business.
"It's actually more of a surprise if all of our tours don't sell out," Woelker said.
At one point, Woelker's next business move was an expansion of different nature. He was fairly far along in the process of opening his own doughnut shop, Donut Republic, which explains why he's so well-versed in tools of the trade like the Belshaw.
But he stopped just short of pulling the trigger on a storefront.
"The problem in Chicago is real estate prices. I would need to sell thousands of doughnuts a day to pay the rent," Woelker said. "You need either a ton of foot traffic or you need to be really good at delivery."
Instead, Woelker is growing Underground Donut Tour in an unexpected way.
Tickets just went on sale for Underground Donut Tour's inaugural Taste of Donuts fest, with two sessions set for November 2 at Morgan's on Fulton.
The lineup, which Woelker is still adding to, aims to celebrate doughnut shops from across the Midwest, gathered in a single location.
"With the tours, we bring people to the doughnuts. With Taste of Donuts, we're bringing the doughnuts to the people," he said.
Chicagoans will recognize familiar names like Stan's Donuts, but Woelker has also signed on Indiana's Over the Top Bakery Cafe and Michigan's Sweetwater's Donut Mill.
In some ways, the event solves a personal dilemma of Woelker's. Tours are his bread and butter but the logistical parameters they operate under — a group of easily accessible shops clustered within walking distance of each other — leave a lot of doughnuts on the table.
Huck Finn, on Chicago's South Side, is personal favorite of Woelker's — "I go there on a regular basis just by myself. There's something so lovely and simple about a cup of coffee, a donut, eggs and sausage" — and yet, along with the city's other far flung doughnut shops, it isn't likely to ever feature on an Underground tour.
With Taste of Donuts, Woelker can bring some attention to under-appreciated or lesser known gems. And yes, he acknowledges he could accomplish the same by altering his business model and creating a bus or trolley tour, but it wouldn't be the same.
There remains something special about experiencing Chicago on foot, Woelker said, regardless of weather. Sometimes even because of it.
"People love having doughnuts in the summer, but they almost love having them more in the winter. It's so nice to just walk around the city with a hot cup of coffee and a doughnut. When it's not the Polar Vortex, it's really charming," Woelker said.
"The city is so quiet in the winter. On an early Saturday or Sunday morning, there's nobody down there, it's so quiet and peaceful. You're just walking around the city with a cup of coffee and some doughnuts. It is quite magical."
Do stories like this matter to you? Subscribe to Block Club Chicago. Every dime we make funds reporting from Chicago's neighborhoods.