SOUTH SHORE — A parking garage collapsed beneath a Chicago Fire truck on the South Side Tuesday morning, leaving it dangling above parked cars.
Chicago Fire Department spokesman Larry Langford said Engine 126 was on a routine medical run near 71st Street and Exchange Avenue at about 10:40 a.m. Tuesday when part of a parking structure collapsed beneath the fire truck.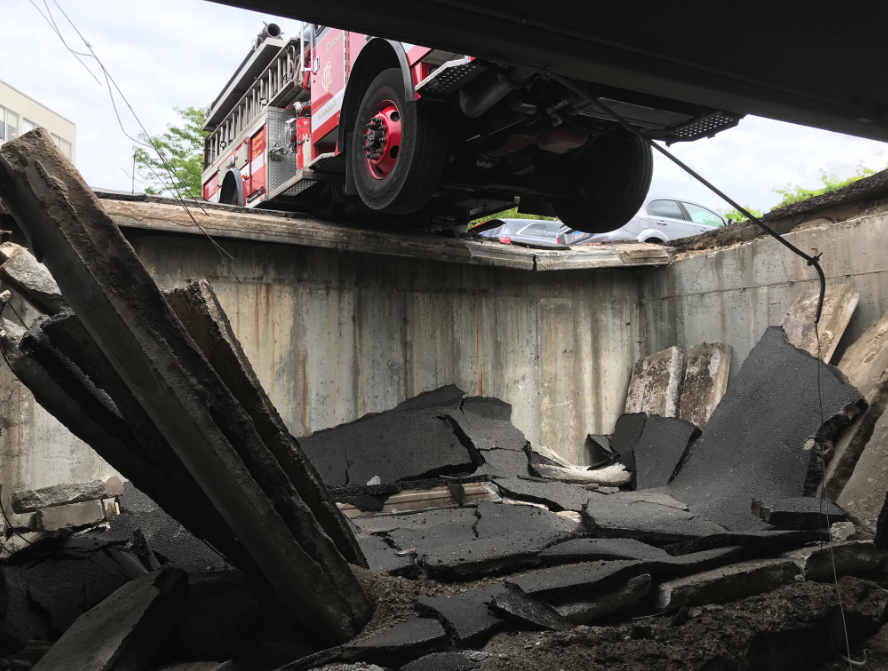 The engineer on board injured his back when the engine dropped, and was taken to a hospital, Langford said. The engine was left dangling above a large hole in the garage.
The back wheels of the engine were still on the parking deck, and the front was being held by its bumper on the lip of the uncollapsed portion of the two-story parking garage.
"It's very static right now, it's just sitting there, it's more of a curiosity than anything else at this point," Langford said. "The engineer types are just figuring out how to raise it and roll it safely back away."
The removal may involve a crane, he added.
Tim Walsh, chief of special operations for the fire department, said the engine responded to the nursing home regularly along with the ambulance that was called to the scene.
"They parked in the usual spot where they always parked to let the ambulance back up all the way to the doors behind me and there was a failure of the concrete parking garage where they parked," he said.
The engineer was able to crawl out the back door of the truck and call for help, Walsh said. The rest of the crew was inside working with the medical patient.
Lisa Mailliard, a nurse practitioner at the UChicago Medicine Senior Care facility, said crews had been responding to an incident of cardiac arrest at a neighboring nursing home when witnesses heard a big boom.
Mailliard said some cars beneath the truck were damaged, but she was glad no one was hurt.
Erica Williamson, a certified nursing assistant who works at the Symphony at South Shore nursing home, said she was walking to her car when she heard a big crash.
As crews attempted to remove the truck and secure the scene, crowds gathered. Even for Langford, who has been on the scene of many fires, crashes and other odd events, this was a first.
"I've never seen a rig collapse into a parking deck," he said.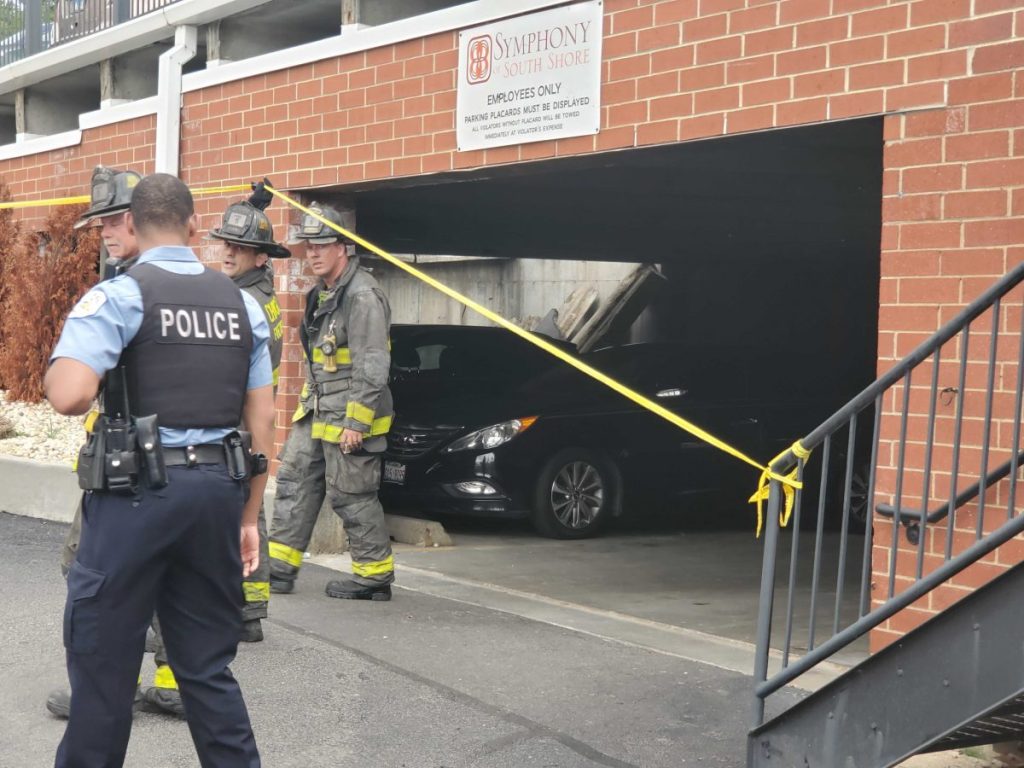 Do stories like this matter to you? Subscribe to Block Club Chicago. Every dime we make funds reporting from Chicago's neighborhoods.